Saint George Preca
(George Preca)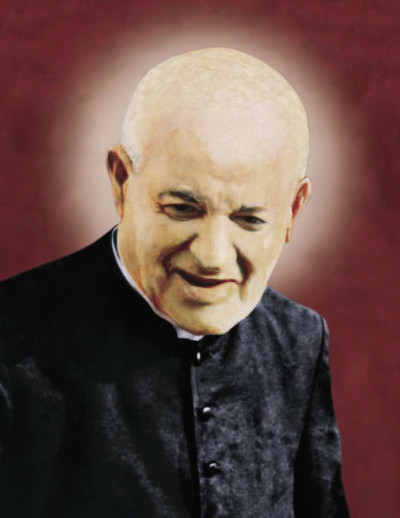 Preca first came to the attention of the Ordinary Congregation of the Cardinals and Bishops of the Congregation for Causes of Saints, which examined the scientifically unexplainable healing of Charles Zammit Endrich in 1964. Zammit Endrich had suffered from a detached retina of the left eye. The healing was declared as miraculous, and was attributed to the intercession of the Preca after Zammit Endrich prayed to him and placed one of the priest's belongings under his pillow. The healing took place outside of a hospital, overseen by the personal doctor of Zammit Endrich, Ċensu Tabone, later President of Malta.
On 24 June 1975, Archbishop Mikiel Gonzi issued a decree initiating the process of Preca's canonization. He was declared "venerable" on 28 June 1999, and on 27 January 2000 Pope John Paul II signed the decree that officially confirmed the Zammit Endrich healing.  In a ceremony in Floriana, Malta on 9 May 2001, Preca was beatified by Pope John Paul II as were Nazju Falzon and Maria Adeodata Pisani.  On 23 February 2006 during the Vatican consistory, Preca was proclaimed the second Maltese Catholic saint, after Saint Publius. He was canonized in Rome on 3 June 2007 along with three other new saints. In his homily, Pope Benedict XVI called Saint George Preca "a friend of Jesus", and at the end of the celebration, he spoke in Maltese, saying the newly declared saint is the second father in faith of the Maltese and Gozitan people.
A statue of Preca was unveiled at St. Cajetan Parish Church of Ħamrun during a solemn Mass presided by Archbishop Paul Cremona on Thursday 17 December 2009. The statue was placed on the same spot where St George spent hours hearing confession. By the statue there is also his relic with a sample of his blood. The bronze statue is the work of sculptor Gianni Bonnici and was executed in Caggiati, Parma, Italy.
Born
February, 12, 1880
Valletta, Malta
Died
July, 26, 1962
Santa Venera, Malta
16941 profile views