Sahara Davenport
(Antoine Ashley)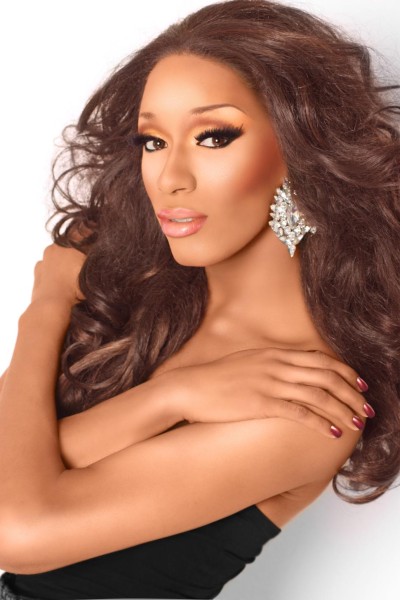 Sahara Davenport
A native of Dallas, Sahara Davenport began his drag career while attending Southern Methodist University. After earning a Bachelor of Fine Arts in dance, he relocated to New York City, where he began performing regularly at many gay bars and nightclubs throughout the city. Sahara Davenport has been seen on television on A&E Network's 15 Films about Madonna, Voom HD's Magnificent Obsessions, and on ABC's daytime soap opera One Life to Live. He was featured in the pilot of Judge Karen as an angry Beyoncé impersonator who sues the paparazzi. Sahara Davenport made his art film debut in Kalup Linzy's video-performance piece "Melody Set Me Free," which was shown at the Whitney Museum of American Art. He also appeared in the music videos "Girl Problems" by the group Girl Problems and "Gettin' Over You" by David Guetta and Chris Willis.
Sahara Davenport joined the cast of the second season of RuPaul's Drag Race in 2010. He was pegged as "The Dancer" when in the first episode he had to "lipsynch for your life" against his former college classmate, Shangela Laquifa Wadley. In the second episode, Davenport became a team leader when he and Pandora Boxx won the mini challenge. Sahara won the second episode elimination challenge by leading his team to earn the most money by pole dancing and selling cherry pie gift certificates on the streets of Los Angeles. In the fourth episode, Davenport gave a humorous impersonation of Whitney Houston in the Snatch Game challenge. In the Wedding Dress episode, he was in the bottom two again, but remained safe because of his lipsynch performance to Martha Wash's "Carry On". Sahara was eliminated in the sixth episode for not conveying enough of a "rock 'n' roll" attitude and being too much of a lady.
In 2011, Sahara Davenport released his second single "Go Off." A remix EP was later released on January 31, 2012, and featured a remix by Manny Lehman. "Go Off" debuted at number fifty on the Billboard Hot Dance Club Songs, before peaking at number thirty five. The music video for "Go Off" features cameos by Drag Race contestants Manila Luzon and Jiggly Caliente.  Prior to his death, Davenport resided in New York City with his boyfriend Karl Westerberg (Manila Luzon), who was a contestant and runner-up on the third season of RuPaul's Drag Race. Davenport died of heart failure at Johns Hopkins Hospital in Baltimore on October 1, 2012 at age 27.
Born
December, 17, 1984
Dallas, Texas
Died
October, 01, 2012
Baltimore, Maryland
Cause of Death
Cemetery
Gate of Heaven Cemetery
Silver Spring, Maryland
13908 profile views