S. Charles Lee
(Simeon Charles Levi)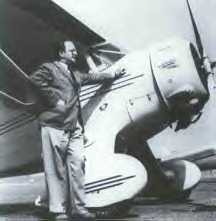 S. CHARLES LEE
As the motion picture capital of the world, Los Angeles was the perfect place for architect S. Charles Lee to launch one of the most celebrated and prolific careers in theatre design.
Born Simeon Charles Levi in Chicago in 1899, Lee attended Chicago Technical College and graduated with honors in 1918. He was influenced by the early (and nearby) Modernism of pioneers Louis Sullivan and Frank Lloyd Wright.
After serving in the Navy during World War I, Lee earned an architecture degree from Armor Institute of Technology in 1921. He moved to Los Angeles in 1922 and received his first theatre commission within a few years. Completed in 1927, the Tower Theatre on Broadway in downtown Los Angeles was billed as "the finest thousand-seat theatre in America."
His career skyrocketed and a succession of grand movie palace commissions soon followed. His grand movie palaces transported patrons from their everyday lives into a fantasy world that blended all types of architectural styles and decorative motifs.
Lee fashioned his theatres as striking advertisements, not only to garner attention from passing automobile traffic but to draw in pedestrians by using the sidewalk itself as part of the design. He famously claimed, "The show starts on the sidewalk."
As his career coincided with the heyday of Hollywood, by 1950 Lee had designed around 400 theatres—250 in the L.A. area alone. One of his most beloved designs is the spectacular Los Angeles Theatre (1931), also on Broadway.
After World War II, Lee recognized the emerging requirement for more practical, modular structures. A prime example of this postwar design shift is the Star Theatre in La Puente. The domed, Quonset hut structure is in an exceedingly rare style, named after the portable and prefabricated steel buildings used by the U.S. Navy during the war.
In addition to theatres, Lee also built dozens of small factories throughout postwar Los Angeles. He partnered with architect Samuel Lunden to design Temple Israel of Hollywood in 1948.
Lee received numerous awards throughout his lifetime, including the Society of Registered Architects' Synergy Award in 1975. In 1986, the UCLA School of Architecture and Urban Planning established a chair in his honor. The Conservancy was honored to have Lee attend the first season of our Last Remaining Seats series of classic films in historic theatres in 1987.
Lee passed away in 1990 at the age of 90, yet his visionary theatres continue to awe and inspire new generations.
Born
September, 05, 1899
Chicago, Illinois
Died
January, 27, 1990
Los Angeles, California
Cause of Death
Cemetery
Forest Lawn Memorial Park (Glendale)
Glendale, California
2557 profile views