Ruth Maleczech
(Ruth Maleczech)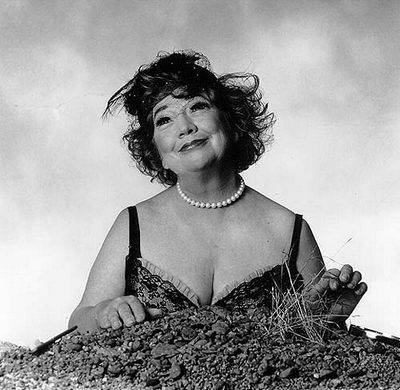 Maleczech was born in Cleveland, Ohio as Ruth Sophia Reinprecht to Yugoslavian immigrant parents, a steel worker and a seamstress and raised in Phoenix, Arizona.  Maleczech was the first in her family to attend college, beginning theater studies at UCLA at 16. From there she went to San Francisco to work, first, with Herbert Blau at The Actor's Workshop, then with Ronnie Davis in what became the San Francisco Mime Troupe. In San Francisco, she met and lived with Mabou Mines co-founder Lee Breuer; (In 1964) they went to Paris and for six years earned money dubbing films, sufficient to fund their burgeoning theatrical experiments. In Europe, Maleczech and Breuer met David Warrilow and fellow ex-pats JoAnne Akalaitis & Philip Glass. In France Maleczech and Akalaitis studied with the Polish director and drama theorist Jerzy Grotowski; Maleczech also spent a month in East Berlin studying, observing rehearsals and attending performances by Bertholt Brecht's storied Berliner Ensemble.  Returning to the U.S., Maleczech co-founded the experimental N.Y.C. theater company Mabou Mines, in 1970, along with JoAnne Akalaitis, Lee Breuer, Philip Glass and David Warrilow. Shortly thereafter they were joined by Fred Neumann, whom they had known & worked with in Europe. Maleczech collaborated on nearly every piece Mabou Mines produced. She is possessed of "a theatrical vision…antithetical to almost everything contemporary American theater is about… [She is an] inspiration as an artist, a feminist and a creative spirit" (Women in Theatre).
"I don't consider performers to be interpreters at all," she said. "More like mediums." A feisty, self-professed fan of all things "messy, confusing and chaotic," Maleczech breathed life into an unforeseeable variety of theatrical inventions including: Madame Curie in Dead End Kids; Rose, the abused mutt in An Epidog and Ecco Porco; Lucia Joyce, the author's daughter, in Lucia's Chapters; Annette (the butcher) in Kroetz's Through The Leaves; the title role in Mabou Mines' gender-reversed Lear.
Maleczech directed/adapted several works: Wrong Guys, from the hard-boiled novel by Jim Strahs; Vanishing Pictures, based on Poe's "Mystery of Marie Roget"; Beckett's Imagination Dead Imagine (as a hologram); The Bribe by Terry O'Reilly; her own Sueños, inspired by the life of Sur Juana Inez de la Cruz; Belén: A Book of Hours, written by Catherine Sasanov, with music by Liliana Felipe, which examined the plight of Mexican women; and Song For New York (written by Maggie DuBris, Imelda O'Reilly, Migdalia Cruz, Karen Kandel and Patricia Spears Jones), an homage to the city that was her home for more than 40 years.  Maleczech's alliance with Lee Breuer is the stuff of avant-theatrical legend. A shared appetite for complexity coupled with deep and abiding respect sustained their tumultuous personal and professional lives. In addition to working together for a half century, they had two children.
Outside of Mabou Mines, Maleczech created Fire Works with Valeria Vasilevski; collaborated with Joanne Akalaitis on Genet's The Screens and Prisoner of Love; and worked with, among other directors, Peter Sellars, Erin Mee, Frederick Wiseman and Martha Clarke. She appeared in numerous feature films, commercial and independent, and on television in "Law & Order" and "E.R". She was a much beloved mentor of Mabou Mines' Resident Artist Program, (Mabou Mines/Suite) which has nurtured coming generations of experimental theater artists since 1991.  In 2012 Maleczech began developing a new work, Imagining The Imaginary Invalid, using the structure and characters from Moliere's The Imaginary Invalid. Her daughter, performer/director/choreographer Clove Galilee, will continue developing the work as director.
Born
January, 08, 1939
USA
Cleveland, Ohio
Died
September, 30, 2013
USA
Brooklyn, New York
16793 profile views