Russell Johnson
(Russell David Russell)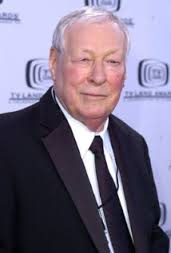 Russell Johnson
Russell David Johnson (November 10, 1924 – January 16, 2014) was an American television and film actor, best known for his role as "The Professor" on the CBS television sitcom Gilligan's Island.
Early life
Johnson was born on November 10, 1924, in Ashley, in Luzerne County, Pennsylvania. His parents were Russell Kennedy Johnson (1901-1932) and Minnie Wenonah Smink-Johnson (1902-1976). Johnson was the eldest of six children. His siblings were: brothers Kenneth (1925-2012), David (1926-1976), and Paul Wesley (1932-1933)[Paul died from pneumonia only weeks after Johnson's father], and sisters Lorraine Johnson-Crosby (b.about 1929)[who was still living at the time of Johnson's death], and Marian L. Johnson-Reeves(1923-2010). Johnson's father died of pneumonia in December, 1932. His mother later re-married to Thomas S. Lewis. As a teenager, Johnson attended Girard College, a private boarding school for fatherless boys, located in Philadelphia.
Military career
After graduating from high school, Johnson enlisted in the United States Army Air Forces as an aviation cadet. On completing his training, he was commissioned a second lieutenant. He flew 44 combat missions in the Pacific Theater during World War II as a bombardier in B-25 twin-engine medium bombers.
On March 4, 1945, while flying as a navigator in a B-25 with the 100th Bombardment Squadron, 42nd Bombardment Group, 13th Air Force, his B-25 and two others were shot down during a low-level bombing and strafing run against Japanese military targets in the Philippine Islands. The B-25s encountered heavy anti-aircraft fire and all three had to ditch in the sea off Zamboanga. Johnson broke both ankles in the landing, and the radioman seated next to him was killed. Johnson received a Purple Heart for his injuries. He was also awarded the Air Medal, the Asiatic-Pacific Campaign Medal with three campaign stars, the Philippine Liberation Ribbon with one campaign star, and the World War II Victory Medal.
After Japan's surrender, Johnson was honorably discharged as a first lieutenant on November 22, 1945. He joined the United States Air Force Reserve and used the G.I. Bill to pay for his acting studies at the Actors' Lab in Hollywood. While there, he met actress Kay Cousins (1923-1980), whom he married in 1949.
Movie and television career
Johnson became a close friend of Audie Murphy and later appeared with him in three of his films, Column South and Tumbleweed in 1953 and Ride Clear of Diablo in 1954. Johnson's Hollywood career began in 1952, with the college fraternity hazing exposé For Men Only, and with Loan Shark, also released in 1952 and starring George Raft. His early roles were primarily in westerns such as Law and Order (opposite Ronald Reagan), and science fiction such as It Came from Outer Space (1953), This Island Earth (1955), Attack of the Crab Monsters (1956), and The Space Children (1958). He also appeared in a Ma and Pa Kettle vehicle, Ma and Pa Kettle at Waikiki (1955).
During the 1950s, he guest starred on Rod Cameron's syndicated crime drama City Detective. He played the head of a gang of crooks in episode 17 of season 1 of The Adventures of Superman (originally broadcast in January, 1953, filmed in 1951). Johnson was also cast on the religion anthology series Crossroads. He also played "The Sundown Kid" in an episode of the 1958 NBC western series Jefferson Drum and guest starred in another NBC western series, The Californians.
Johnson appeared four times on the syndicated military drama The Silent Service, based on actual stories of the submarine section of the United States Navy. Johnson was cast as Hugh Grafton, Eddie Kent(in episode 28, The Gar Story), and as Tom Richards in two 1960 episodes, "Intermission" and "The Desperate Challenge", both with June Allyson on her CBS anthology series The DuPont Show with June Allyson. He costarred with William Shatner in "The Hungry Glass", a 1961 episode of Thriller. Johnson was cast as John T. Metcalf in the 1962 episode "Mile-Long Shot to Kill" of CBS's anthology series GE True, hosted by Jack Webb. In 1963, he was cast in an episode of the short-lived ABC/Warner Brothers western series The Dakota. Later in that same year, he was cast in the series premiere of the ABC medical drama Breaking Point, starring Paul Richards and Eduard Franz.
Black Saddle
From 1959 to 1960, Johnson had a recurring role as Marshal Gib Scott on the ABC half-hour western series Black Saddle, with Peter Breck as the gunslinger-turned-lawyer Clay Culhane, Anna-Lisa as Nora Travers, J. Pat O'Malley as Judge Caleb Marsh, and Walter Burke as Tim Potter.
Twilight Zone episodes
Johnson appeared in two episodes of The Twilight Zone. His character attempted to prevent the assassination of Abraham Lincoln in "Back There". He appeared as a college professor in the episode "Execution". The plot of both episodes involved time travel from the 20th to the 19th centuries.
Outer Limits episode
Johnson appeared as a crewmember on a U.S. space station in "Specimen: Unknown".
"The Professor" on Gilligan's Island
Johnson was best known for playing the handsome Professor Roy Hinkley (usually called the "Professor"), the very knowledgeable polymath who could build all sorts of inventions out of the most rudimentary materials available on the island. But, as Johnson himself pointed out, he could not fix the hole in the boat. In the first episode, the radio announcer describes the Professor as a research scientist and well-known Scoutmaster. Gilligan's Island aired from 1964 to 1967, but has been shown in reruns continuously ever since.
After Gilligan's Island
After Gilligan's Island, Johnson appeared in several other movies and television shows, especially the latter. He appeared in several dramatic series, including The Big Valley with Peter Breck, The Invaders, Death Valley Days, Lassie, That Girl, Ironside, The F.B.I, and Gunsmoke. He appeared perhaps most notably in the miniseries Vanished, based on a novel by Fletcher Knebel (1971), uncredited in the Robert Redford spy thriller Three Days of the Condor (1975), and on the NBC soap opera Santa Barbara.
In an interview with Starlog magazine in the early 1980s, Johnson said that he had wanted to appear in the original Star Trek during its run on NBC from 1966 to 1969, but he was never cast. An episode of CBS's Newhart featured the Beavers (a men's organization) watching a Gilligan's Island episode on television. When they are suddenly evicted from the room, one of them, portrayed by Johnson, protests, "I want to see how it ends!" He is assured that the castaways don't get off the island.
Johnson played the sheriff in several episodes of season 9 of Dallas; his character did not return in season 10, however, as season 9 turned out to be the infamous "dream season".
Johnson entertained fans at the 1996 MST3K Conventio-Con-Expo-Fest-a-Rama 2: Electric Boogaloo on the "Celebrity Panel". Johnson was invited for his role in the movie-within-a-movie of Mystery Science Theater 3000: The Movie, This Island Earth, but spent most of the time answering questions about his Gilligan's Island days. He shared an amusing anecdote:
I was at a speaking engagement for MIT … and I said … the Professor has all sorts of degrees, including one from this very institution [MIT]! And that's why I can make a radio out of a coconut, and not fix a hole in a boat!
—Russell Johnson
Johnson also had a brief appearance in MacArthur, in which he played United States Navy Admiral Ernest J. King. Russell provided the narration for the animated short episodes of The Adventures of Stevie and Zoya that appeared on MTV during the mid-1980s.
Johnson once participated in the Ig Nobel award presentation ceremony, credited as "The Professor Emeritus of Gilligan's Island".
Family
Johnson was married three times.
He had a daughter Kim and son David with his second wife Kay Cousins, whom he married in 1949 and who died on January 20, 1980, in Century City, California. David Johnson died of AIDS-related complications on October 27, 1994. David's lover died of similar causes in 1986. After his son's diagnosis with AIDS, Johnson frequently helped raise money for AIDS charities.
In 1982, Johnson married Constance "Connie" Dane.
Later years and death
Johnson published his memoirs, Here on Gilligan's Isle in 1993. He died from kidney failure at his home in Bainbridge Island, Washington, on January 16, 2014, at the age of 89. He was the last surviving male and one of three surviving cast members of Gilligan's Island, the other two being Tina Louise, who played Ginger, and Dawn Wells, who played Mary Ann.
Born
September, 10, 1924
United States
Pennsylvania
Died
January, 16, 2014
United States
Washington
16965 profile views