Ruggiero Boiardo
(Ruggerio Boiardo)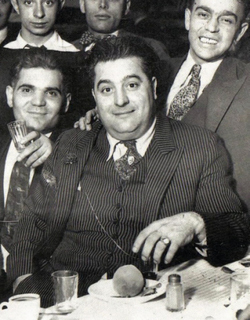 Ruggiero Boiardo
Was a caporegime in the Genovese crime family who ran mob operations in the Newark, New Jersey area.
Born in Naples, Italy, Boiardo's family immigrated to the Newark area in 1910. His first criminal activity involved bookmaking while he worked as a milkman. Boiardo eventually controlled criminal activities in the First Ward section of Newark. During the Prohibition era, Boiardo fought with Jewish mobster Abner "Longy" Zwillman for control of criminal rackets in Newark. Despite this animosity, the two mobsters were brought together, allegedly orchestrated by Charles "Lucky" Luciano, and made peace with each other. Sometime later, Boiardo was ambushed and seriously wounded with 12 buckshot pellet wounds. At the time, the press suspected Zwillman was responsible, but later evidence pointed to the members of another rival gang led by the Mazzocchi brothers, whom the Boot subsequently had murdered. In the 1930s, Boiardo became a made man, or full member of the new Luciano crime family established by Lucky Luciano. In 1957, this family became the Genovese family under boss Vito Genovese. With Zwillman's death in 1959, Boiardo became the undisputed mob boss of Newark.
Boiardo also owned a residence in Havana, Cuba, and Florida where he had majority gambling interests in the early hotel/casinos.
Boiardo died of natural causes on October 29, 1984, and was interred at Holy Cross Cemetery, North Arlington, New Jersey in North Arlington, New Jersey.
Born
December, 08, 1890
Naples, Italy
Died
Cause of Death
Cemetery
Holy Cross Cemetery
North Arlington, New Jersey
17242 profile views