Rosie Carter
(Rosie Nix Adams)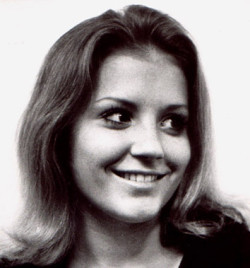 Rosie Carter
was an American singer–songwriter. She was born July 13, 1958, the daughter of June Carter Cash and her second husband Edwin "Rip" Nix, and the stepdaughter of the country singer Johnny Cash. She was married to Philip Adams. Her first name was spelled as both "Rosie" and "Rosey," according to stepsister Rosanne Cash, "even in the family!"
Nix was a singer/songwriter and performed as a back-up singer for The Johnny Cash Show, David Grey, and Slim Whitman. She was also a semi-regular performing member of the Carter Family.
In a 2003 biography titled Johnny Cash: The Life of an American Icon, author Stephen
Miller wrote that Adams' father, Edwin "Rip" Nix, was an ex-football player, garage owner and police officer.
June Carter Cash married Nix in 1957 and later divorced him before she married Johnny Cash.
Miller also wrote that as a child, Adams sometimes was asked to help her mother search their house for Cash's stashes of pills and viewed it as a kind of treasure hunt.
Later, Johnny Cash, who died Sept. 12 at age 71, talked openly of his struggles with drugs and credited June Carter Cash with helping him overcome them.
June Carter Cash's mother, Maybelle Carter, who was Rosey Adams' grandmother, was one of the members of the original Carter Family, a trio from Maces Springs, Virginia, whose 1927 recordings are considered landmarks in the early history of country music.
Adams attended the recent funerals of her mother and of Johnny Cash. At June Carter Cash's service, she wept and comforted sister Carlene.
At Johnny Cash's funeral, however, she appeared distracted and confused, wandering through the sanctuary and moving people around in the congregation while others spoke and sang songs in tribute to her stepfather.
She and Jimmy Campbell, a bluegrass fiddle player, were found dead on a bus in Montgomery County, Tennessee, on October 24, 2003. It was determined that the deaths were caused by carbon monoxide from the six propane space heaters, used without ventilation, in the bus. Nix was 45 when she died.
Nix was buried near her mother and stepfather (who had both died earlier that same year) in the Hendersonville Memory Gardens, Hendersonville, Tennessee.
Born
Died
October, 24, 2003
Clarksville, Tennessee
Cause of Death
18180 profile views