RSputnik MonroeoSputnik MonroesSputnik MonroecSputnik MonroeoSputnik MonroeeSputnik Monroe Sputnik MonroeBSputnik MonroerSputnik MonroeuSputnik MonroemSputnik MonroebSputnik MonroeaSputnik MonroeuSputnik MonroegSputnik MonroehSputnik Monroe
(Roscoe Brumbaugh)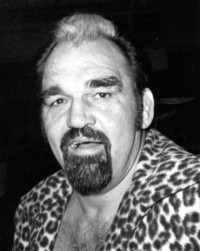 Roscoe Brumbaugh
During an era of inequality, regional wrestling favorite Sputnik Monroe refused to perform unless black patrons were allowed to sit in any seat at the Ellis Auditorium. At the time, African-Americans were forced to sit in a separate section far away from the Caucasian patrons until Sputnik Monroe made a stand, refusing to wrestle until all of his fans were able to sit wherever they wanted. Sputnik's stance made him unpopular. It made him a "heel". And he willingly embraced this role.
Sputnik Monroe was a rebel. A working-class champion that went against the societal norms of a racial inequality. He lit the fuse that lead to the explosion of Memphis Heat.
National Sputnik Monroe Day is an acknowledgment of the cultural impact of Roscoe Brumbaugh aka Sputnik Monroe. When a nation stood divided by racial segregation Sputnik used the power of his regional wrestling fame to ensure that his African American fans could be treated as equals and sit outside of the designated "colored" section. While his quick wit and physical prowess ignited Memphis wrestling, the bold use of his celebrity status helped integrate the city. All hail Sputnik.
Sputnik Monroe was born Roscoe Monroe Merrick on December 18, 1928 in Dodge City, Kansas. His father died in an airplane crash just a month before his birth and his formative years were spent living with his grandparents. His mother remarried, and his stepfather, whose last name was Brumbaugh, adopted him at age 17. Monroe's legal name was then changed to Roscoe Brumbaugh.
A veteran of World War II, Monroe began his wrestling career in 1945 by working with traveling carnivals. He changed his name to "Rocky Monroe" in 1949, and adopted the nickname of "Sputnik" in 1957 when a heckling female fan compared him to a communist, dubbing him "that damned sputnik".
In 1959, Sputnik battled Billy Wicks (with boxing legend Rocky Marciano serving as referee) in front of a crowd of over 13,000 people with several thousand turned away. This epic match put Memphis on the map of regional wrestling.
Monroe made his biggest impact when he stood against racial segregation. Monroe refused to perform until African American patrons were allowed to sit outside of the "colored section". This defiant protest was a courageous step towards the integration of Memphis. It has been said that there were three photos on the walls of African American households in Memphis during Monroe's time: "Jesus Christ, Martin Luther King and Sputnik Monroe."
Sputnik Monroe worked until 1998 when he retired to Florida. In 2006, he died in his sleep at the age of 77.
Born
December, 28, 1928
Dodge City, Kansas
Died
November, 03, 2006
Edgewater, Florida
Cause of Death
Cemetery
Alexandria National Cemetery
Pineville, Louisian
16807 profile views