Rosa Cuthbert Guy
(Rosa Cuthbert Guy)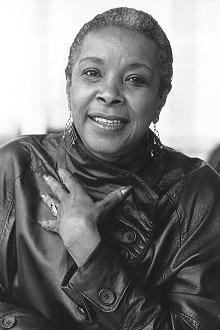 Rosa Cuthbert was born in 1922 in Diego Martin, on the Caribbean island of Trinidad. She and her younger sister Ameze were left with relatives when their parents Audrey and Henry Cuthbert emigrated in 1927 to the United States. The children did not join their parents in Harlem until 1932. The following year their mother became ill, and Rosa and her sister were sent to Brooklyn to live with a cousin. Her espousal of Garveyism and black nationalistic politics deeply affected Rosa. After their mother's death in 1934, the two girls returned to Harlem to live with their father, who remarried.  When he died in 1937, the girls were orphaned. After that, they were taken into the welfare system and lived in foster homes. Rosa left school at the age of 14 and took a job in a garment factory to support herself and her sister.
In 1941 at the age of 19, Rosa met and married Warner Guy. While her husband was serving in the Second World War she continued working in the factory. A co-worker introduced her to the American Negro Theatre, where she studied acting; other graduates included Harry Belafonte and Sidney Poitier. In 1942, her son Warren Guy, Jr, was born.  After the war, Rosa Guy moved to Connecticut with her husband and son. Five years later she and her husband divorced, and she returned to New York.
In 1950, along with novelist John Oliver Killens, Rosa Guy formed a workshop that was to become the Harlem Writers Guild (HWG). Its goal was "to develop and aid in the publication of works by writers of the African Diaspora". Its members and participants included Willard Moore, Walter Christmas, Maya Angelou, Dr. John Henrik Clarke, Paule Marshall, Audre Lorde, Alice Childress, Ossie Davis, Ruby Dee, and Douglas Turner Ward. It was very influential, nurturing more than half of all successful African-American writers between 1950 and 1971; they were associated with the workshop. Guy also belonged to the Black nationalist literary organization On Guard for Freedom, founded by Calvin Hicks on the Lower East Side of New York City. Among On Guard's other members were LeRoi Jones, Sarah E. Wright and Harold Cruse.
In 1954, Rosa Guy wrote and performed in her first play, Venetian Blinds, which was successfully produced Off-Broadway at the Tropical Theater.  Most of Guy's books are about the dependability of family members who care and love each other.  Her 1985 novel, My Love, My Love: Or, The Peasant Girl, was described as a Caribbean re-telling of Hans Christian Andersen's "The Little Mermaid", and "with a dash of Shakespeare's Romeo and Juliet." It was adapted for the Broadway musical, Once on This Island by Lynn Ahrens and Stephen Flaherty, which ran for a year from 1990 to 1991.  Rosa Guy died in 2012. Her obituary was included in The Socialite who Killed a Nazi with Her Bare Hands: And 144 Other Fascinating People who Died this Year, a collection of New York Times obituaries published in 2012.
Born
September, 01, 1922
Diego Martin, Trinidad and Tobago
Died
16443 profile views