Robert Quarry
(Robert Walter Quarry)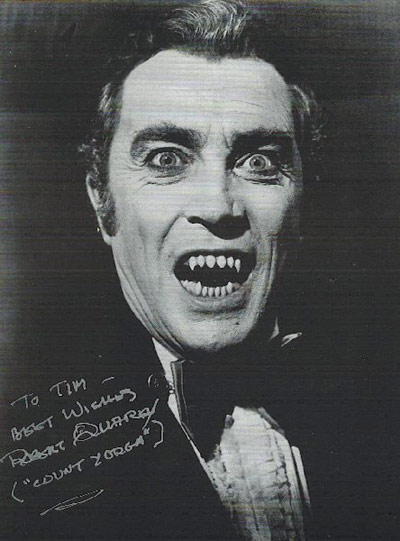 Quarry was born in Santa Rosa, California, the son of Mable (née Shoemaker) and Paul Quarry, a doctor. His grandmother was an actress. He left school at the age of 14 to pursue a career in radio.  During World War II in November 1943, Quarry joined the United States Army, where he formed a theatrical troupe. After the war he acted again, first for RKO and then for MGM. It was at this time that he befriended Katharine Hepburn.
His films include Count Yorga, Vampire (1970), its sequel The Return of Count Yorga (1971), and Dr. Phibes Rises Again (1972), in which he played alchemist Dr. Biederbeck pitted against Vincent Price's Phibes in a race to find the mythical elixir of eternal life. Although it is well known that Price did not care for his co-star— once, when Quarry was singing in his dressing room during the making of Dr Phibes Rises Again, he said to Price, "You didn't know I could sing did you?" and Price replied: "Well I knew you couldn't act"— the two were later also paired in Madhouse (1974).  American International Pictures had plans for Quarry to succeed Price, signing him to a long term contract, but the decline in the company's fortunes, and old style horror films falling out of fashion, meant that it never happened. Quarry did make further horror film appearances, as the hippy guru vampire Khorda in 1973's The Deathmaster and as a gangster in the 1974 zombie movie Sugar Hill. A third Count Yorga film was often rumored to be in the works, but never materialised.
Quarry made several guest appearances on TV shows, including two 1965 on Perry Mason: defendant Danny Talbert in "The Case of the Deadly Debt," and Coach Casey Banks in "The Case of the 12th Wildcat." He also appearanced on The Rockford Files episode, "Requiem For a Funny Box", as Lee Russo. He played disfigured gunrunner Commander Corliss in the Buck Rogers in the 25th Century episode "Return of the Fighting 69th". He played in two episodes of the Lone Ranger, "Texas Draw" and "Broken Match."  In 1980 he was in a in an accident, in which he was struck by a drunk driver. It resulted in serious facial injuries. He was also mugged in Hollywood shortly thereafter.  In 1987, Quarry returned to film with Cyclone directed by Fred Olen Ray. Quarry would be cast in over 20 of Ray's films in the remainder of his career.  Quarry died at the Motion Picture & Television Country House and Hospital in Woodland Hills, California at the age of 83.
Born
November, 03, 1925
USA
Santa Rosa, California
Died
February, 20, 2009
USA
Woodland Hills, California
Other
16457 profile views