Robert Hughes
(Robert Hughes)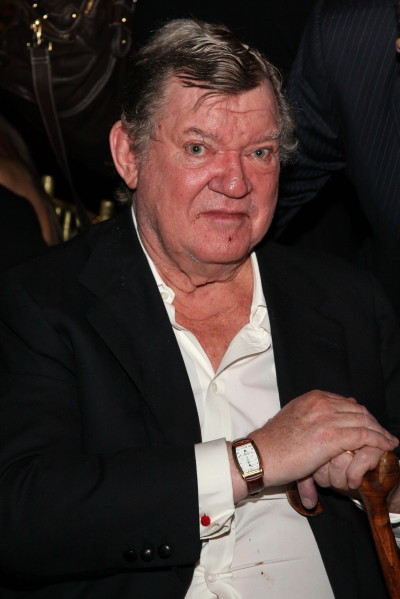 Hughes was born in Sydney, Australia, in 1938. His father and paternal grandfather were lawyers. Hughes' father, Geoffrey Forrest Hughes, was a pilot in the First World War, with later careers as a solicitor and company director. He died from lung cancer when Robert was aged 12. His mother was Margaret Eyre Sealy, née Vidal. His older brother, Thomas Eyre Forrest Hughes, is an Australian lawyer and a former Attorney-General of Australia.
Growing up in Rose Bay, Sydney, Hughes was educated at St Ignatius' College, Riverview before studying arts and then architecture at the University of Sydney. At university, he associated with the Sydney "Push" – a group of artists, writers, intellectuals and drinkers. Among the group were Germaine Greer and Clive James. Hughes, an aspiring artist and poet, abandoned his university endeavours to become first a cartoonist and then an art critic for the Sydney periodical The Observer, edited by Donald Horne. Around this time he wrote a history of Australian painting, titled The Art of Australia, published in 1966 and still considered an important work. Hughes was briefly involved in the original Sydney version of Oz magazine and wrote art criticism for The Nation and The Sunday Mirror.  Hughes left Australia for Europe in 1964, living for a time in Italy before settling in London in 1965, where he wrote for The Spectator, The Daily Telegraph, The Times, and The Observer, among others, and contributed to the London version of Oz. In 1970 he was appointed art critic for TIME magazine and moved to New York, where he soon became an influential voice.
Hughes and Harold Hayes were recruited in 1978 to anchor the new ABC News (US) newsmagazine 20/20. His only broadcast, on 6 June 1978, proved so controversial that, less than a week later, ABC News president Roone Arledge terminated the contracts of both men, replacing them with veteran TV host Hugh Downs. Hughes co-produced, in association with German producer Reiner Moritz and Lorna Pegram, the BBC eight-part series The Shock of the New (1980) on the development of modern art since the Impressionists. It was accompanied by a book with the same title. John O'Connor of The New York Times said, "Agree or disagree, you will not be bored. Mr. Hughes has a disarming way of being provocative."  Hughes' book The Fatal Shore followed in 1987. A study of the British penal colonies and early European settlement of Australia, it became an international best-seller. During the late 1990s, Hughes was a prominent supporter of the Australian Republican Movement.
Hughes' TV series American Visions (1997) reviewed the history of American art since the Revolution. Australia: Beyond the Fatal Shore (2000) was a series musing on modern Australia and Hughes' relationship with it. During production, Hughes was involved in a near-fatal road accident. Hughes' documentary on Francisco Goya, Goya: Crazy Like a Genius (2002), was broadcast on the first night of the new British domestic digital service, BBC Four.[citation needed] He created a one-hour update to The Shock of the New, titled The New Shock of the New, which first aired in 2004. He published the first volume of his memoirs, Things I Didn't Know, in 2006.Hughes met his first wife, Danne Emerson, in London in 1967. Together they became involved in the counterculture of the 1960s, exploring drug use and sexual freedom. They divorced in 1981; she died of a brain tumor in 2003. Their son, Danton, Hughes' only child, was named after the French revolutionary Georges Danton. Danton Hughes, a sculptor, committed suicide in 2002. Hughes later wrote: "I miss Danton and always will, although we had been miserably estranged for years and the pain of his loss has been somewhat blunted by the passage of time".  Hughes was married to his second wife, Victoria Whistler, a housewife from California, from 1981 until a divorce in 1996.
In 1999, Hughes was involved in a near-fatal car accident south of Broome, Western Australia. He was returning from a fishing trip and driving on the wrong side of the road when he collided head on with another car carrying three occupants. He was trapped in the car for three hours before being airlifted to Perth in critical condition. Hughes was in a coma for five weeks after the crash. In a 2000 court hearing Hughes' defense barrister alleged that the occupants of the other car had been transporting illicit drugs at the time of the accident and were at fault. In 2003 Hughes pled guilty to dangerous driving causing bodily harm and was fined A$2,500. Hughes recounts the story of the accident and his recovery in the first chapter of his 2006 memoir Things I Didn't Know.
In 2001, Hughes wed his third wife, the American artist and art director, Doris Downes. "Apart from being a talented painter, she saved my life, my emotional stability, such as it is", he said.  Hughes was brother of Australian politician Thomas Hughes and uncle of former Sydney Lord Mayor Lucy Turnbull. Lucy Turnbull is wife of Australian politician Malcolm Turnbull.  After a long illness, Hughes died at Calvary Hospital in The Bronx, New York, on 6 August 2012, with his wife at his bedside. He was also survived by two stepsons from his wife's previous marriage, Freeborn Garrettson Jewett IV and Fielder Douglas Jewett; his brothers, Thomas and Geoffrey Hughes; a sister, Mrs. Constance Crisp; and many nieces and nephews.
Born
July, 28, 1938
Sydney, Australia
Died
August, 06, 2012
USA
The Bronx, New York City, New York
17106 profile views