Robert Ford
(Robert Newton Ford)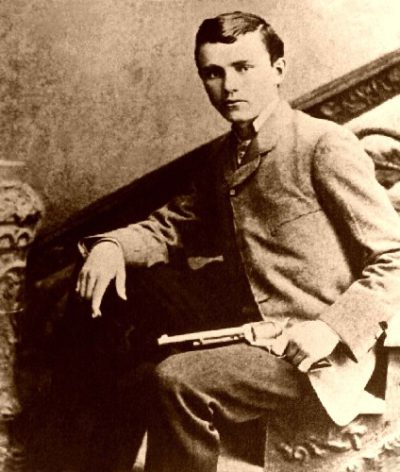 Robert Ford was born in 1861, in Ray County, Missouri. He was the youngest child of James Thomas Ford and his wife, the former Mary Bruin. As a young man, Robert became an admirer of Jesse James for his Civil War record and criminal exploits. In 1880, at the age of 19, he finally met James. Ford's brother Charles is believed to have taken part in the James gang's Blue Cut train robbery in Jackson County, west of Glendale, Missouri (renamed Selsa and now part of Independence), on September 7, 1881. In November 1881, after the train robbery, James moved his family to St. Joseph, Missouri and intended to give up crime. The James gang had been greatly reduced in numbers by that time; some had fled the gang in fear of prosecution, and many of the original members were either dead or in prison after a botched bank robbery in Northfield, Minnesota. After the train robbery, James' brother Frank James had also decided to retire from crime and moved East, settling in Lynchburg, Virginia. By the spring of 1882, with his gang depleted by arrests, deaths, and defections, James thought that he could trust only the Ford brothers. Charles had been out on raids with James before, but Bob was an eager new recruit. The Fords resided in St. Joseph with the James family, where Jesse went by the alias Thomas Howard. The Ford brothers passed themselves off as Bob and Charles Johnson, Howard's cousins.
Hoping to keep the gang alive, James invited the Fords to take part in the robbery of the Platte City Bank in Missouri, but the brothers had already decided not to participate; rather, they intended to collect the $10,000 bounty placed on James by Governor Thomas T. Crittenden. In January 1882, Bob Ford and James gang member Dick Liddil had surrendered to Sheriff James Timberlake at their sister Martha Bolton's residence in Ray County. They were brought into a meeting with Crittenden, as they had been around the James' cousin Wood Hite the day Hite was murdered. Crittenden promised Ford a full pardon if he would kill James, who was by then the most wanted criminal in the USA. Crittenden had made capturing the James brothers his top priority; in his inaugural address he declared that no political motives could be allowed to keep them from justice. Barred by law from offering a sufficiently large reward, he had turned to the railroad and express corporations to put up a $5,000 bounty for each of them. Living with the James' family, the Fords became part of the daily routine, and James' wife cooked for them. They were nervous and bored, looking for opportunity, and feeling restless. The confession of Liddil to participating in Hite's murder made the news, and pressure began to build around James.
On April 3, 1882, after eating breakfast, the Fords and James went into the living room before traveling to Platte City. By reading the daily newspaper, James had just learned of gang member Liddil's confession for participating in Hite's murder and grew increasingly suspicious of the Fords for never reporting this matter to him. According to Robert Ford, it became clear to him that James had realized they were there to betray him. However, instead of scolding the Fords, James walked across the living room to lay his revolvers on a sofa. He turned around and noticed a dusty picture above the mantle, and stood on a chair in order to clean it. Robert Ford drew his weapon and shot the unarmed James in the back of the head. James' wife Zerelda Mimms ran into the room and screamed, "You've killed him". Robert Ford's immediate response was, "I swear to God I didn't." After the killing, the Fords wired Crittenden to claim their reward. They surrendered themselves to legal authorities but were dismayed to be charged with first degree murder. In one day, the Ford brothers were indicted, pleaded guilty, and sentenced to death by hanging, but two hours later, Crittenden granted them a full pardon. Public opinion turned against the Fords for betraying their gang leader, and Bob was seen as a coward and traitor for killing James. This sentiment warred with the opinion that it had been time for James to be stopped. For a period, Bob earned money by posing for photographs as "the man who killed Jesse James" in dime museums. He also appeared on stage with his brother Charles, reenacting the murder in a touring stage show.
Charles, terminally ill with tuberculosis and addicted to morphine, committed suicide on May 4, 1884. Soon afterward, Bob Ford and Dick Liddil relocated to Las Vegas, New Mexico, where they opened a saloon. By early 1885, Bob had become a Las Vegas city policeman. According to legend, Ford had a shooting contest with Jose Chavez y Chavez, a comrade-in-arms of Billy the Kid's during the Lincoln County War. Ford lost the contest and left town. On December 26, 1889, Robert Ford survived an assassination attempt in Kansas City, Kansas when an assailant tried to slit his throat. Within a few years, Ford settled in Colorado, where he opened a saloon-gambling house in Walsenberg. When silver was found in Creede, Ford closed his saloon and opened one there. On the eve of Easter 1892, Ford and gunman Joe Palmer, a member of the Soapy Smith gang, were drinking in the local saloons and then went outside and shot out windows and street lamps along Creede's Main Street. Ford purchased a lot and on May 29, 1892 opened Ford's Exchange, said to have been a dance hall. Six days later, the entire business district, including Ford's Exchange, burned to the ground in a major fire. Ford opened a tent saloon until he could rebuild.
Three days after the fire, on June 8, 1892, Edward O'Kelley entered Ford's tent saloon with a shotgun. According to witnesses, Ford's back was turned. O'Kelley said, "Hello, Bob." As Ford turned to see who it was, O'Kelley fired both barrels, killing Ford instantly. O'Kelley hence became "the man who killed the man who killed Jesse James". O'Kelley's sentence was commuted because of a medical condition, and he was released on October 3, 1902. O'Kelley was subsequently killed on January 13, 1904 while trying to shoot a policeman. Robert Ford was buried in Creede. His remains were later exhumed and reburied in Richmond Cemetery, in his native Ray County at Richmond.
Born
December, 08, 1861
USA
Ray County, Missouri
Died
June, 08, 1892
USA
Creede, Colorado
Cause of Death
Cemetery
Richmond Cemetery
Richmond, Missouri
USA
1699 profile views