Robert Enke
(Robert Enke)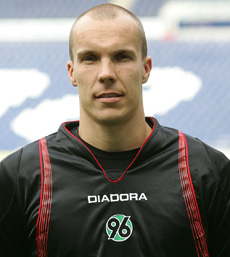 Robert Enke was born on 24 August 1977 in Jena, where he grew up in a flat in the district of Lobeda. He was the youngest of three children born to Dirk Enke, a sports psychologist, and Gisela Enke. He began playing football from an early age, initially playing as a striker, before making the switch to goalkeeper, where he displayed obvious talent. He joined Carl Zeiss Jena in 1985 after an impressive performance while playing against them in a youth team match for SV Jenapharm. He rose through the youth ranks at the club, and in 1993, he played for the Germany under-15 national team against England at Wembley Stadium. The game finished 0–0, with Enke receiving praise for multiple saves made throughout the match.  At the age of 17, Enke signed his first professional contract with Carl Zeiss Jena. Robert Enke worked his way up to the first team at Carl Zeiss Jena during the 1995–96 season. He made his professional debut on 11 November 1995, against future club Hannover 96 in the 2. Bundesliga. He was given the opportunity after first choice Mario Neumann conceded 14 goals in just three matches, prompting coach Eberhard Vogel to drop him for the youngster Enke. Enke played three games during November 1995, but Neumann was restored to the team after this period and Enke did not appear for the first team again that season.
The goalkeeper actually would never play for the club again as he was signed by Bundesliga club Borussia Mönchengladbach in the summer of 1996. Robert Enke spent his first two seasons here with the club's U-23 side, playing in the lower leagues, as well as for the Under-21 national team and honing his talent, studying the club's number one goalkeeper Uwe Kamps. His chance came on the eve of the 1998–99 season when Uwe Kamps suffered a ruptured Achilles tendon and new coach Friedel Rausch gave Enke his big chance to finally make his club debut.[6](p47) His first Bundesliga game came on 15 August 1998 in a 3–0 win over Schalke 04 that put them top of the table. However, this position quickly changed as, despite Enke's best efforts, fifteen goals were scored past him in just one week. The club plummeted to the foot of the league where they remained from October until their eventual relegation (Rainer Bonhof was manager from November onward). In June 1999, he joined Benfica in Portugal, signing a three-year contract, and becoming one of four goalkeepers on the team's books. Enke had a history of panic attacks and had second thoughts soon after signing for the team. He realised however that, having signed a contract, he was obliged to fulfil it. The club were then managed by Enke's countryman Jupp Heynckes, who promptly made him captain. His time in Portugal was a turbulent one, as the club changed manager three times in his three seasons there and suffered their lowest ever league finish (sixth) in a trophyless spell, beset by financial difficulties that caused players wages to often be late.
Despite these problems, Robert Enke's performances gained him the admiration of Encarnados (reds) fans, as well as interest from clubs like Arsenal, Atletico Madrid and Manchester United chasing him. After contract talks with Benfica stalled, Enke took up the offer of Spanish giants Barcelona and moved on a free transfer in June 2002 on a three-year deal. Life at the Camp Nou proved tough for Enke — he later labelled the goalkeeper's spot at Barça as the "most difficult goalkeeping position in Europe" – as he ended up playing second choice to Roberto Bonano and then Víctor Valdés. His debut set the mark, as the club was humiliatingly knocked out of the Spanish Cup by third flight Novelda CF at the first hurdle on 11 September 2002 and was criticised by teammate Frank de Boer in public for his part in their exit. His brief taste of La Liga came in a 20-minute appearance as a substitute in a 2–2 draw at Osasuna on 2 March 2003. He did manage to sample some European action during his spell though as he made two UEFA Champions League appearances, against Bruges and Galatasaray in the group stage.
The following season, as Frank Rijkaard replaced Louis van Gaal as coach, Enke was loaned out to Turkish side Fenerbahçe – then managed by German coach Christoph Daum – as part of the deal that saw Rüştü Reçber move to the Spanish club. However, his career continued to stall as he managed to play just a solitary game there, a traumatic 0–3 defeat to Istanbulspor on 10 August 2003. His own fans pelted him with firelighters and bottles during the game, blaming him for this bitter defeat. These scenes caused Robert Enke to immediately quit the club and his planned one-year loan and return to Spain. It was at this time that Enke suffered his first spell of depression, and led to him almost quitting football altogether. After a four-month spell back at Barcelona, but outside the first team squad, Enke dropped down to the Spanish Segunda División when he was loaned to CD Tenerife in January 2004 for the remainder of the season. Here, he enjoyed an upturn, performing strongly and winning acclaim from the fans and other clubs. Although he believed his career was destined to remain in the lower leagues, he left Tenerife to join Hannover 96 in the Bundesliga.
Following his return to form at CD Tenerife, Robert Enke returned to his homeland joining Bundesliga side Hannover 96 in July 2004 on a free transfer in an initial two-year deal. His career enjoyed its greatest success and stability, as he became firmly established as the club's first choice and was voted the best goalkeeper in the league by his fellow professionals in kicker magazine. Such form caused Enke to be linked with moves to larger clubs, particularly VfB Stuttgart. In December 2006, however, he ended this speculation by signing a contract extension with Hannover 96 until the end of the 2009–10 season. He was elected team captain by his teammates for the 2007–08 season, a role he would retain for the rest of his career. He again won the best goalkeeper award for the 2008–09 season, which would tragically prove to be his final full campaign. Enke played 180 times for Hannover 96 in total. He made the final appearance of his career on 8 November 2009 in a 2–2 draw at home to Hamburg, just two days before his death. On 10 November 2009, at the age of 32, Robert Enke committed suicide when he stood in front of a regional express train at a level crossing in Eilvese, Neustadt am Rübenberge. Police confirmed a suicide note was discovered but would not publicise its details. His widow, Teresa, revealed that her husband had been suffering from depression for six years and was treated by a psychiatrist. After the death of his daughter Lara in 2006, he struggled to cope with the loss.
Born
August, 24, 1977
Jena, East Germany
Died
November, 10, 2009
Neustadt am Rübenberge, Germany
Cause of Death
Cemetery
Friedhof Empede
Hanover, Lower Saxony
Germany
2305 profile views