Robert B. Sherman
(Robert B. Sherman)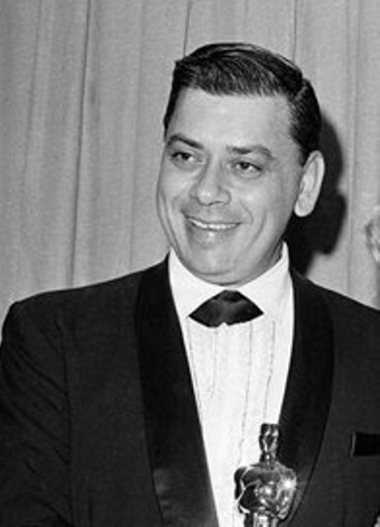 Robert Bernard Sherman was born on December 19, 1925, in New York City, to Russian Jewish immigrants, Rosa and Al Sherman. Al Sherman, a songwriter, paid for Robert's hospital delivery costs with a royalty check that had arrived that day for the song "Save Your Sorrow". Al Sherman was to become a well known Tin Pan Alley songwriter.  As a youth, Robert Sherman excelled in intellectual pursuits, taking up the violin and piano, painting and writing poetry. Following seven years of frequent cross-country moves, the Shermans finally settled down in Beverly Hills, California. Some of the primary schools Robert attended in Manhattan included PS 241 and the Ethical Culture Fieldston School; in California, the El Rodeo School.
Throughout his years at Beverly Hills High School, he wrote and produced radio and stage programs for which he won much acclaim. At age 16, he wrote Armistice and Dedication Day, a stage play centered on contemporary 1940s Americans that showed how their lives were inextricably changed following the December 7, 1941, attack on Pearl Harbor. The play yielded thousands of dollars for War Bonds and earned a special citation from the War Department.  Within two years, Sherman and his brother Richard began writing songs together on a challenge from their father, Al Sherman, a successful popular songwriter in the "Tin Pan Alley" days ("No! No! A Thousand Times No!!", "You Gotta Be a Football Hero"). In 1953, Robert married Joyce Ruth Sasner, which moderated what had become his bohemian lifestyle in the years following the war. His first child, Laurie, was born in 1955, followed by Jeffrey in 1957, Andrea in 1960 and later, Robert in 1968.
In 1958, Sherman founded the music publishing company, Music World Corporation, which later worked with Disney's BMI publishing arm, Wonderland Music Company. That same year, the Sherman Brothers had their first Top Ten hit with "Tall Paul", which was sung by Annette Funicello. The success of this song yielded the attention of Walt Disney who eventually hired the Sherman Brothers as Staff Songwriters for Walt Disney Studios. While at Disney, the Sherman Brothers wrote what is perhaps their most recognized song: "It's a Small World (After All)" for the 1964 New York World's Fair.  In 1965, the Sherman Brothers won 2 Academy Awards for Mary Poppins – Best Original Score, which included "Feed The Birds", "Supercalifragilisticexpialidocious"; and Best Original Song, "Chim Chim Cher-ee". Since Mary Poppins' premiere, Robert B. Sherman subsequently earned 9 Academy Award nominations, 2 Grammy Awards, 4 Grammy Award nominations and 23 gold and platinum albums.
Robert and Richard Sherman worked directly for Walt Disney until Disney's death in 1966. After leaving the company, the brothers worked freelance as songwriters on scores of motion pictures, television shows, theme park exhibits and stage musicals.  Their first non-Disney assignment came with Albert R. Broccoli's motion picture production Chitty Chitty Bang Bang in 1968 which garnered the brothers their third Academy Award Nomination. In 1973, the Sherman Brothers made history by becoming the only Americans ever to win First Prize at the Moscow Film Festival for Tom Sawyer for which they also authored the screenplay.
The Slipper and the Rose was picked to be the Royal Command Performance of the year and was attended by Queen Elizabeth. A modern musical adaptation of the classic Cinderella story, Slipper also features both song-score and screenplay by the Sherman Brothers. That same year the Sherman Brothers received their star on the Hollywood "Walk of Fame" directly across from Grauman's Chinese Theater.  Their numerous other Disney and Non-Disney top box office film credits include The Jungle Book (1967), The Aristocats (1970), The Parent Trap (1961), The Parent Trap (1998), Charlotte's Web (1973), The Many Adventures of Winnie the Pooh (1977), Snoopy, Come Home (1972), Bedknobs and Broomsticks (1971) and Little Nemo: Adventures In Slumberland (1992).
Outside the motion picture realm, their Tony-nominated Over Here! (1974) was the biggest-grossing original Broadway Musical of that year. The Sherman Brothers have also written numerous top selling songs including "You're Sixteen", which holds the distinction of reaching Billboard's Top Ten twice; first with Johnny Burnette in 1960 and then with Ringo Starr fourteen years later. Other top-ten hits include, "Pineapple Princess", "Let's Get Together" and more.  In 2000, the Sherman Brothers wrote the song score for Disney's blockbuster film: The Tigger Movie (2000). This film marked the brothers' first major motion picture for the Disney company in over twenty eight years.
In 2002 the stage musical Chitty Chitty Bang Bang premiered in London. It is currently the most successful stage show ever produced at the London Palladium, boasting the longest run in that century-old theatre's history. In early 2005 a second Chitty company premiered on Broadway (New York City) at the Foxwoods Theatre (then the Hilton Theatre). The Sherman Brothers wrote an additional six songs specifically for the new stage productions.
In 2002, Sherman moved from Beverly Hills to London, England, where he continued to write and paint. In 2003, four Sherman Brothers' musicals ranked in the "Top 10 Favorite Children's Films of All Time" in a (British) nationwide poll reported by the BBC. The Jungle Book (1967)_ranked at #7, Mary Poppins (1964) ranked at #8, The Aristocats (1970) ranked at #9 and Chitty Chitty Bang Bang (1968) topped the list at #1.  A new Disney and Cameron Mackintosh production of Mary Poppins: The Stage Musical made its world premiere at the Prince Edward Theatre in December 2004 and features the Sherman Brothers classic songs.
In June 2005, Robert B. Sherman was inducted into the Songwriters Hall of Fame with his brother. Also in June 2005, a tribute was paid to Robert B. Sherman at the Théâtre de Vevey in Vevey, Switzerland by the Ballet Romand. Chitty opened on Broadway in 2005 and commenced its first full UK tour in December 2005 with subsequent tours and/or tour dates in each year since. Poppins opened on Broadway in 2006.  In 2008, Robert Sherman completed an autobiographical novel entitled Moose, while Poppins embarked on a UK tour as well as a world tour beginning in Göteborg, Sweden. Chitty embarked on a tour of 29 cities in the U.S. which ended in 2009.
Robert B. Sherman died in London on March 5, 2012 from an age-related illness. He was aged 86.[1] A public memorial service and funeral was held for him on March 9, 2012 at Hillside Memorial Park and Mortuary in Culver City.
Born
December, 19, 1925
USA
New York City, New York
Died
March, 05, 2012
United Kingdom
London, England
16255 profile views