Ritchie Valens
(Richard Steven Valenzuela)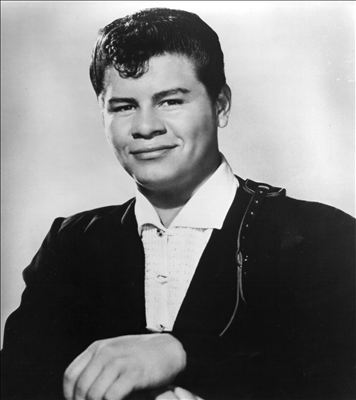 Ritchie Valens
Mexican-American musician Ritchie Valens is best known for his hit "La Bamba." His successful career was cut short when he died in a plane crash at age 17.
Ritchie Valens was a Mexican-American singer and songwriter influential in the Chicano rock movement. He recorded numerous hits during his short career, most notably the 1958 hit "La Bamba." Valens died at age 17 in a plane crash with fellow musicians Buddy Holly and J.P. Richardson on February 3, 1959. The tragedy was later immortalized as "the day the music died" in the song "American Pie."
Born Richard Steven Valenzuela on May 13, 1941, in Pacoima (near Los Angeles), California, Ritchie Valens made history as rock music's first Latino star. His promising career, however, was cut short by tragedy. Valens died in a 1959 plane crash while on tour, along with Buddy Holly and J.P. "The Big Bopper" Richardson.
Growing in Pacoima, Valens developed a love of music early on and learned to play a number of different instruments. But the guitar soon became his passion. And he found inspiration from various sources, ranging from traditional Mexican music to popular R&B acts to innovative rock performers like Little Richard.
At 16, Valens joined his first band, the Silhouettes. The group played local gigs, and Valens was spotted at one of these performances by Bob Keane, the head of the Del-Fi record label. With Keane's help, the young performer was about to have a career breakthrough.
Valens auditioned for Keane's record label in May 1958. And before long, he had his first single out on Del-Fi. The song, "Come On, Let's Go," became a minor hit. Keane also encouraged the young singer to shorten his last name to "Valens" to make it more radio friendly. Valens had even greater success with his second single, which featured "La Bamba" and "Donna." "Donna," an ode to his high school girlfriend Donna Ludwig, became a popular ballad, eventually climbing as high as the number two spot on the pop charts. While not as big a hit, "La Bamba" was a revolutionary song that fused elements of a traditional Mexican folk tune with rock and roll. Valens was not a native Spanish speaker and had to be coached on the all-Spanish-language song.
Riding the success of his latest single, Valens entertained a national audience on American Bandstand that December. He also appeared on Alan Freed's Christmas Show around that time. In January 1959, Valens went on the road with the Winter Dance Party tour. The tour featured such acts as Buddy Holly, Dion and the Belmonts, and J.P. "The Big Bopper" Richardson. Over three weeks, these performers were set to play 24 concerts in the Midwest.
On February 2, 1959, the Winter Dance Party tour played the Surf Ballroom in Clear Lake, Iowa. The tour was set to perform the next day in Moorhead, Minnesota. Holly had chartered a plane to get there after experiencing trouble with his tour bus. According to some reports, Valens won a seat on the plane in a coin toss with Holly's guitarist Tommy Allsup. J.P. "The Big Bopper" Richardson also traded places with another original passenger, Waylon Jennings.
During a light snowstorm, the plane took off but it only traveled about five miles before crashing into a cornfield. All four passengers—Richardson, Holly, Valens and the pilot—were killed. As the news of the accident spread, many were shocked by the loss of these three talents. The tragedy was later memorialized in the Don McLean song "American Pie" as "The day the music died."
Only 17 years old when he died, Valens left behind a few recordings. His first, self-titled album was released shortly after the accident and did well on the charts. A live recording was later released as Ritchie Valens in Concert at Pacoima Junior HIgh. And his life story was memorialized on the big screen in the 1987 hit La Bamba, which introduced a new generation of music fans to the pioneering Latino performer. Lou Diamond Phillips played Valens, and the band Los Lobos recorded the soundtrack.
Valens was inducted into the Rock and Roll Hall of Fame in 2001.
Born
May, 13, 1941
Pacoima, California
Died
February, 03, 1959
Clear Lake, Iowa
Cause of Death
Cemetery
San Fernando Mission Cemetery
Mission Hills, California
2686 profile views