Rick Rude
(Richard Erwin Rood)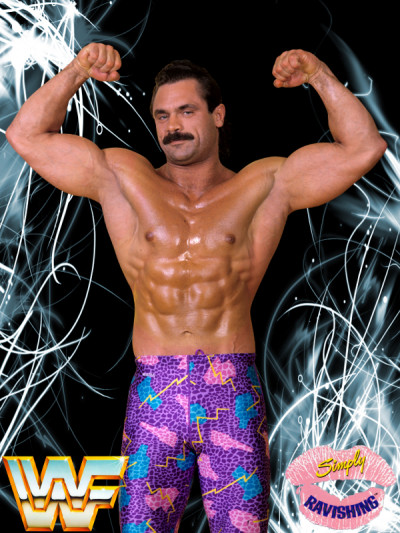 Rick Rude
former wrestling superstar – commentator and manager "Ravishing" Rick Rude (Richard Rood) has died at the age of 41. Reports say Rude died on Tuesday, April 20, 1999 but the details surrounding his death remain unknown at press time. Unconfirmed reports say that he may have had a heart attack.
Known for his neckbreaker finishing move "The Rude Awakening" and gyrating for appreciative female fans in the ring, Rude began his wrestling carrer in 1983 at a card in Vancouver, British Columbia.
A former World Class Heavyweight Champion in the southern United States, Rude's popularity skyrocketed when he was hired by Vince McMahon's World Wrestling Federation during the eighties wrestling boom. He had a successful run as the WWF's Intercontinental Champion while engaged in a bitter feud with the popular Ultimate Warrior. Their series of bouts culminated in a World Title – Steel Cage match at SummerSlam in 1990. Rude lost.
After his stint in the WWF, Rude went to work for the rival World Championship Wrestling and held the United States title there beating a mid-card wrestler known as "Stunning" Steve Austin. Austin went on to become "Stone Cold" Steve Austin in the WWF.
A serious neck injury in Japan forced Rude to hang up his tights. Rude was regulated to a role of manager – commentator in Extreme Championship Wrestling and as a bodyguard to D-Generation X in the WWF.
Rude's recent role in WCW was that of a manager to his hometown pal, Curt Hennig.
Rude leaves behind his wife and a nine-year old son.
Born
December, 07, 1958
St. Peter, Minnesota
Died
April, 20, 1999
Alpharetta, Georgia
Cause of Death
Cemetery
Green Lawn Cemetery
Roswell, Georgia
18672 profile views