Richie Ginther
(Paul Richard Ginther)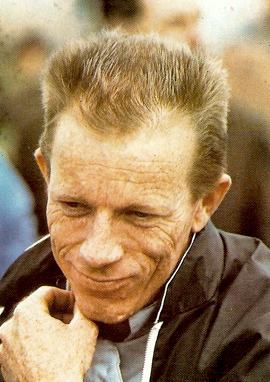 Richie Ginther made his F1 debut at the 1960 Monaco Grand Prix driving for Ferrari who he stayed with through 1961. In the September 1960 Italian Grand Prix in Monza he placed second to Phil Hill. Ginther led from the start until the 25th lap when Hill passed him and led until the finish. Following the 1960 season the Ferrari team gave up 1000 cc in engine size. The 2500 cc engine, permitted the previous year, was replaced by a 1.5-liter rear engine model, with 110 less horsepower. However, the newer engine was superior in both profiling and handling. The conservative Enzo Ferrari was the last major Formula 1 race car manufacturer to make the transition to cars with engines in the rear. In 1961 Ginther was in the #3 Ferrari driver, behind #1 Wolfgang Von Trips and #2 Hill. Giancarlo Baghetti occasionally piloted a fourth car. The team manager was Romulo Tavoni. On May 14, 1961, Ginther finished 2nd to Stirling Moss at the 1961 Monaco Grand Prix, only 3.6 seconds behind, a few hundred feet. He was driving a new rear-engine Ferrari, a 120-degree V-6 which had a lower center of gravity. Richie  Ginther had qualified first, just ahead of Hill, with an average speed of 70.7 mph (113.8 km/h), and a qualifying time of 1:39.3. He eclipsed the previous course record of 1:39.6. In August 1961 Ginther and Baghetti were teammates at the Pescara Grand Prix, a world auto manufacturers' championship event. Their Ferrari was leading on the 10th lap when it stopped on a straight stretch with a flat tire. Ginther averaged more than 133 mph (214 km/h) on the 6.2-mile (10.0 km) Autodromo Nazionale Monza in September 1961, to lead the first day of qualifying for the 1961 Italian Grand Prix. Von Trips qualified first with Ginther taking the third starting position after Ricardo Rodriguez. Ginther retired in the race. Von Trips died in a spectacular crash on the 2nd lap, which also killed eleven spectators, when his Ferrari climbed a 5-foot-high (1.5 m) earth embankment. It brushed a wire fence employed to restrain a portion of the crowd and struck the spectators. Some who were injured eventually succumbed to number a total of fifteen deaths. The Ferrari team ceased competition until January 1, 1962, as a mark of respect to Von Trips.
In the 1962 Richie Ginther switched to the British-based BRM team to race alongside Graham Hill the highlight of which was a third place in the 1963 World Championship behind Hill. He scored more points than his British team mate over the whole season, but only a driver's six best scores were counted towards the championship. His reputation as a solid "team player" and excellent test and development driver earned him an invitation to join the works Honda F1 team for 1965 for whom he scored his one and only GP win at the 1965 Mexican Grand Prix. The win was also Honda's first in Formula 1. Ginther averaged 151.7 kilometres per hour (94.3 mph) over the curving 5 kilometres (3.1 mi) track in the 65 lap Mexico City event. His speed eclipsed the previous course record of 150.185 km/h (93.321 mph) established by Dan Gurney in 1964. It was also the first time Honda had entered the Mexican Grand Prix. Honda reentered international competition in the 1966 Italian Grand Prix. The team was but three years old and had encountered difficulty in the preparation of a larger engine. Ginther led in Italy before his car crashed into a retaining wall and he broke his collarbone. He signed for the Eagle F1 team in 1967 and raced in the Race of Champions. At Monaco after practice, his place on the grid was given to a F2 car weighted to bring it up to minimum F1 specifications, and Ginther left F1 in disgust. Ginther won 1 race, achieved 14 podiums, and scored a total of 107 championship points.
He appeared in an uncredited role in the 1966 film Grand Prix as John Hogarth, a driver in the Japanese funded "Yamura" team. He also acted as one of the technical racing advisors for the movie. While making an attempt to qualify for the 1967 Indy 500, Ginther broke a fuel line in his American Eagle Indy Car. Fuel, a mix of ethanol and gasoline, was sprayed down his back. This experience, along with the memory of being burned earlier, led to his sudden retirement. He participated in a rally with sixty-five other competitors, including actor James Garner, in June 1969. The California Sports Car Club event was three hours cross country from Los Angeles to Huntington Beach. It benefited students from the Braille Institute. Richie Ginther managed a Porsche 911S with two American drivers during the 39th 24 hours of Le Mans, in June 1971. Richie Ginther died of a heart attack while on vacation with his family in France on September 20, 1989.
Born
August, 05, 1930
USA
Granada Hills, Los Angeles, California
Died
September, 20, 1989
Touzac-le-Roucou, France
Cause of Death
Other
1031 profile views