Richie Evans
(Richard Ernest Evans)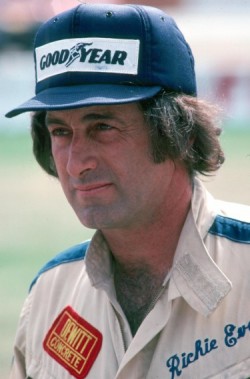 Richie Evans
An American racing driver who won nine NASCAR National Modified Championships, including eight in a row from 1978 to 1985. The International Motorsports Hall of Fame lists this achievement as "one of the supreme accomplishments in motorsports". Evans won virtually every major race for asphalt modifieds, most of them more than once, including winning the Race of Champions three times. Evans was elected to the NASCAR Hall of Fame on June 14, 2011. As one of the Class of 2012, Evans is one of the Hall's first 15 inductees, and is the first Hall of Famer from outside NASCAR's premier series.
On October 24, 1985, Evans, who had clinched the 1985 National Modified title the week before at Thompson, was practicing for the Winn-Dixie 500 Modified Feature at Martinsville Speedway in Martinsville, Virginia (the races featured 200-lap Modified and Busch Grand National, and a 100-lap Late Model feature), when he crashed heavily in turn 3. The 44-year-old perished in the accident. The racing world was devastated by the loss of Richie, but his devoted fans have done much to keep his memory alive. Years later other deaths came in the Whelen Modifieds including Charlie Jarzombek at Martinsville in 1987, Corky Cookman at Thompson in 1987, Don Pratt at the Pocono R.o.C. in 1989 and Tony Jankowiak at Stafford in 1990, occasional competitor and two-time defending track champion Tommy Druar in a Lancaster event in 1989, Tom Baldwin, Sr. at Thompson in 2004, and John Blewett III at Thompson in 2007. As a result, officials made more safety features. Evans' crash, along with other fatal crashes in the late 1980s, led to questions about excessive frame rigidity of the Tour Modifieds, and safety changes resulted. In particular, straight frame rails were phased out, with new chassis required to have a step-up which could bend in hard impacts rather than transmitting all its impact force to the driver.
Though not recognized at the time, many racing safety experts have concluded that Evans' death resulted from the same type of "head-whip" injury and resultant Basilar skull fracture, which also claimed the life of Dale Earnhardt in 2001.
Evans was the father of six children: Jodi Lynn (Evans) Meola, Janelle Ralaine (Evans) Walda, Jill Ann Evans, Jacqueline Marie (Evans) Williams, Richard Edwin Evans (who has raced under the moniker "Richie Evans Jr.") and Tara Denise (Evans) Farrell.
Evans' signature orange Modified paint scheme (GMC truck color Omaha Orange; black numbers with white shading) was replicated in 2003 on a Busch Series car driven by New Jersey native Martin Truex, Jr. in his first year on the series driving for Dale Earnhardt, Jr.'s Chance 2 Motorsports. Steve Park also ran a Richie Evans tribute paint scheme for Tommy Baldwin Racing's #36 entry at the 2010 Coke Zero 400 at Daytona.
It was heard during the draw for an IROC race a few years back that they called the color of one of the cars "Evans Orange." Ray Evernham, Jr. raced against Richie in the Modifieds and also wrote the foreword in the "Richie! The Richie Evans Story" by Bones Bourcier; he also worked on them at the IROC shops in his native New Jersey and was involved with that aspect.
John Bisci's input:
"GM Omaha Orange matches his early coupes. Yes, people say it's Dupont Swamp Holly Orange but it's hard to find. When Richie built his last coupes and first Pintos, he switched to Ford Grabber Orange. Also, you have to watch what you use as a primer underneath – it bleeds through the orange or tints it. Never use gray primer under the orange! Richie used red oxide primer which would tint the oranges a little darker…."
On June 14, 2011, Evans was elected to the NASCAR Hall of Fame. He is the first driver who competed primarily in Modified-type cars to be elected to the HOF.
On January 20, 2012 Evans was inducted into the NASCAR HOF, during which Darrell Waltrip said to the Evan's family during his acceptance speech, "You know Richie Evans I want to congratulate the Richie Evans Family, great job tonight. I watched Richie win race after race after race at Martinsville and in my world is what I call A wheel man and Richie Evans was the best wheel man I ever saw and when he raced at Martinsville."
Born
July, 23, 1941
Westernville, New York
Died
October, 24, 1985
Martinsville, Virginia
Cause of Death
Practicing for the Winn-Dixie 500 Modified Feature at Martinsville Speedway. When coming into turn 3, Richie's car turned right and slammed into the wall. He was killed instantly due to massive head injuries.
Cemetery
Westernville Cemetery
Westernville, New York
18352 profile views