Richard Harrison
(Richard Benjamin Harrison Jr)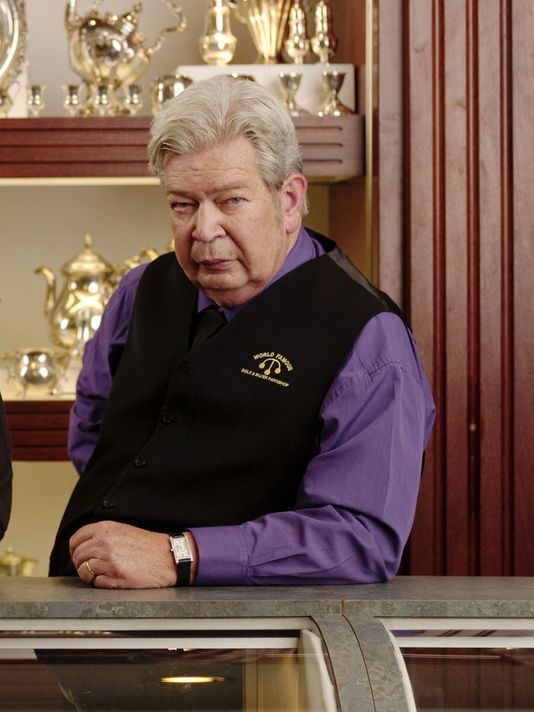 Richard Harrison
Video clips of reality TV figure Richard Harrison played in a Las Vegas funeral home where the patriarch of the Gold & Silver Pawn Shop empire was remembered as a Navy veteran, husband, father and sometimes cranky character.
One showed a "Pawn Stars" episode where he prepared to drive through an obstacle course.
"Oh, shut up before you even go there. I am the best driver here," Harrison told his son and colleagues before proceeding to knock down several traffic cones.
The video also included testimonials from colleagues filmed after Harrison's death.
Family, friends and fans paid their last respects Sunday to Harrison, who was known to the reality TV world as "The Old Man".
Richard Harrison died June 25 after a fight with Parkinson's disease. He was 77.
"He seemed like a really nice guy and kind of reminded me of my father," Las Vegas area resident Jack Leclair said.
Leclair watched the show since its 2009 launch, he said, and visited the store on Las Vegas Boulevard but never met Harrison.
Harrison's casket was draped during a private ceremony with an American flag to honor his 20 years of Navy service. A photo showed him with his wife of 58 years, JoAnne. He also is survived by sons Joseph, Rick and Chris Harrison, 10 grandchildren and five great-grandchildren.
Richard Harrison was born March 4, 1941, in Danville, Virginia. His father, a welder and carpenter, moved the family to Lexington, North Carolina, where Harrison spent most of his childhood.
In the Navy, he was transferred to San Diego in 1967 and rose to the rank of petty officer first class. He was discharged in the late 1970s and began helping his wife with her real estate business.
The family moved to Las Vegas in 1981, and Harrison relocated his business to its current Las Vegas Boulevard address in 1988.
In July 2009, "Pawn Stars" made its debut, featuring Harrison, his son Rick, grandson Corey and family friend Austin "Chumlee" Russell. It is set to begin filming its 16th season in September.
Born
March, 04, 1941
Danville, Virginia
Died
June, 25, 2018
Las Vegas, Nevada
Cause of Death
Cemetery
Palm Memorial Park Northwest
Las Vegas, Nevada
983 profile views