Richard Bong
(Richard Ira Bong)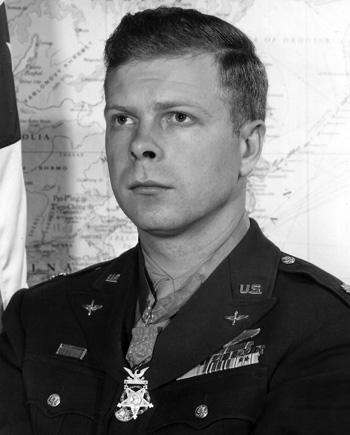 Richard Bong's ability as a fighter pilot was recognized at training in northern California. He was commissioned a second lieutenant and awarded his pilot wings on January 19, 1942. His first assignment was as an instructor (gunnery) pilot at Luke Field, Arizona from January to May 1942. His first operational assignment was on May 6 to the 49th Fighter Squadron (FS), 14th Fighter Group at Hamilton Field, California, where he transitioned into the twin-engine P-38 Lightning. On June 12, 1942, Richard Bong flew very low ("buzzed") over a house in nearby San Anselmo, the home of a pilot who had just been married. He was cited and temporarily grounded for breaking flying rules, along with three other P-38 pilots who had looped around the Golden Gate Bridge on the same day. For looping the Golden Gate Bridge, flying at a low level down Market Street in San Francisco, and for blowing the clothes off of an Oakland woman's clothesline, Bong was reprimanded by General George C. Kenney, commanding officer of the Fourth Air Force, who told him, "If you didn't want to fly down Market Street, I wouldn't have you in my Air Force, but you are not to do it any more and I mean what I say." Kenney later wrote: "We needed kids like this lad." In all subsequent accounts, Bong denied flying under the Golden Gate Bridge. Nevertheless, Bong was still grounded when the rest of his group was sent without him to England in July 1942. Bong then transferred to another Hamilton Field unit, 84th Fighter Squadron of the 78th Fighter Group. From there Bong was sent to the Southwest Pacific Area.
On September 10, 1942, Lt. Richard Bong was assigned to the 9th Fighter Squadron (aka "Flying Knights"), 49th Fighter Group, based at Darwin, Australia. While the squadron waited for delivery of the scarce Lockheed P-38s, Bong and other 9th FS pilots flew missions with the 39th FS, 35th Fighter Group, based in Port Moresby, New Guinea, to gain combat experience. On December 27, 1942, Bong claimed his initial aerial victory, shooting down a Mitsubishi A6M "Zero" and a Nakajima Ki-43 "Oscar" over Buna (during the Battle of Buna-Gona). For this action Bong was awarded the Silver Star. In March 1943, William Bong returned to the 49th FG, now at Schwimmer Field near Port Moresby, New Guinea. In April, he was promoted to first lieutenant.  On July 26, 1943, Bong shot down four Japanese fighters over Lae, an accomplishment that earned him the Distinguished Service Cross. In August, he was promoted to captain.  While on leave to the United States in November and December 1943, Bong met Marge Vattendahl at a Superior State Teachers' College Homecoming event and began dating her. After returning to the Southwest Pacific in January 1944, he named his P-38 "Marge" and adorned the nose with her photo. By April 1944, Captain Bong had shot down 27 Japanese aircraft, surpassing Eddie Rickenbacker's American record of 26 credited victories in World War I. In April, he was promoted to major.
After another leave in the U.S. in May 1944, Major Bong returned to New Guinea in September. Though assigned to the V Fighter Command staff and not required to fly combat missions, Bong continued flying from Tacloban, Leyte, during the Philippines campaign, increasing his official air-to-air victory total to 40 by December. Richard Bong considered his gunnery accuracy to be poor, so he compensated by getting as close to his targets as possible to make sure he hit them. In some cases he flew through the debris of exploding enemy aircraft, and on one occasion actually collided with his target, which he claimed as a "probable" victory. Upon the recommendation of Far East Air Force commander General George Kenney, Bong received the Medal of Honor from General Douglas MacArthur in a special ceremony in December 1944. Bong's Medal of Honor citation states that he flew combat missions despite his status as an "instructor", which was one of his duties as standardization officer for V Fighter Command. His rank of major would have qualified him for a squadron command, but he always flew as a flight (four-plane) or element (two-plane) leader. In January 1945, General Kenney sent America's ace of aces home for good. Bong married Marjorie Vattendahl on February 10, 1945. He participated in numerous PR activities, such as promoting the sale of war bonds.
Born
September, 24, 1920
USA
Superior, Wisconsin
Died
August, 06, 1945
USA
North Hollywood, California
Cause of Death
Cemetery
Poplar Cemetery
Poplar, Wisconsin
USA
985 profile views