Redd Foxx
(Jon Elroy Sanford)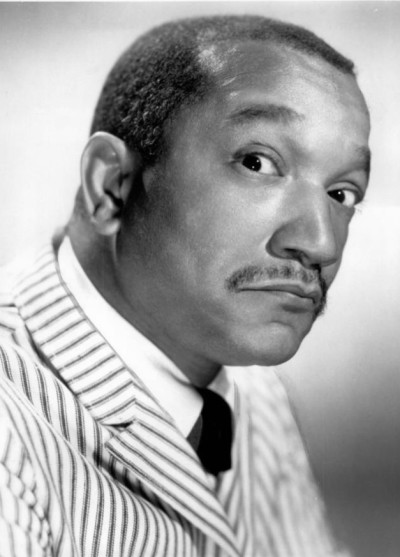 Foxx was born in St. Louis, Missouri and raised on Chicago's South Side. His father, Fred Sanford,[citation needed] an electrician and auto mechanic from Hickman, Kentucky, left his family when Foxx was four years old. He was raised by his half-Seminole Indian mother, Mary Hughes from Ellisville, Mississippi, his grandmother and his minister. He attended DuSable High School with future Chicago mayor Harold Washington. Foxx had an older brother, Fred G. Sanford Jr., who provided the name for his character on "Sanford and Son".  On July 27, 1939, Foxx performed on the Major Bowes Amateur Hour radio show as part of the Jump Swinging Six.  In the 1940s, he was an associate of Malcolm Little, later known as Malcolm X. In Malcolm's autobiography, Foxx is referred to as "Chicago Red, the funniest dishwasher on this earth." He earned the nickname because of his reddish hair and complexion. His surname was taken from baseball star Jimmie Foxx.  During World War II, Foxx dodged the draft by eating half a bar of soap before his physical, a trick that resulted in heart palpitations.  On September 30, 1946, Foxx recorded five songs for the Savoy label under the direction of Teddy Reig.  Foxx gained notoriety with his raunchy nightclub act during the 1950s, 60s, and 70s. His big break came after singer Dinah Washington insisted that he come to Los Angeles, where Dootsie Williams of Dootone records caught his act at the Brass Rail nightclub. Foxx was signed to a long-term contract and released a series of comedy albums that quickly became cult favorites.  Known as the "King of the party records," Foxx performed on over 50 records in his lifetime.  He was also one of the first black comics to play to white audiences on the Las Vegas Strip. He used his starring role on Sanford and Son to help get jobs for his acquaintances such as LaWanda Page, Slappy White, Gregory Sierra, Don Bexley, Beah Richards, Stymie Beard, Leroy Daniels, Ernest Mayhand and Noriyuki "Pat" Morita.
Foxx achieved his most widespread fame starring in the television sitcom Sanford and Son, an adaptation of the BBC series Steptoe and Son. The series premiered on the NBC television network on January 14, 1972 and was broadcast for six seasons. The final episode aired on March 25, 1977.  Foxx played the role of Fred G. Sanford ("Fred Sanford" was actually Foxx's father's name), while Foxx's co-star Demond Wilson played the role of his son Lamont. In this sitcom, Fred and Lamont were owners of a junk/salvage store who dealt with many humorous situations that would arise. The series was notable for its racial humor and overt prejudices which helped redefine the genre of black situation comedy.  The show also had several running gags. When angry with Lamont (Demond Wilson), Fred (Redd Foxx) would often say "You big dummy" or would often fake heart attacks by putting his hand on his chest and saying (usually while looking up at the sky) "It's the big one, I'm coming to join ya honey/Elizabeth" (referring to his late wife Elizabeth). Fred would also complain about having arthritis to get out of working by showing Lamont his cramped hand. Foxx depicted a character in his 60s, although in real life he was younger.  In 1977, Foxx left Sanford and Son, after six seasons (the show was canceled with his departure) to star in a short-lived ABC variety show. By 1980 he was back playing Fred G. Sanford in a brief revival/spin-off, Sanford. In 1986, he returned to television in the ABC series The Redd Foxx Show, which was cancelled after 12 episodes because of low ratings.  Foxx made a comeback with the series The Royal Family, in which he co-starred with Della Reese.
On October 11, 1991, during a break from rehearsals for The Royal Family, he suffered a heart attack on the set. According to Della Reese, Foxx was about to have been interviewed by Lifestyles of the Rich and Famous; when she leaned down to Foxx as he was on the ground, Foxx said, "Get my wife" repeatedly. According to Joshua Rich at Entertainment Weekly, "It was an end so ironic that for a brief moment cast mates figured Foxx — whose 70s TV character often faked heart attacks — was kidding when he grabbed a chair and fell to the floor." Foxx was taken to Queen Of Angels Hollywood Presbyterian Medical Center, where he died that evening at the age of 68.  Foxx was posthumously given a star on the St. Louis Walk of Fame on May 17, 1992. Foxx is buried in Las Vegas, at Palm Valley View Memorial Park. His mother, Mary Carson (1899–1993), outlived Foxx and died nearly 17 months later, in 1993. She was buried just to the right of her famed son.
Born
December, 09, 1922
USA
St. Louis, Missouri
Died
October, 11, 1991
USA
Los Angeles, California
Cause of Death
Cemetery
Palm Memorial Park (Green Valley)
Las Vegas, Nevada
USA
10351 profile views