Raymond Bailey
(Raymond Thomas Bailey)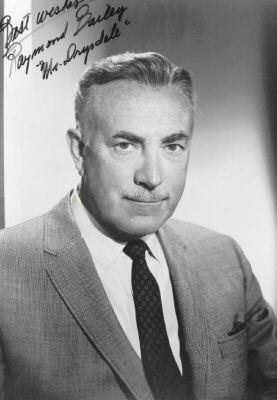 He was born in San Francisco, California, the son of William and Alice (née O'Brien) Bailey. When he was a teenager he went to Hollywood to become a movie star. He found it was harder than he had thought, however, and took a variety of short-term jobs. He worked for a time as a day laborer at a movie studio in the days of silent pictures, but was fired for sneaking into a mob scene while it was being filmed. He also worked for a while as a stockbroker and a banker. Having no success getting any kind of movie roles, Bailey then went to New York where he had no better success getting roles in theatre. Eventually he began working as a merchant seaman and sailed to various parts of the world, including China, Japan, the Philippines and the Mediterranean. While docked in Hawaii, he worked on a pineapple plantation, acted at the community theatre and sang on a local radio program. In 1938, he decided to try Hollywood again. His luck changed for the better when he actually began getting some bit parts in movies, but after the United States entered World War II he again served in the United States Merchant Marine. When the war was over he returned to Hollywood and eventually began getting bigger character roles.
In the early 1950s, Bailey was cast in many character roles in television series, such as Alfred Hitchcock Presents, Tales of Tomorrow (episode "Ice from Space"), Frontier, Crusader, My Friend Flicka (episode "When Bugles Blow"), Gunsmoke (episodes "General Parsley Smith" & "The Big Con", Tightrope, State Trooper, COronado 9, and Johnny Ringo. Other appearances were on The George Burns and Gracie Allen Show, Playhouse 90,Science Fiction Theatre The Rifleman, The Jack Benny Program, Riverboat, Bourbon Street Beat, 77 Sunset Strip, Hennesey, The Twilight Zone, Bonanza, The Man and the Challenge, The Untouchables, Have Gun-Will Travel, The Tab Hunter Show, Pete and Gladys, The Donna Reed Show, Bachelor Father, Going My Way, and twice on Mister Ed. Bailey made two guest appearances on Perry Mason; in 1959 he played banker Mr. Hilliard in "The Case of the Caretaker's Cat," and in 1961, Dr. Bell in "The Case of the Injured Innocent." During its 1960–1961 season, he had a regular role on My Sister Eileen and guest starred on Pat O'Brien's ABC sitcom Harrigan and Son.In 1961 he appeared on Lassie as general ( Iron Pants ) Steel. He appeared in the 1962–1963 season as Dean McGruder on CBS's The Many Loves Of Dobie Gillis, starring Dwayne Hickman. He appeared on Dobie Gillis while also cast full-time as banker Drysdale on The Beverly Hillbillies.
Bailey appeared in four Broadway plays, as Howard Haines in Last Stop (1944), playing an unknown man in The Bat (1953), A. J. Alexander in Sing Till Tomorrow (1953), and Captain Randolph Southard in The Caine Mutiny Court-Martial (1954–1955), which starred Henry Fonda. Bailey's film roles include playing a member of the board in the comedy/romance Sabrina (1954) starring Humphrey Bogart, Audrey Hepburn and William Holden; Mr. Benson in the drama Picnic (1955) starring William Holden and Kim Novak; a doctor in Hitchcock's drama/thriller Vertigo (1958) starring James Stewart and Novak; a Colonel in the comedy No Time for Sergeants (1958) starring Andy Griffith; the warden of San Quentin in the crime/dramas I Want to Live! starring Susan Hayward and as Philip Dressler in The Lineup (film) (1958); Lawyer Brancato in the crime drama Al Capone (1959) starring Rod Steiger; and Major General Alexander "Archie" Vandegrift in the World War Two drama The Gallant Hours (1960). He also played a plantation owner in Band of Angels (1957) starring Clark Gable, Sidney Poitier and Yvonne De Carlo. Raymond Bailey died of a heart attack, aged 75 in Irvine, California. His body was cremated and his ashes were scattered at sea. He was survived by his wife, Gaby Aida George (1914–1985).
Born
May, 06, 1904
USA
San Francisco, California
Died
April, 15, 1980
USA
Irvine, California
Cause of Death
Other
Cremated, Ashes scattered at sea.
17695 profile views