Raita Fujiyama
(Raita Fujiyama)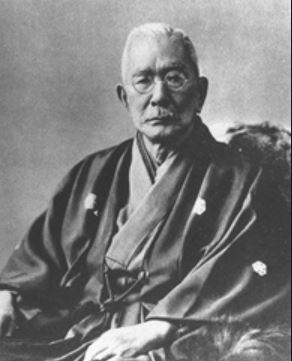 Raita Fujiyama
Fujiyama was born in Matsuura-gun in Hizen Province (modern-day Imari City, Saga Prefecture), to the village headman and a feudal retainer of the Saga Domain. After studying at the Kodokan (a school of the Saga Domain), he studied at the Nagasaki Normal School (a school of education). When he graduated, he took jobs teaching there and at an elementary school. From 1884 he studied at Keio Gijuku, and after a stint back in his hometown as a member of the prefectural assembly, he turned his attention to the business world. In 1892, he was introduced to Yukichi Fukuzawa's nephew, Hikojiro Nakamigawa, who was known as the "Restorer of Mitsui," and Fujiyama began working at Mitsui Bank. Fujiyama quickly distinguished himself, and exhibited his abilities in management when he was sent from the bank to work at Shibaura Seisakusho (now known as Toshiba) and Oji Seishi. After resigning from Mitsui in 1909, he was hired as president of Dai-Nippon Seito, which he saved from the brink of bankruptcy. Through acquisitions and founding of new companies, he formed a group of companies which was known as the Fujiyama Konzern Group.
At Keio, he began serving as a Councillor from 1905, and he contributed greatly to the development of the school over the course of his life, such as through conducting surveys and research as a special committee member for the establishment of the present School of Medicine.
After Fujiyama died in March of 1944, the library, including the entire collection, the building, and the land on which the building stood, was donated to Keio by his son, Aiichiro. That same year in August, Keio alumnus Ginjiro Fujiwara donated the Fujiwara Institute of Technology, which he founded, to Keio University, and the Faculty of Engineering (now the Faculty of Science and Technology) was inaugurated. Thus, a fully-fledged advanced engineering education was launched, which had at its foundation the Fujiyama Industrial Library.
After the war, due to the requisition of Hiyoshi Campus by the US Army, the Faculty of Engineering was forced to move around, and it was difficult frequently being forced to move from one temporary school building to another. In 1949, the Faculty of Engineering finally settled down in Koganei, but the location of the library in Shirokanedai was too far for many people, and visitor numbers plummeted. In 1957, with Aiichiro Fujiyama's consent, Keio sold the land and building. The building that was completed with the proceeds from the sale opened the next year as the Fujiyama Memorial Library, which was replete with general books, not just volumes on engineering. It later became the Fujiyama Memorial Hall.
Born
Died
Cemetery
Tama Cemetery
Tokyo, Japan
2673 profile views