R. G. Armstrong
(Robert Golden Armstrong)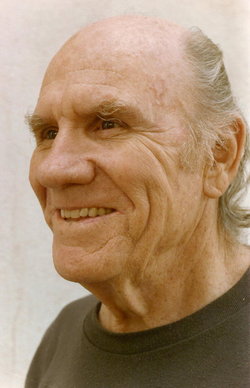 R. G. Armstrong
R. G. Armstrong Jr., a rough-hewed character actor known for playing sheriffs, outlaws and other macho roles, died on Friday at his home in Studio City, Calif. He was 95.
His death was confirmed by his daughter Robbie Armstrong-Dunham.
Mr. Armstrong's five-decade career took off with guest spots on virtually all the popular Western television shows of the 1950s and '60s, including "Have Gun — Will Travel" and "Gunsmoke."
After meeting the writer and director Sam Peckinpah on the set of his 1960 series "The Westerner," Mr. Armstrong became a regular in his films, playing an outspoken Christian fundamentalist in "Ride the High Country," with Randolph Scott and Joel McCrea; a minister in "Major Dundee," with Charlton Heston in the title role; and a vicious deputy sheriff alongside Kris Kristofferson and Bob Dylan (in a small role) in "Pat Garrett and Billy the Kid."
Departing from westerns, Mr. Armstrong performed with James Earl Jones in "The Great White Hope" and with Arnold Schwarzenegger in the alien-thriller "Predator." He appeared on innumerable non-western television shows like "The Twilight Zone" and "The Andy Griffith Show," and was a favorite of Warren Beatty's. Mr. Beatty cast him in the films "Heaven Can Wait," "Reds" and as Pruneface in "Dick Tracy."
Robert Golden Armstrong Jr. was born on April 7, 1917, in Birmingham, Ala. He graduated from the University of North Carolina, Chapel Hill, and moved to New York to attend Lee Strasberg's Actors Studio in the mid-1950s. That led him to parts in Elia Kazan's original production of Tennessee Williams's "Cat on a Hot Tin Roof" in 1955 (as Dr. Baugh) and in other Broadway shows like "Orpheus Descending" and "The Miracle Worker" before heading for Hollywood's television studios.
Besides his daughter Robbie, Mr. Armstrong, who was married three times, is survived by two other daughters from his first marriage, Laurie Nell and Daryl Armstrong; a son, Wynn; a daughter from an earlier relationship, Betty; and five grandchildren.
Born
April, 07, 1917
Birmingham, Alabama
Died
July, 27, 2012
Los Angeles, California
Cause of Death
died of natural causes at the age of 95
Other
Cremated, Ashes given to family or friend.
17866 profile views