Proof
(DeShaun Dupree Holton)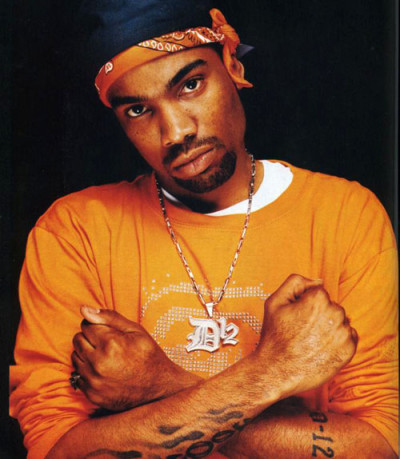 DeShaun Dupree Holton was born to Sharallene "Pepper" Holton, a single mother. His father, McKinley Jackson, was a music producer who left to pursue his career prior to Holton's birth. Holton grew up in Warren, Michigan where he met childhood friend and future musical collaborator Marshall Mathers, who would later rise to fame as Eminem. Originally known as Maximum, under the moniker "Proof", Holton first rose to national prominence as a part of the rap group D12, a hip-hop group he was instrumental in forming. Early individual accomplishments include being featured in The Source's "Unsigned Hype" column in 1999 and nearly winning the 1998 Blaze Battle. His first television appearance was in the video for Aaliyah's "Age Ain't Nothing But a Number". In 2000, Proof toured with Eminem, Dr. Dre, and Snoop Dogg in the Up In Smoke Tour, performing as a hype man for Eminem. He gained further exposure in 2001 with the release of Devil's Night, D12's debut album on Interscope Records. The following year, Proof collaborated with Dogmatic on "Promatic" and joined Eminem's "Anger Management" tour in support of the release. He appeared in the film 8 Mile along with Eminem and Xzibit, although the character based on him, Future, was portrayed by Mekhi Phifer. Proof appeared as Lil' Tic, a freestyle rapper who rap battles the lead character, B-Rabbit, played by Eminem. To capitalize on the publicity from the film, Proof released a six-song EP called Electric CoolAid: Acid Testing. Proof also starred in a cameo role, alongside the rest of D12 (except for Eminem), in The Longest Yard, appearing as "Basketball Convicts" during the credits.
Proof released a solo album featuring collaborations with 50 Cent, Method Man, Nate Dogg, B-Real of Cypress Hill, T3 of Slum Village, Obie Trice, Eminem, and D12. The album was released on his own Iron Fist Records label in conjunction with Alliance Entertainment's IDN Distribution. Proof said that he did not produce the record with Shady Records or Aftermath because he wanted to "build his own thing". Called Searching for Jerry Garcia, the album was released on August 9, 2005 on his own Iron Fist Records label, ten years to the day following Grateful Dead frontman Jerry Garcia's death. It contained the prophetic song Kurt Kobain in which he wrote of his own death and 'passing the sign' to 1st Born as his protégé once he was gone. Proof has said that he considered Garcia to be a "genius" who suffered from common character flaws. Proof has stated his admiration for Garcia's eclectic style, saying that Garcia "went against the grain". Proof stated how he wanted to be remembered in an interview with SOHH.com shortly after his album release: "I want people to say that I was a true artist, that I did it best and stayed true to Hip Hop roots […] I'd want people to understand I did it for the love, not for the charts." The album received favorable reviews, which commented on its "eclectic" and "introspective" nature. Despite its list of guest appearances and favorable reviews, the release did not make a significant impact on the charts. Proof also recorded a track, "How I Live," with Twiztid for their album Independents Day shortly before his death. Besides these, he recorded during his Gold Coast tour in 2006, which was exactly two weeks before his death, a song with "Liquidsilva" from Australia.
On April 11, 2006, Proof was shot four times by Mario Etheridge, after an altercation broke out during a game of billiards at the CCC Club on 8 Mile Road in Detroit, Michigan. A pool game between Proof and Keith Bender turned into a heated argument and then escalated into a physical altercation. Etheridge, who was Bender's cousin, fired a warning shot into the air. There have been many conflicting reports about Proof and Keith Bender's roles in the shooting, but it was reported that Proof then shot Bender in the head during the altercation. Bender was not immediately killed by the gunshot but died a week later from his injuries. In response to Proof allegedly shooting Bender, Etheridge then shot Proof four times, twice in the head and twice in the chest, killing him at the scene. At the time of his death, Proof's blood alcohol content was 0.32, four times the legal DUI limit. An autopsy revealed that he did not have any illegal drugs in his system. Proof's lawyer, David Gorosh, accused the police and the media of being "reckless" for suggesting that his client fired the first shots without having any hard evidence. A few weeks after both men's death, Bender's family began a wrongful death suit against Proof's estate.
Authorities determined that Etheridge was acting lawfully in defense of another; however, he was found guilty of carrying an illegal firearm and discharging it inside of a building. On April 19, 2006, Proof was buried in the Fellowship Chapel in Detroit to a full house of 2,660, including long time friend Eminem, Royce Da 5'9 and thousands more mourning outside. Seven months after Proof's death, his close friend Reginald "Mudd" Moore, who was with him at the nightclub where he was killed, gave an exclusive interview with XXL magazine where he told a different account of what happened that night. In Mudd's version of the events, Proof is portrayed neither as the instigator nor a cold-blooded killer. According to Mudd, the night started out with him and Proof and two of their friends barhopping. They arrived at the Triple C club at around 3:30am where a fight between Keith Bender and Proof escalated over a pool game. The bouncer Mario Etheridge then pulled out his gun and fired two shots into the air to break the fight up, but instead the shots caused panic. Mudd went on to state that an intoxicated Proof pushed him out of the way, reached for his gun and fired once into the air. Keith Bender then came from behind and started attacking Proof trying to get the weapon out of his hand. Etheridge then came over and started shooting in the direction of both Proof and Bender, killing them both. In 2008, Welsh singer/songwriter Jem dedicated the song "You Will Make It" to the memory of Proof (listed under his birth name DeShaun Holton) on her second album Down to Earth. In the liner notes, she said "For your families and friends and for all those who experienced the tragedy of sudden loss".
Born
October, 02, 1973
USA
Detroit, Michigan
Died
April, 11, 2006
USA
Detroit, Michigan
Cause of Death
Cemetery
Woodlawn Cemetery
Detroit, Michigan
USA
8185 profile views