Priscilla Lane
(Priscilla Mullican Mullican)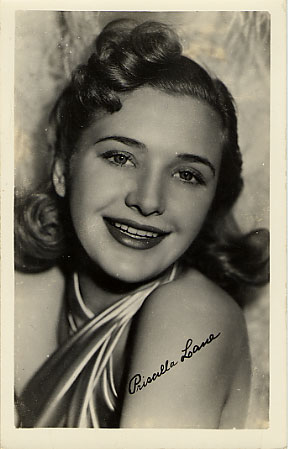 Priscilla Lane
Priscilla Mullican was born on June 12, 1915, in Indianola, Iowa, a small college town south of Des Moines. She was the youngest of five daughters of Dr. Lorenzo Mullican, DDS, and his wife, Cora Bell Hicks. Dr. Mullican had a dental practice in Indianola. The family owned a large house with 22 rooms, some of which they rented out to students attending nearby Simpson College.
Priscilla and one of her sisters, Rosemary, traveled to Des Moines every weekend to study dancing with Rose Lorenz The girls made their first professional appearance September 30, 1930, at Des Moines' Paramount Theater. Priscilla, then 15, performed on stage as part of the entertainment accompanying the release of her sister Lola's Hollywood movie Good News (1930).
After graduating from high school, Priscilla was permitted to travel to New York to visit a third sister, Leota, who was then appearing in a musical revue in Manhattan. Priscilla enrolled at the nearby Fagen School of Dramatics, and Leota paid the fee. At this time, talent agent Al Altman saw Priscilla performing in one of Fagen's school plays and invited her to screentest for MGM. She was 16 years old. Priscilla wrote to a friend in Indianola, "Leota accompanied me to a sort of theater in a New York skyscraper. Others were there being made up. One was a strange looking girl with her hair slicked back in a sort of a bun. Her name is said to be Catherine Hepburn [sic]. Not very pretty, I thought, but Mr. Altman said she has something. Margaret Sullavan, the Broadway actress, was there too!" A follow-up letter said that her test had proven unsuitable. Neither Hepburn nor Sullavan were approved, and neither received a contract from MGM at the time.
In 1932, Cora and Rosemary arrived in New York. Cora immediately went to work pushing her two young daughters into attending auditions for various prospective Broadway productions, without success. During a tryout at a music publishing office, orchestra leader and radio personality Fred Waring heard them harmonizing. He found them attractive and talented and soon signed them to a radio contract. Priscilla, who at this time adopted the surname Lane, quickly became known as the comedienne of the group. Rosemary sang the ballads, while Priscilla performed the swing numbers and wisecracked with Waring and various guests. Back in Iowa, Dr. Mullican instituted divorce proceedings against his wife on the grounds of desertion, and the divorce was granted in 1933.
Born
June, 12, 1915
Indianola, Iowa
Died
April, 04, 1995
Andover, Massachusetts
Cause of Death
Cemetery
Arlington National Cemetery
Arlington, Virginia
16785 profile views