Phyllis Diller
(Phyllis Ada Driver)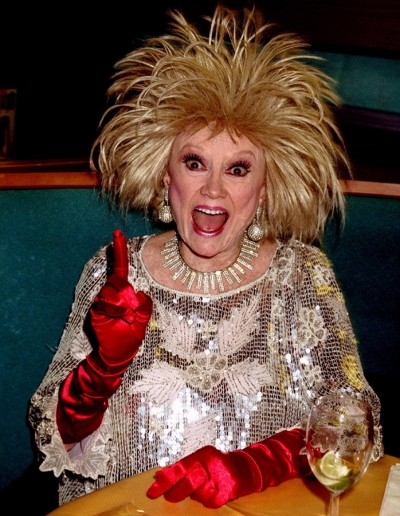 Diller was born Phyllis Ada Driver in Lima, Ohio on July 17, 1917, the only child of Perry Marcus Driver (June 13, 1862 – August 12, 1948), an insurance agent, and Frances Ada (née Romshe; January 12, 1881 – January 26, 1949). She had German and Irish ancestry (the surname "Driver" had been changed from "Treiber" several generations earlier). She was raised Methodist. She attended Lima's Central High School, then studied piano for three years at the Sherwood Music Conservatory of Columbia College Chicago before transferring to Bluffton College, where she met fellow "Lima-ite" and classmate Hugh Downs.
Diller was a housewife, mother, and advertising copywriter. During World War II, she lived in Ypsilanti, Michigan while her husband worked at the Willow Run Bomber Plant.  Although she made her career in comedy, Diller had studied the piano for many years. She decided against a career in music after hearing her teachers and mentors play with much more skill than she thought that she would be able to achieve. She still played in her private life, however, and owned a custom-made harpsichord.  Along with Lenny Bruce, Bob Newhart, and Mort Sahl, Diller was part of the so-called "New Wave" comedians who began their careers after WWII and had no connections to vaudeville.
Diller began her career working at KROW radio in Oakland, California in 1952. In November of that year, she began filming a television show titled Phyllis Dillis, the Homely Friendmaker. The 15-minute series was a Bay Area Radio-Television production, directed for television by ABC's Jim Baker. In the mid-1950s, while residing in the East Bay city of Alameda, California, Diller was employed at KSFO radio in San Francisco. Bill Anderson wrote and produced a television show at KGO-TV called Pop Club, which was hosted by Don Sherwood. Pop Club was a live half-hour show that combined playing records with "experts" rating them, and dancing girls encouraging audience participation. The show was an early advertisement for Belfast Root Beer, the show's main sponsor, later known as Mug Root Beer. Anderson invited her onto his show on April 23, 1955, as a vocalist.
Diller first appeared as a stand-up at The Purple Onion in San Francisco on March 7, 1955, and remained there for 87 straight weeks. She appeared on Del Courtney's Showcase on KPIX-TV on November 3, 1956. In the mid-1950s, she made appearances on The Jack Paar Show and was a contestant on Groucho Marx's quiz show You Bet Your Life. After moving to Webster Groves, Missouri, near St. Louis, in 1961, Diller honed her act in St. Louis clubs, such as Gaslight Square's Crystal Palace. By the mid 1960s, St. Louis was home to her.
Diller became most famous for her movie and TV appearances with Bob Hope during the 1960s: Boy, Did I Get a Wrong Number!, Eight on the Lam, and The Private Navy of Sgt. O'Farrell. Although all of these films were critically panned, Boy, Did I Get a Wrong Number! did well at the box office and Diller accompanied Hope to Vietnam in 1966 with his USO troupe during the height of the Vietnam War.
Throughout the 1960s, she appeared regularly as a special guest on many television programs. For example, she appeared as one of the What's My Line? Mystery Guests. The blindfolded panel on that evening's broadcast included Sammy Davis, Jr., and they were able to discern Diller's identity in just three guesses. Also, Diller made regular cameo appearances, making her trademark wisecracks on Rowan and Martin's Laugh-In. Self-deprecating to a fault, a typical Diller joke had her running after a garbage truck pulling away from her curb. "Am I too late for the trash?", she'd yell. The driver's reply: "No, jump right in!".
Though her main claim to fame was her stand-up comedy act, Diller also appeared in other films, including a cameo appearance as Texas Guinan, the wisecracking nightclub hostess in Splendor in the Grass. She appeared in more than a dozen (usually low-budget) films. She provided the voice of the Monster's Mate in Mad Monster Party (1967).
Diller also starred in two short-lived TV series The Pruitts of Southampton (1966–1967); later retitled The Phyllis Diller Show, a half-hour sitcom on ABC; and The Beautiful Phyllis Diller Show (1968), a variety show on NBC. Subsequent TV appearances included at least three episodes between 1999 and 2003 on the long-running family drama 7th Heaven, in one of which she got drunk while cooking dinner for the household; and a 2002 episode of The Drew Carey Show  as Mimi Bobek's grandmother. Once, she posed for Playboy, but the photos were never run in the magazine. Diller's voice can be heard in several animated TV series, including The New Scooby-Doo Movies (1972)  as herself, Hey Arnold! as Arnold's grandpa's sister Mitzi, The Adventures of Jimmy Neutron: Boy Genius (2002) as Jimmy's grandmother, and on Family Guy in 2006 as Peter Griffin's mother, Thelma Griffin.
Beginning December 26, 1969, she had a 3-month run in Hello, Dolly! (opposite Richard Deacon), as the second to last in a succession of replacements for Carol Channing in the title role, which included Ginger Rogers, Martha Raye, Betty Grable, and Pearl Bailey. After Diller's stint, Ethel Merman took over the role until the end of the series' run in December 1970.  In 1993, Diller was inducted into the St. Louis Walk of Fame.
In 1998, Diller provided the voice of the Queen in A Bug's Life. Among her other animated films were The Nutcracker Prince (1990, as Mouse­queen), Happily Ever After: Fairy Tales for Every Child (1990, as Mother Nature) and Casper's Scare School (2006, as Aunt Spitzy). Diller guested as her­self in "A Good Medium is Rare," a 1972 episode of The New Scooby-Doo Movies. Other television series for which she voiced characters include Robot Chicken, Family Guy, Jimmy Neutron, Wait Till Your Father Gets Home, Captain Planet, Cow and Chicken, Hey Arnold!, The Powerpuff Girls, Animaniacs, The Wild Thornberrys, and King of the Hill.
In 2005, Diller was featured as one of many contemporary comics in The Aristocrats. Diller, who avoided blue comedy, did a version of an old, risqué vaudeville routine, in which she describes herself passing out when she first heard the joke, forgetting the actual content of the joke.
In 2000, she was awarded the Women in Film Lucy Award, recognizing her achievements in enhancing the perception of women through the medium of television.  In 2003, after hearing of the donation of Archie Bunker's chair to the Smithsonian Institution, Diller opened her doors to the National Museum of American History. She offered up some of her most iconic costume pieces, as well as her gag file, a steel cabinet with 48 file-drawers with more than 50,000 jokes she had recorded on index cards during her career. From August 12 to October 28, 2011, the Albert H. Small Documents Gallery at the National Museum of American History displayed Diller's gag file and some of the objects that became synonymous with her comedic persona—an unkempt wig, wrist-length gloves, cloth-covered ankle boots, and a bejeweled cigarette holder.  On January 24, 2007, Diller appeared on The Tonight Show and performed stand-up before chatting with Jay Leno.
She also recorded at least 5 comedy LP records, one of which was Born to Sing, released as Columbia CS 9523.  Between 1971 and 1981, Diller appeared as a piano soloist with some 100 symphony orchestras across the country under the stage name Dame Illya Dillya. Her performances were spiced with humor, but she took the music seriously. A review of one of her concerts in The San Francisco Examiner called her "a fine concert pianist with a firm touch."
On April 10, 2007, she had a cameo appearance in an episode of Boston Legal. Portraying herself, she confronted William Shatner's character Denny Crane and alleged they'd had a torrid love affair.  Diller was a member of the Society of Singers, which supports singers in need. In June 2001, at Scott Sherman's request, she appeared at Kansas City and Philadelphia Pride events. The mayor of Philadelphia officially proclaimed June 8, 2001 as "Phyllis Diller Day". She was presented an official proclamation onstage to a standing ovation. In 2006, Mayor of San Francisco Gavin Newsom proclaimed February 5, 2006, "Phyllis Diller Day in San Francisco", which she accepted by phone.
In 2011, she appeared in an episode of her friend Roseanne Barr's reality show Roseanne's Nuts.  In January 2012, she recorded a version of Charlie Chaplin's song Smile with Pink Martini's Thomas Lauderdale for the album Get Happy.  The October 7, 2012 episode of Family Guy, "Ratings Guy," was dedicated to the memory of Phyllis Diller and Michael Clarke Duncan.
As she passed her 80th birthday, Diller began to suffer from various ailments. In 1999, she suffered a heart attack and after a hospital stay, she was fitted with a pacemaker and released. A bad fall resulted in her being hospitalized for neurological tests and pacemaker replacement in 2005. Approaching the age of 90, Diller retired from stand-up comedy appearances.  On July 11, 2007, USA Today reported that she had fractured her back and had to cancel an appearance on The Tonight Show, during which she had planned to celebrate her 90th birthday. On January 4, 2011, Diller made one of her final public appearances on Anderson Cooper 360° as part of a panel of comedians.  On the morning of August 20, 2012, Diller died in her Brentwood, Los Angeles, California home of natural causes at age 95. According to her family, she died with a "smile on her face."
Born
Died
August, 20, 2012
Brentwood, Los Angeles, California
Cause of Death
Cemetery
Other
17857 profile views