Phillip Terry
(Frederick Henry Kormann)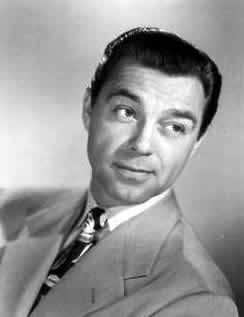 Phillip Terry was born Frederick Henry Kormann in San Francisco, California, the only child of German Americans, Frederick Andrew Kormann (1883–1948) and Ida Ruth Voll (1883–1954). He attended grade school in Glendale, California. His father was a chemical engineer in the oil fields who moved often. To ensure he receive a stable education, his parents sent him to live with relatives in New Jersey and attend school while they travelled. During the holidays, he would return to his parents in such places as Oklahoma City, Oklahoma and Burkburnett, Texas. When he completed high school, he rejoined them for good. He worked for a time in the oil fields as a roustabout, then a tool pusher and rig builder. When he was seventeen, they moved back to San Francisco. He attended Stanford University, where he played football. He then became interested in theatre. After a brief stay in New York, he went to London, in 1933, where he enrolled at the Royal Academy of Dramatic Art. Phillip Terry later went to Hollywood, California and took a job with CBS Radio, where he performed in a number of plays on the air. In 1937, a Metro-Goldwyn-Mayer talent scout heard him in one of these broadcasts and arranged an interview. Terry made a screen test and was awarded a contract with the studio. Among his motion picture appearances, he had a bit part in the movie Mannequin starring Joan Crawford.
Two years later Phillip Terry signed with Paramount, where he starred in The Parson of Panamint , The Monster and the Girl. He then did supporting roles in Wake Island and Bataan, the latter on which was when he was on "loan-out" to MGM. During World War II Terry was classified "4F" unfit for military service due to defective vision, with Terry never wearing eyeglasses on camera. When he left Paramount, he signed with RKO and was in Music in Manhattan, George White's Scandals, Pan-Americana, Born to Kill and the lead in Seven Keys to Baldpate (1947). Phillip Terry appeared in more than eighty movies over the span of his career. Many of the early roles were small and often uncredited. But in the 1940s, he received bigger and more numerous roles in some quality movies, such as The Lost Weekend (1945) starring Ray Milland, and To Each His Own (1946) starring Olivia de Havilland, who won one of her Oscars for her role in the film.
Phillip Terry never completely abandoned acting. During the 1950s, 1960s and early 1970s, he took on occasional movie roles. Some of his better B movies from this period include The Leech Woman (1960), with Grant Williams, and The Navy vs. the Night Monsters (1966), with Mamie Van Doren. Sometimes he would accept television roles and was in episodes of The Name of the Game and Police Woman. He also made five guest appearances on Perry Mason, including the role of murder victim Robert Doniger in the 1960 episode, "The Case of the Gallant Grafter", and he played murderer Lawrence Kent in the 1961 episode, "The Case of the Resolute Reformer". In 1973, he retired and moved to Santa Barbara, California. He suffered the first of a series of strokes in 1978. Because of the strokes, he lost his mobility and communication and was an invalid for several years before his death at the age of 83. Terry died at his home in Santa Barbara. His ashes were buried in the Pacific Ocean.
Born
March, 07, 1909
USA
San Francisco, California
Died
February, 23, 1993
USA
Santa Barbara, California
Other
1936 profile views