Philip Workman
(Philip Ray Workman)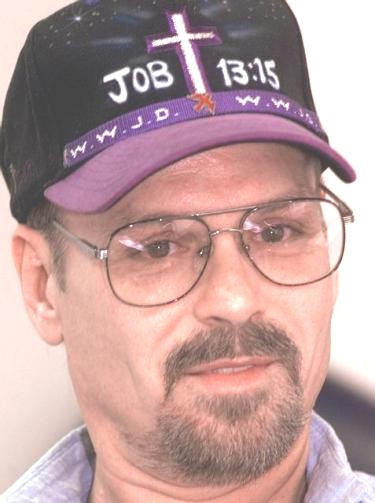 Born on June 1, 1953 at Fort Campbell, Kentucky, Workman grew up with his parents on various Army bases. He later joined the Army. Shortly after his 1973 discharge, Workman was sentenced to 5 years in prison in Georgia for burglary and drug possession. He served 25 months.  In 1981, at 28 years old, Workman was living with his wife and 8-year-old daughter in Columbus, Georgia and was heavily addicted to cocaine. That summer, he hitchhiked to Memphis where, on August 5, 1981, he robbed a Wendy's restaurant with a .45 caliber semi-automatic pistol.  During the robbery, an employee of the restaurant triggered a silent alarm after Workman granted her request to stand up to relieve a cramp in her leg. Three Memphis police officers, Ronald Oliver, Aubrey Stoddard, and Steven Parker, responded to the alarm. Upon their arrival, Workman attempted to flee across a nearby parking lot, but tripped on a curb and was cornered by the officers. Workman claimed he then attempted to surrender but, as he was pulling his gun from his pants to give it to the officers, he was struck on the head with a flashlight. As a result of the blow, Workman claims that he involuntarily discharged the gun twice, once in the air, and then at a person who had fired at him. Police returned fire. A bullet from a shotgun struck Workman in the buttocks, but he managed to evade capture for a time. Lt. Ronald Oliver was shot and killed.
Workman was charged with the murder of Lt. Oliver. At the 1982 trial, Officers Stoddard and Parker testified that they had not fired their weapons, but that they had not seen Workman shoot Lt. Oliver. The prosecution presented testimony from an alleged eyewitness, Harold Davis, who stated that he had parked his car in the restaurant car park and was three meters away when he saw Workman shoot Oliver. The defense lawyers accepted the police version, conducted no forensic or ballistics analysis and did not investigate Davis. At the sentencing phase of the trial, they presented no mitigating evidence, for example of the physical abuse Workman had suffered as a child, and his drug addiction as an adult. Workman was found guilty of murder during the commission of a felony by the jury (under the "felony murder" rule).  On Friday, May 4, the U.S. Court of Appeals for the Sixth Circuit refused, by a two-to-one decision, to grant a stay of execution for Workman. The stay had been requested on the grounds that "the Attorney General for the State of Tennessee . . . perpetrated a fraud upon the district court during Workman's habeas corpus proceedings". The majority opinion found that "On this record, Workman has not met his burden of showing a likelihood of success in demonstrating that the district court abused its discretion. Nearly twenty-five years after Workman's capital sentence and five stays of execution later, both the state and the public have an interest in finality which, if not deserving of respect yet, may never receive respect."
On Friday, May 4, a U.S. District Court Judge issued a Temporary Restraining Order precluding the State of Tennessee from executing Workman until a preliminary injunction hearing assesses the constitutionality of Tennessee's revised procedure for administering lethal injections. However, this restraining order was vacated by a two-to-one decision of the U.S. Court for Appeals for the Sixth Circuit on Monday, May 7 and Workman was moved to death watch. The decision to vacate the restraining order was stridently criticized, on both procedural and substantive grounds, by the dissenting Judge Cole. Judge Cole wrote, "The majority's opinion rests on a profound jurisdictional defect: There is no appealable order before this Court. The district court issued a temporary restraining order, not a preliminary injunction . . . The district court's TRO cannot be magically transformed into a preliminary injunction, which is an appealable order, even though the State and a majority of this Court may wish it."
For his last meal, Workman asked that a large vegetarian pizza be given to a homeless person. The prison officials denied his request, and Workman refused to eat anything.  On May 9, 2007, homeless shelters across Tennessee received massive numbers of vegetarian pizzas from people all over the country honoring Workman's last meal request. "Philip Workman was trying to do a good deed and no one would help him," said one woman who, together with friends, donated $1200 worth of pizzas to Nashville's Rescue Mission. People for the Ethical Treatment of Animals (PETA) President Ingrid Newkirk, who donated 15 veggie pizzas, commented that "Workman's act was selfless, and kindness to all living beings is a virtue." Marvin Champion, an employee of Nashville's Rescue Mission, remarked "I used to be homeless, so I know how rough it gets. I seen some bad times — not having enough food, the cupboards are bare. But we got pizza to feed enough people for a while."
At 10:00 p.m. central time, the Supreme Court refused to hear any appeals. At 12:15 a.m. on May 9, 2007, the Tennessee state Supreme Court refused to hear his final appeal, which requested more time for the defense attorneys to review the injection procedures. When asked by Warden Ricky Bell what his last words would be, he stated "I've prayed to the Lord Jesus Christ not to lay charge of my death to any man." After 2 minutes had passed the start of the injections, he said "I commend my spirit into your hands, Lord Jesus Christ." His head then drifted to the left as he fell unconscious.  Philip Workman died at 1:38 AM (CDT) after a 17-minute procedure. Prison officials made the announcement that Workman had been executed at 1:50 a.m. on May 9, 2007.
Born
June, 01, 1953
USA
Fort Campbell, Kentucky
Died
May, 09, 2007
USA
Nashville, Tennessee
Cause of Death
execution by lethal injection
16769 profile views