Philip Pendleton Barbour
(Philip Pendleton Barbour)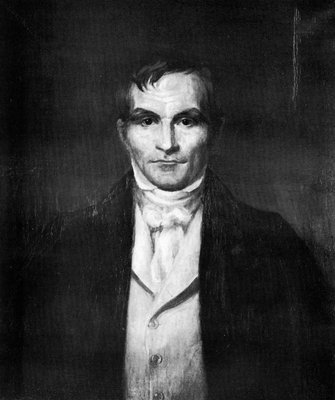 Barbour was born near Gordonsville, Orange County, Virginia. He was named for his ancestor Philip Pendleton through whom he was related to politician and judge, Edmund Pendleton. He attended common and private schools and graduated from the College of William and Mary, Williamsburg, Virginia, in 1799. A year later he was admitted to the bar, and began practicing law in Bardstown, Kentucky. In 1801, he moved his law practice to Gordonsville in Orange County, Virginia.  Barbour started his public life as a member of the Virginia House of Delegates from 1812 to 1814. When U.S. Representative John Dawson died, Barbour won the special election to fill the seat, and served as a Democratic-Republican in the U.S. House of Representatives from September 19, 1814 to March 4, 1825, reaching the office of Speaker from 1821 to 1823.  He declined to run for re-election in 1824 and turned down an offer to become the professor of law in the University of Virginia in 1825. Instead, he was appointed a judge of the general court of Virginia and served for two years, resigning in 1827 to return to his seat in the House of Representatives as a Jacksonian. For the first two years of his second stint in the House, he was chair of the U.S. House Committee on the Judiciary. In 1829 he was president of the Virginia constitutional convention, while remaining a Representative.
Barbour turned down offers of a chancellorship and the post of U.S. Attorney General before finally resigning October 15, 1830 to accept President Jackson's appointment to be judge of the United States District Court for the Eastern District of Virginia. Jackson appointed Barbour by recess appointment on October 8, 1830, to a seat on that court vacated by George Hay. Barbour was formally nominated on December 14, 1830, and two days later he was confirmed by the Senate, and received his commission, serving thereafter until March 17, 1836.
Barbour continued to receive offers: he refused nominations for judge of the court of appeals, for Governor, and for United States Senator. In 1832, Democrats unhappy with the selection of Martin Van Buren as their party's vice-presidential nominee held a convention in Virginia, at which they nominated Jackson for president and Barbour for vice president. Barbour eventually withdrew his candidacy and endorsed the Jackson-Van Buren ticket, but the alternative Democratic ticket still appeared on the ballot in several Southern states.  Finally, he was offered and accepted an appointment to the U.S. Supreme Court. Nominated by Jackson on December 28, 1835, to a seat vacated by Gabriel Duvall, Barbour was confirmed by the Senate, and received his commission, on March 15, 1836. Barbour served until his death in Washington, D.C., on February 25, 1841. He died during the arguments of John Quincy Adams in the Amistad Case.
He built a large and graceful brick home in Orange County, Virginia called "Frascati". Historians often say that he was born at "Frascati", but it did not exist at his birth. His brother, James Barbour, also build a beautiful plantation house. His was designed by Thomas Jefferson. One can see the Jeffersonian influence in Frascati as it is very much like Barboursville and was erected by the same workmen who built the University of Virginia and Barboursville.  Philip Pendleton Barbour was buried in the Congressional Cemetery, Washington, D.C.
Born
May, 25, 1783
USA
Gordonsville, Virginia
Died
February, 25, 1841
USA
Washington D.C.
Cemetery
Congressional Cemetery
Washington D.C.
USA
17297 profile views