Phil Silvers
(Phil Silvers)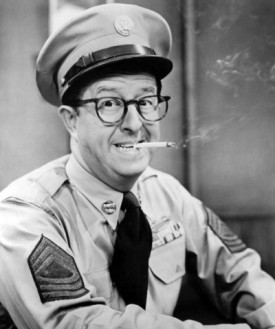 Phil Silvers
Silvers became a household name in 1955 when he starred as Sergeant Ernest G. Bilko in You'll Never Get Rich, later retitled The Phil Silvers Show. The military comedy became a television hit, with the opportunistic Bilko fast-talking his way through one obstacle after another. In 1958 CBS switched the show to be telecast on Friday nights and moved the setting to Camp Fremont in California. A year later the show was off the schedule.
Silvers returned to Broadway in the musical Do Re Mi in December 1960, receiving a nomination for the Tony Award for Best Performance by a Leading Actor in a Musical. Stanley Green wrote that "It was particularly blessed by offering two outstanding clowns in Phil Silvers as the pushiest of patsies and Nancy Walker." Throughout the 1960s he appeared in films such as It's a Mad, Mad, Mad, Mad World (1963) and 40 Pounds of Trouble (1963). He was featured in Marilyn Monroe's last film, the unfinished Something's Got to Give (1962). In the 1963–1964 television season, he appeared as Harry Grafton, a factory foreman interested in get-rich-quick schemes, much like the previous Bilko character, in CBS's 30-episode The New Phil Silvers Show, with co-stars Stafford Repp, Herbie Faye, Buddy Lester, Elena Verdugo as his sister, Audrey, and her children, played by Ronnie Dapo and Sandy Descher. In 1967 he starred as a guest in one of the British Carry On films, Follow That Camel, a Foreign Legion parody in which he played a variation of the Sergeant Bilko character, Sergeant Nocker. Producer Peter Rogers employed him to ensure the Carry On films' success in America, though Silvers' presence did not ensure the film's success on either side of the Atlantic. His salary was £30,000, the largest Carry On salary ever, only later met by the appearance of Elke Sommer in Carry On Behind.
Silvers was offered the leading role of conniving Roman slave Pseudolus in the Broadway musical comedy A Funny Thing Happened on the Way to the Forum. Silvers declined, and the role went instead to Zero Mostel, who was so successful in the role that he repeated the role in the 1966 film version. By this time Silvers realized his error, and agreed to appear in the film as a secondary character, flesh merchant Marcus Lycus. When actor-producer Larry Blyden mounted a Broadway revival of Forum in 1972, he wanted Phil Silvers to play the lead, and this time Silvers agreed. The revival was a hit and Silvers became the first leading actor ever to win a Tony Award in a revival of a musical.
Silvers also guested on The Beverly Hillbillies, and various TV variety shows such as The Carol Burnett Show, Rowan & Martin's Laugh-In, and The Dean Martin Show. Perhaps Silvers' most memorable guest appearance was as curmudgeonly Hollywood producer Harold Hecuba in an episode (titled The Producer) on Gilligan's Island (broadcast in 1966), where he and the castaways performed a musical version of Hamlet. (Silvers' production company Gladasya – named after his catchphrase "Gladdaseeya!" – financed the show.)
Silvers suffered a stroke during the run of A Funny Thing Happened on the Way to the Forum in August 1972. He was left with slurred speech. Despite his poor health, he continued working, playing Harry Starman in the 1974 "Horror in the Heights" episode of The Night Stalker starring Darren McGavin. His guest appearances would continue into the early 1980s including co-starring in 1977's The Chicken Chronicles, an appearance on Fantasy Island as an old comic trying to reunite with his old partner, and on Happy Days as the father of Jenny Piccolo (played by his daughter Cathy Silvers). In 1978 Silvers played the cab driver "Hoppy" in The Cheap Detective. In his cab, Silvers can be heard (three words) and seen turning his head towards the camera and breaking into a smile (1/4 fps) at the end of the movie, immediately prior to Falk entering "Hoppy's" cab. His final appearance was in an episode of CHiPs in 1983.
A frail Silvers, interviewed shortly before his death, revealed one of his secrets: "I'm an impatient comedian. And I feel the audience is as impatient as me."
Silvers died in his sleep on November 1, 1985 in Century City, California. "Mr. Silvers's family said he died of natural causes." He was interred at Mount Sinai Memorial Park Cemetery in Los Angeles.
Born
May, 11, 1911
New York New York
Died
November, 01, 1985
Century City, California
Cause of Death
Cemetery
Mount Sinai Memorial Park
Los Angeles, California
16857 profile views