Phil "Scooter" Rizzuto
(Phil Francis Rizzuto)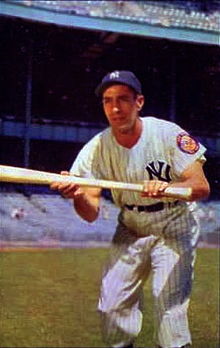 Phil Rizzuto was signed by the New York Yankees as an amateur free agent in 1937. His nickname, at times attributed to Yankees broadcaster Mel Allen, was actually bestowed on Rizzuto (according to him) by minor league teammate Billy Hitchcock because of the way Rizzuto ran the bases. After being named the Minor League Player of the Year by The Sporting News in 1940 while playing with the Kansas City Blues, he played his first major league game on April 14, 1941. Taking over for the well-liked Frank Crosetti, whose batting average had dropped to .194 after several strong seasons, Rizzuto quickly fit into the Yankees lineup to form an outstanding middle infield with second baseman Joe Gordon. In his syndicated column on October 1, Grantland Rice compared the pair favorably to the middle infield of the crosstown Brooklyn Dodgers: "Billy Herman and Pee Wee Reese around the highly important keystone spot don't measure up, over a season anyway, with Joe Gordon and Phil Rizzuto, a pair of light-footed, quick-handed operatives who can turn seeming base hits into double plays often enough to save many a close scrap." Phil Rizzuto's rookie season ended in the World Series, and though he hit poorly, the Yankees beat the Dodgers. The following year, Rizzuto led all hitters, for both the Yankees and the opposing St. Louis Cardinals, with 8 hits and a .381 average in the 1942 World Series; the light-hitting shortstop even added a home run after hitting just 4 in the regular season. Like many players of the era, his career was interrupted by a stint in the United States Navy during World War II. From 1943 through 1945, he played on a Navy baseball team alongside Dodgers shortstop Reese; the team was managed by Yankees catcher Bill Dickey. In 1947 Rizzuto recorded a .969 fielding average, breaking Crosetti's 1939 team record for shortstops of .968. He broke his own record the following year with a .973 mark.
Phil Rizzuto's peak as a player was 1949-50, when he was moved into the leadoff spot. In 1950, his MVP season, he hit .324 with 200 hits and 92 walks, and scored 125 runs. While leading the league in fielding percentage, Rizzuto handled 238 consecutive chances without an error, setting the single-season record for shortstops. From September 18, 1949 through June 7, 1950, he played 58 games at shortstop without an error, breaking the AL record of 46 set by Eddie Joost in 1947-48; the record stood until Ed Brinkman played error-free for 72 games in 1972. Rizzuto recorded 123 double plays in 1950, three more than Crosetti's total from 1938; it remains the Yankee record. Rizzuto's 1950 fielding percentage of .9817 led the league, and came within less than a point of Lou Boudreau's league record of .9824, set in 1947. Rizzuto's mark was a franchise record until 1976, when Yankees shortstop Fred Stanley posted a mark of .983. Phil Rizzuto was voted the American League's Most Valuable Player by a large margin in 1950, after having been the runner-up for the award behind Ted Williams in 1949. He became the only MVP in history who led the league in sacrifice bunts. Rizzuto played in five All-Star Games, in 1942 and each year from 1950 to 1953. In 1950, he also won the Hickok Belt, awarded to the top professional athlete of the year, and was named Major League Player of the Year by The Sporting News. He was voted top major league shortstop by The Sporting News four consecutive years (1949–52).
Phil Rizzuto batted .320 in the 1951 World Series, for which the New York chapter of the BBWAA later voted him the Babe Ruth Award as the Series' top player. Decades later, Rizzuto still spoke resentfully of the incident in which pugnacious New York Giants second baseman Eddie Stanky sparked a rally by kicking the ball out of Rizzuto's glove on a tag play. Ty Cobb named Rizzuto and Stan Musial as "two of the few modern ball players who could hold their own among old timers." Yankees manager Casey Stengel had famously dismissed Rizzuto during that Brooklyn Dodgers tryout in 1935 when Stengel was managing that team, advising him to "go get a shoeshine box." But Stengel ended up managing Rizzuto during five consecutive championship seasons, and would later say, "He is the greatest shortstop I have ever seen in my entire baseball career, and I have watched some beauties." During his heyday, Yankees pitcher Vic Raschi noted, "My best pitch is anything the batter grounds, lines or pops in the direction of Rizzuto." Decades into his retirement, teammate Joe DiMaggio characterized Rizzuto's enduring appeal to fans: "People loved watching me play baseball. Scooter, they just loved."
Rizzuto was noted for "small ball", strong defense, and clutch hitting, which helped the Yankees win seven World Series. As an offensive player, he is particularly regarded as one of the best bunters of his era; he led the AL in sacrifice hits every season from 1949 to 1952. In retirement, he often tutored players on the bunt during spring training. In the announcing booth, Rizzuto talked about the several different kinds of bunts he would use in different situations. Later during his broadcasting career, he occasionally expressed disappointment that the art of bunting had largely been lost in baseball. Rizzuto was among the AL's top five players in stolen bases seven times. Defensively, he led the league three times each in double plays and total chances per game, twice each in fielding and putouts, and once in assists. Rizzuto ranks among the top ten players in several World Series categories, including games, hits, walks, runs, and steals. Three times during his career, the Yankees played until Game Seven of the World Series; Rizzuto batted .455 in those three games (1947, 1952, 1955).
Phil Rizzuto was released by the Yankees on August 25, 1956. Rizzuto often talked about the unusual circumstances of his release. Late in the 1956 season, the Yankees re-acquired Enos Slaughter, who had been with the team in 1954–55, and asked Rizzuto to meet with the front office to discuss adjustments to the upcoming postseason roster. They then asked Rizzuto to look over the list of Yankee players and suggest which ones might be cut to make room for Slaughter. For each name Rizzuto mentioned, a reason was given as to why that player needed to be kept. Finally, Rizzuto realized that the expendable name was his own. He called former teammate George Stirnweiss, who told him to refrain from "blasting" the Yankees because it might cost him a non-playing job later. Rizzuto said many times that following Stirnweiss' advice was probably the best move he ever made. When he retired, his 1,217 career double plays ranked second in major league history, trailing only Luke Appling's total of 1,424, and his .968 career fielding average trailed only Lou Boudreau's mark of .973 among AL shortstops. He also ranked fifth in AL history in games at shortstop (1,647), eighth in putouts (3,219) and total chances (8,148), and ninth in assists (4,666). At the time of his last game, he had also appeared in the most World Series games ever, a record soon surpassed by five of his Yankees teammates. Rizzuto still holds numerous World Series records for shortstops, including the most career games played, singles, walks, times on base, stolen bases, at-bats, putouts, assists and double plays. Phil Rizzuto died in his sleep on August 13, 2007, three days short of the 51st anniversary of his last game as a Yankee, and one month shy of his 90th birthday. He had been in declining health for several years and was living at a nursing home in West Orange, New Jersey for the last months of his life. At the time of his death, at age 89, Rizzuto was the oldest living member of Baseball's Hall of Fame.
Born
September, 25, 1917
USA
Brooklyn, New York
Died
August, 13, 2007
USA
West Orange, New Jersey
Other
3818 profile views