Phil Chevron
(Phil Chevron)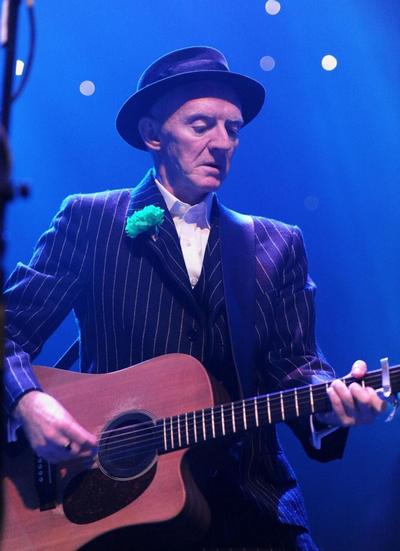 Chevron grew up in Santry, a suburb of Dublin. Beginning in the late 1970s, he was lead singer and co-founder of the punk rock group The Radiators from Space, receiving some critical acclaim but little widespread popularity or financial success. Following a temporary breakup of the band in 1981, he lived in London for a while, meeting and befriending Shane MacGowan through time spent working together at a record shop. Following the release of the Pogues' 1984 debut album Red Roses For Me, he was invited to join the band on a short-term basis as cover for banjo player Jem Finer's paternity leave. He took over as guitarist following MacGowan's decision to concentrate on singing—thereby becoming a full-time member of the band in time for the recording of its second album, Rum, Sodomy and the Lash.
Chevron proved himself as a singer-songwriter, writing the songs "Thousands Are Sailing" and "Lorelei" among others. He left The Pogues in 1994 following problems with drugs and alcohol. In 2003, he reformed The Radiators (Plan 9) with ex-Pogues bassist Cait O'Riordan. They released the album Trouble Pilgrim in 2006.  In later years, he became The Pogues' unofficial spokesperson and resident expert on the reclusive MacGowan — frequently visiting online fora and directly answering questions from fans. In 2004, he personally oversaw the remastering and re-release of The Pogues' entire back catalogue on CD. He toured regularly with The Pogues, who reunited after a successful reunion tour in 2001.
In June 2007, The Pogues' website announced that Chevron had been diagnosed with oesophageal cancer. In early 2008, the website announced that Chevron had recovered, and to his surprise and joy, his hearing had returned to almost pre-treatment levels. He embarked on the March 2008 tour of the United States and managed to sing "Thousands Are Sailing" at each performance. By 2009, Chevron had apparently recovered from the cancer.  However, in May 2013, it was announced that the cancer had returned and it was "lethal". Chevron died on 8 October 2013 in Dublin at age 56. His last public appearance was at the Olympia Theatre for a fundraiser in August of the same year.
Born
June, 17, 1957
Dublin, Ireland
Died
October, 08, 2013
Dublin, Ireland
Cemetery
Dardistown Cemetery
Cloghran, Ireland
17160 profile views