Peter Seeger
(Peter Seeger)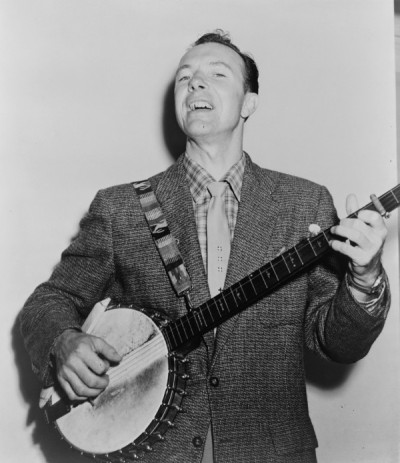 Peter "Pete" Seeger (May 3, 1919 – January 27, 2014) was an American folk singer and activist. A fixture on nationwide radio in the 1940s, he also had a string of hit records during the early 1950s as a member of the Weavers, most notably their recording of Lead Belly's "Goodnight, Irene", which topped the charts for 13 weeks in 1950. Members of the Weavers were blacklisted during the McCarthy Era. In the 1960s, he re-emerged on the public scene as a prominent singer of protest music in support of international disarmament, civil rights, counterculture and environmental causes.
A prolific songwriter, his best-known songs include "Where Have All the Flowers Gone?" (with Joe Hickerson), "If I Had a Hammer (The Hammer Song)" (with Lee Hays of the Weavers), and "Turn! Turn! Turn!" (lyrics adapted from Ecclesiastes), which have been recorded by many artists both in and outside the folk revival movement and are sung throughout the world. "Flowers" was a hit recording for the Kingston Trio (1962); Marlene Dietrich, who recorded it in English, German and French (1962); and Johnny Rivers (1965). "If I Had a Hammer" was a hit for Peter, Paul & Mary (1962) and Trini Lopez (1963), while the Byrds had a number one hit with "Turn! Turn! Turn!" in 1965.
Seeger was one of the folksingers most responsible for popularizing the spiritual "We Shall Overcome" (also recorded by Joan Baez and many other singer-activists) that became the acknowledged anthem of the 1960s American Civil Rights Movement, soon after folk singer and activist Guy Carawan introduced it at the founding meeting of the Student Nonviolent Coordinating Committee (SNCC) in 1960. In the PBS American Masters episode "Pete Seeger: The Power of Song", Seeger stated it was he who changed the lyric from the traditional "We will overcome" to the more singable "We shall overcome".
Seeger died at NewYork-Presbyterian Hospital,on January 27, 2014, at the age of 94. Response and reaction to Seeger's death quickly poured in. President Barack Obama noted that Seeger had been called "America's tuning fork" and that he believed in "the power of song" to bring social change, "Over the years, Pete used his voice and his hammer to strike blows for workers' rights and civil rights; world peace and environmental conservation, and he always invited us to sing along. For reminding us where we come from and showing us where we need to go, we will always be grateful to Pete Seeger." Folksinger Billy Bragg wrote that: "Pete believed that music could make a difference. Not change the world, he never claimed that – he once said that if music could change the world he'd only be making music – but he believed that while music didn't have agency, it did have the power to make a difference." Bruce Springsteen said of Seeger's death, "I lost a great friend and a great hero last night, Pete Seeger", before performing "We Shall Overcome" while on tour in South Africa.
Born
May, 03, 1919
USA
Patterson, New York
Died
January, 27, 2014
USA
New York City, New York
Cemetery
Other
16620 profile views