Peetie Wheatstraw
(William Bunch)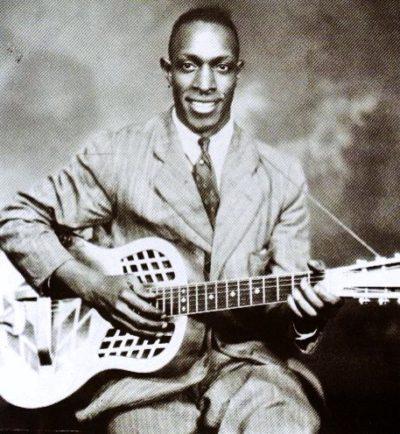 William Bunch (December 21, 1902 – December 21, 1941), known as Peetie Wheatstraw, was an American musician, an influential figure among 1930s blues singers. The only known photograph of him shows him holding a National brand tricone resonator guitar, but he played the piano on most of his recordings. William Bunch was the son of James Bunch and Mary (Burns) Bunch. It is thought that he was born in Ripley, Tennessee, but it was widely believed that he came from Arkansas. After his death, his body was shipped to Cotton Plant, Arkansas, for burial, and the blues musician Big Joe Williams stated that this was his hometown. The earliest biographical facts come from the musicians Henry Townsend and Teddy Darby, who remember Wheatstraw moving to East St. Louis, Illinois, in the late 1920s. He was already a proficient guitarist but a limited pianist. He often performed at a club called Lovejoy in the East St. Louis area or at a juke joint over a barbershop on West Biddle Street. By the time Sunnyland Slim moved to St. Louis in the early 1930s, Peetie Wheatstraw was one of the most popular singers there, with an admired idiosyncratic piano style.
Peetie Wheatstraw began recording in 1930 and was so popular that he continued to record through the Great Depression, when the number of blues records issued was drastically reduced. The blues musician Charlie Jordan introduced Wheatstraw to recording, setting him up with both Vocalion Records and Decca Records. He recorded "Tennessee Peaches Blues" in a duet with an artist called Neckbones, in August 1930. Following this first recording, Wheatstraw was especially prolific, producing 21 songs in two years, including solos like "Don't Feel Welcome Blues," "Strange Man Blues," "School Days," and "So Soon". He made no records between March 1932 and March 1934, a period in which he perfected his mature style. For the rest of his life, he was one of the most recorded blues singers and accompanists. His total output of 161 recorded songs was surpassed by only four prewar blues artists: Tampa Red, Big Bill Broonzy, Lonnie Johnson and Bumble Bee Slim (Amos Easton). In the clubs of St. Louis and East St. Louis his popularity was outstanding, rivalled only by that of Walter Davis. Despite references to his touring, there is little evidence that he worked outside these cities, except to make records.
Peetie Wheatstraw was riding the crest of his success at the time of his premature death. The songs "Mister Livingood" and "Bring Me Flowers While I'm Living" were his last known recordings, from his final recording session, on November 25, 1941. On December 21, 1941, his 39th birthday, he and some friends decided to take a drive. They tried to entice Wheatstraw's friend, the blues singer Teddy Darby, to come with them, but Darby's wife refused to let him. Wheatstraw was a passenger in the back seat when the Buick struck a standing freight train, instantly killing his two companions. He died of head injuries in the hospital some hours later. There is a legend that his death drew little attention, but the accident was fully reported in St. Louis and East St. Louis newspapers, and obituaries appeared in the national music press. Down Beat led the front page of its issue of January 15, 1942, with the story of the accident and published an appreciation of Wheatstraw's career under the headline "Blues Shouter Killed After Waxing 'Hearseman Blues'". Peetie Wheatstraw was buried in Growders Cemetery, in Cotton Plant, Arkansas.
Born
December, 21, 1902
USA
Ripley, Tennessee or Cotton Plant, Arkansas
Died
December, 21, 1941
USA
East St. Louis, Illinois
Cause of Death
Cemetery
Crowder Cemetery
Woodruff County, Arkansas
USA
839 profile views