Peaches Geldof
(Peaches Geldof)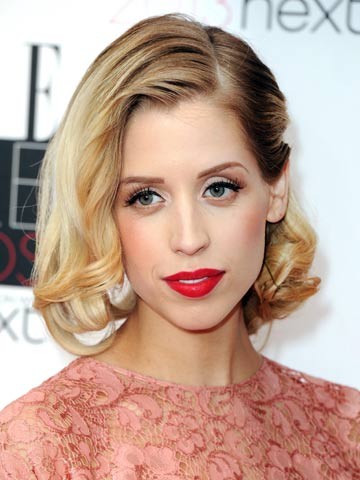 Geldof was born in London on 13 March 1989, the second daughter of famed singer and Live Aid founder Bob Geldof and Paula Yates and a granddaughter of Hughie Green. She had two sisters, Pixie Geldof, Fifi Trixibelle Geldof and one half-sister, Tiger Lily Hutchence.  She grew up in Chelsea, London, and Faversham, Kent, and was educated at Queen's College, London. After moving out of her father's house at the age of eighteen, she rented a flat in Islington, North London. She completed her A-Levels and was accepted at Queen Mary & Westfield College, University of London, where she planned to study English literature and journalism, but deferred it to move to New York with then-husband, Max Drummey.  Geldof wrote a magazine column for the UK edition of Elle Girl, starting with its April 2004 issue and continuing until the magazine folded in October 2005. From ages 14 to 17, she wrote a weekly socio-political column for The Daily Telegraph, and wrote numerous articles for The Guardian.
She wrote and presented her own documentary TV programme, Peaches Geldof: Teenage Mind in 2005, which was followed up with Peaches Geldof: Teen America, which aired on Sky One in the UK on 1 March 2006. In 2006, Geldof was placed at number seven in the Tatler's list of Top Ten Fashion Icons for the year, the youngest person on the list. In 2007, readers of FHM voted her the 53rd sexiest woman in the world.  In September 2007, Geldof made her catwalk début modelling for PPQ at London Fashion Week. She was also announced as the face of the Australian fashion line Dotti. Premiering on 19 October 2008 was Peaches: Disappear Here, a MTV One reality show in which she founds a new youth-oriented magazine.
In 2009, Geldof was signed to a six-figure modelling deal to become the face of the Miss Ultimo collection. In 2010 she was dropped from the Ultimo (brand) after nude pictures and allegations of drug use were posted on the Internet and published in the media. Geldof denied the claims and said, "I am disappointed that Ultimo has decided not to extend my contract based on a wildly exaggerated account of a night in Los Angeles five months ago." Michelle Mone, the head of Ultimo underwear said that "as a brand that targets young women, we feel it is impossible for Peaches to continue."  In 2011, Geldof presented a six-part series on ITV2 called OMG! with Peaches Geldof, a magazine-format chat and guest show with audience participation.
On 5 August 2008, Geldof married Max Drummey, an American musician from the band Chester French, at the Little White Wedding Chapel in Las Vegas. On 7 February 2009, the couple announced that they had amicably decided to end their marriage. Over two years later, on 18 April 2011, Drummey filed for divorce in Los Angeles, citing irreconcilable differences.  In June 2011, Geldof became engaged to Thomas Cohen, lead singer of the South East London band S.C.U.M. They were married on 8 September 2012, at the same church in Davington, Kent, where her parents married 26 years earlier, and also where her mother's funeral was held in 2000.  Geldof had two sons with Cohen: Astala Dylan Willow Geldof-Cohen, born on April 18 2012, and Phaedra Bloom Forever Geldof-Cohen, born on April 24 2013.
In 2009, when interviewed by Fearne Cotton for the documentary show When Fearne Met Peaches Geldof on ITV2, Geldof professed to being a Scientologist and in November that year she attended the 25th anniversary of the International Association of Scientologists at Saint Hill Manor in East Grinstead, West Sussex. She later became interested in her husband's Judaism, and in 2013 began to express interest in the Ordo Templi Orientis (OTO), describing it as "a belief system to apply to day-to-day life to attain peacefulness". She had the initials OTO tattooed on her left forearm.
In 2000, when she was 11, her mother died of a heroin overdose at the age of 41. In a 2013 interview with Elle magazine, Geldof explained how difficult the process of coming to terms with her mother's death was:  I remember the day my mother died, and it's still hard to talk about it. I just blocked it out. I went to school the next day because my father's mentality was 'keep calm and carry on'. So we all went to school and tried to act as if nothing had happened. But it had happened. I didn't grieve. I didn't cry at her funeral. I couldn't express anything because I was just numb to it all. I didn't start grieving for my mother properly until I was maybe 16.
On 7 April 2014, Geldof was found dead, at the age of 25, at her home in Wrotham, Kent. The police found and seized drug paraphernalia at the house. Bob Geldof said in a statement: "We are beyond pain. She was the wildest, funniest, cleverest, wittiest and the most bonkers of all of us. We loved her and will cherish her forever." Her widower Thomas Cohen said in a statement: "My beloved wife Peaches was adored by myself and her two sons Astala and Phaedra and I shall bring them up with their mother in their hearts every day."  Geldof's funeral took place on 21 April 2014 at St Mary Magdalene and St Lawrence Church in Davington, Kent, the same church where she was married, where her parents were married, and where her mother's funeral service was held. The private service was attended by her father, husband, other family and friends, as well as Sarah Ferguson, the Duchess of York, musicians Jools Holland, Bill Wyman, journalist and model Alexa Chung, and other members of the UK entertainment and fashion communities.
Born
March, 13, 1989
London, England, United Kingdom
Died
April, 07, 2014
Wrotham, Kent, England
Other
17037 profile views