Paul Scofield
(David Paul Scofield)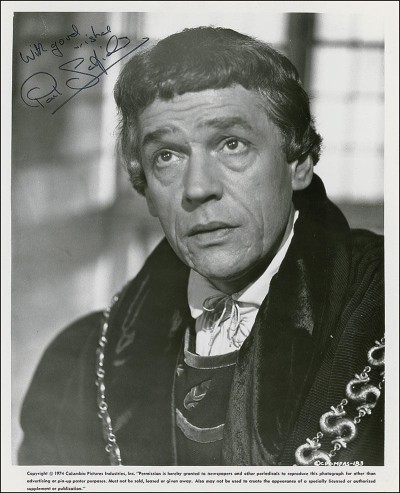 Paul Scofield was born in Birmingham England, the son of Mary and Edward Harry Scofield. When Scofield was a few weeks old, his family moved to Hurstpierpoint, Sussex, where his father served as the headmaster at the Hurstpierpoint Church of England School. Scofield told his biographer, Garry O'Connor, that his upbringing was divided. His father was an Anglican and his mother a Roman Catholic. Baptized into his mother's faith, Scofield said, "some days we were little Protestants and, on others, we were all devout little Catholics." He added, "A lack of direction in spiritual matters is still with me." Scofield recalls, "I was a dunce at school. But at the age of twelve I went to Varndean School at Brighton where I discovered Shakespeare. They did one of his plays every year, and I lived just for that." In 1939, Scofield left school at the age of seventeen and began training at the Croydon Repertory Theatre. Shortly after the outbreak of World War II, Scofield arrived for a physical examination and was ruled unfit for service in the British Army. He later recalled, "They found I had crossed toes. I was unable to wear boots. I was deeply ashamed." Scofield began his stage career in 1940 with a debut performance in American playwright Eugene O'Neill's Desire Under the Elms at the Westminster Theatre, and was soon being compared to Laurence Olivier. He played at the Old Rep in Birmingham. From there he went to the Shakespeare Memorial Theatre in Stratford, where he starred in Walter Nugent Monck's 1947 revival of Pericles, Prince of Tyre.
Also in 1947, Scofield appeared as Hamlet at the Royal National Theatre alongside a then unknown Claire Bloom as Ophelia. In her later book, Leaving a Doll's House: A Memoir, Bloom recalls that during the production she had a serious crush on Scofield. As Scofield was happily married and the father of a son, Bloom hoped only "to be flirted with and taken some notice of." She later recalled, "I could never make up my mind which of my two Hamlets I found the more devastating: the openly homosexual, charismatic Helpmann, or the charming, shy young man from Sussex." When asked about Claire Bloom decades later, Scofield recalled, "Sixteen years old I think – so very young and necessarily inexperienced, she looked lovely, she acted with a daunting assurance which belied entirely her inexperience of almost timid reticence. She was a very good Ophelia." Scofield's versatility at the height of his career is exemplified by his starring roles in theatrical productions as diverse as the musical Expresso Bongo (1958) and Peter Brook's celebrated production of King Lear (1962). In a career devoted chiefly to the classical theatre, Scofield starred in many Shakespeare plays and played the title role in Ben Jonson's Volpone in Peter Hall's production for the Royal National Theatre (1977). Highlights of his career in modern theatre include the roles of Sir Thomas More in Robert Bolt's A Man for All Seasons (1960); Charles Dyer in Dyer's play Staircase, staged by the Royal Shakespeare Company in 1966; the definitive Laurie in John Osborne's A Hotel in Amsterdam (1968); and Antonio Salieri in the original stage production of Peter Shaffer's Amadeus (1979).
He was subsequently the voice of the Dragon in another play by Robert Bolt, a children's drama The Thwarting of Baron Bolligrew. Expresso Bongo, Staircase and Amadeus were filmed with other actors, but Scofield starred in the screen versions of A Man for All Seasons (1966) and King Lear (1971). Other major screen roles include the Art-obsessed Nazi colonel Von Waldheim in The Train (1964), Strether in a 1977 TV adaptation of Henry James's novel The Ambassadors, Tobias in Edward Albee's A Delicate Balance (1973), Professor Moroi in the film of János Nyíri's If Winter Comes (1980), for BBC Television; Mark Van Doren in Robert Redford's film Quiz Show (1994), and Thomas Danforth in Nicholas Hytner's film adaptation (1996) of Arthur Miller's The Crucible. According to the DVD extras documentary for the film The Shooting Party (1985), in the very first shot of the very first day of filming, all the male lead actors, including Paul Scofield, who was playing Sir Randolph Nettleby, were to come into shot on a horse-drawn shooting brake driven by the renowned film horse-master George Mossman. As they turned the first corner, the plank that Mossman was standing on broke in two and he was hurled forward and down, falling between the sets of wheels and taking the reins with him. He was struck by a horse's hoof and concussed. The horses shied and broke into a gallop.
Rupert Frazer admitted that he was the first to jump off, landing safely, but bruised. Out of control, the horses turned to the right when confronted by a stone wall, causing the shooting brake to roll completely, catapulting the actors into a pile of scaffolding that had been stacked next to the wall. Robert Hardy stood up and realised to his amazement that he was unhurt. He looked across to see Edward Fox stand up, "turn completely green and collapse in a heap". He had broken five ribs and his shoulder-blade. He noticed that Paul Scofield was lying very still on the ground "and I saw that his shin-bone was sticking out through his trousers". As the film takes place in October during the partridge-shooting season, the filmmakers had to make a choice whether to delay filming for a year or re-cast. James Mason had just finished filming Doctor Fischer of Geneva for the BBC. The Shooting Party schedule was changed to allow him to take over the part of Sir Randolph Nettleby six weeks later. His broken leg also deprived Scofield of the part of O'Brien in Nineteen Eighty-Four, in which he was replaced by Richard Burton. Scofield was appointed Commander of the Order of the British Empire (CBE) in the 1956 New Year Honours. He won the Academy Award for Best Actor for A Man for All Seasons and was nominated as Best Supporting Actor for Quiz Show. Theatrical accolades include a 1962 Tony Award for A Man for All Seasons. Scofield died from leukemia on 19 March 2008 at the age of 86 at a hospital near his home in rural Sussex, England. His memorial service was held at Westminster Abbey on 19 March 2009. His wife Joy died four years later on 7 November 2012, age 90.
Born
January, 21, 1922
United Kingdom
Birmingham, Warwickshire, England
Died
March, 19, 2008
United Kingdom
Sussex, England
Cemetery
St Mary's Churchyard
Balcombe, West Sussex, England
United Kingdom
7407 profile views