Paul Reid
(Paul Dennis Reid)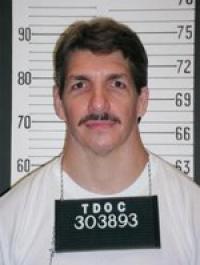 At Captain D's on Lebanon Road in Donelson, Tennessee, on the morning of February 16, 1997, Paul Reid entered the store before opening, under the guise of applying for a job. Once inside, he forced employee Sarah Jackson, 16, and the manager, Steve Hampton, 25, into the restaurant's cooler. Reid forced the two to lie facedown on the floor and then shot them execution style. Money, including large amounts of change, was found missing from the cash register. Reid used the cash from this robbery as a down payment on a car two days later. At McDonald's on Lebanon Road in Hermitage, Tennessee [3.4 miles (5.5 km) northeast of Captain D's], on the evening of March 23, 1997, Reid approached four employees as they exited the store after closing. At gunpoint, he forced them back into the restaurant. Reid shot three employees to death execution style in the storeroom: Andrea Brown, 17; Ronald Santiago, 27; and Robert A. Sewell. Reid attempted to shoot José Antonio Ramirez Gonzalez, but his weapon failed. Reid then stabbed Gonzalez 17 times and left him for dead. Gonzalez avoided further attacks by lying completely still and pretending to be dead. Paul Reid then took US$3000 from the cash registers and fled. When the scene was discovered, Gonzalez was taken to a nearby hospital, treated, and ultimately survived. He eventually testified against Reid.
At Baskin-Robbins on Wilma Rudolph Boulevard in Clarksville, Tennessee, on the evening of April 23, 1997, Paul Reid went to the door after closing and persuaded the employees to let him inside. Once inside, Reid kidnapped Angela Holmes, 21, and Michelle Mace, 16, and forced the two to Dunbar Cave State Park. Their bodies were discovered the next day at Dunbar Cave Park. Their throats had been slashed. Reid was convicted on seven counts of first-degree murder across three trials. Jurors from West and East Tennessee were brought in and sequestered, because a judge determined that the overwhelming media coverage in Nashville would prevent the selection of an unbiased jury from Middle Tennessee. In the Captain D's murders, Steve Hampton's driver's license and a video rental card were found in the median of Ellington Parkway with Reid's fingerprints on each. Reid was convicted on two counts of first-degree murder. In the Baskin-Robbins murders, Reid's car was found to contain forensic evidence from the victims, as well as evidence of a credit card gasoline purchase near the location of the bodies on the night of the murders, placing him at the scene around the time of the crime in an area roughly 40 miles (64 km) from his home. Witnesses also placed a vehicle similar to Reid's vehicle in the immediate area at the time of the crime. Blood evidence from the victims was found on his shoes. He was found guilty on two counts of first-degree murder. The Clarksville trial took place in the time between the two Nashville trials.
Paul Reid received seven death sentences for his convictions, the first two coming on April 20, 1999. Reid's execution was stayed several times in the years following, including an instance in 2003 just hours before the scheduled execution. Reid eventually waived his right to an appeal. Members of his family, along with anti-death penalty activists, claimed he was mentally handicapped and unable to make such a decision, and filed multiple motions (both successful and unsuccessful) to stay his execution. However, the Tennessee Supreme Court upheld all of Reid's sentences. Reid's case has received national attention among anti-death penalty activists. Paul Reid resided at Tennessee's Morgan County Correctional Complex (Inmate #303893). His seven death sentences are the most ever handed down to a single person in the state of Tennessee. His latest execution date was scheduled for January 3, 2008, but was stayed on December 26, 2007 by US District Judge Todd J. Campbell, pending investigation into the constitutionality of Tennessee's lethal injection methods. The stay was part of a larger investigation, and not directly related to Reid's case. On April 16, 2008, the U.S. Supreme Court issued an opinion in a Kentucky case upholding the legality of execution by lethal injection. The state of Tennessee immediately began appealing stays of execution to resume death penalty cases, including Reid's. Paul Reid died at Nashville General Hospital at Meharry, on November 1, 2013. The cause of death was from complications due to pneumonia, heart failure, and upper respiratory issues. Reid had been in the hospital for about two weeks.
Born
Died
November, 01, 2013
USA
Nashville, Tennessee
Cause of Death
pneumonia, heart failure, and upper respiratory issues
1338 profile views