Paul Desmarais
(Paul Desmarais)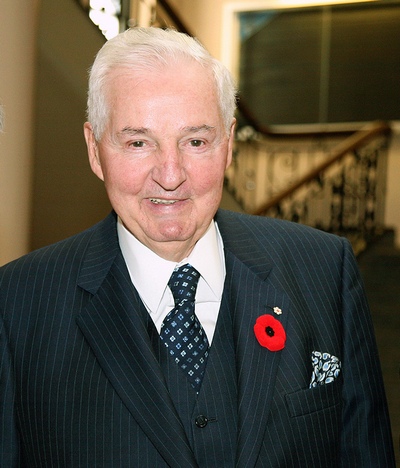 Desmarais was born in Sudbury, Ontario to lawyer Jean-Noel Desmarais and Lebea Laforest. The Desmarais family is originally from Quebec and descended from Paul Desmarais who moved to Canada from Saint-Sauveur, France.  Desmarais' grandfather Noël Desmarais founded the town of Noëlville, Ontario.
Desmarais was married to Jacqueline Maranger, also from Sudbury. They had two sons: Paul Jr. and André (who is married to former Canadian Prime Minister Jean Chrétien's daughter France) and two daughters, Sophie and Louise. Sophie Desmarais' ex-husband, Eric Le Moyne de Sérigny, was involved in a political financing scandal in France known as the Bettencourt case widely covered by the French media. French President Nicolas Sarkozy came under fire after allegations that his presidential campaign was illegally funded by Liliane Bettencourt, L'Oréal heiress and France's wealthiest woman. (In October 2013, Mr. Sarkozy was cleared of any wrongdoing in this case.) Sérigny is close to former French President Nicolas Sarkozy, heads numerous companies, and is a member of the board of directors of Imerys, a mining company partially owned by a subsidiary of the Power Corporation of Canada and majority owned by the Desmarais family and tycoon Albert Frère, the richest man in Belgium who was involved in the UN Oil-for-Food scandal.
Desmarais had a large family estate in Sagard, Quebec, Canada between the villages of Saint-Siméon and Petit-Saguenay: the field Laforest. His area of over 75 square kilometers had an estimated value of more than $50 million (Canadian dollars). The architecture of the mansion was designed and overseen primarily by Sylvain Larouche, head of his team of 18 prominent architects. Desmarais also owns homes in Palm Beach, Florida and New York. Paul Desmarais or his sons belonged to associations such as the Bilderberg Group, the North American Competitiveness Council which designed the Security and Prosperity Partnership, as well as the Council on Foreign Relations.
Desmarais was a staunch opponent of the Quebec sovereignty movement. On February 2, 2009, French president Nicolas Sarkozy made comments asking Quebec sovereigntists to focus on unity and not separation from Canada, and to put their goals of sovereignty on hold during tough economic times. This angered many sovereigntists who claimed that Sarkozy was acting under the influence of Desmarais.
After having graduated from University of Ottawa and McGill University, Desmarais began his career at a Montreal accounting firm called Courtois, Fredette et cie, before working at a bankrupt short-line railroad and bus line, Sudbury Bus Lines, established by his grandfather. The company was sold to him for a symbolic 1 CAD, because it was almost bankrupt. He then acquired additional bus lines in the Ottawa area and Quebec City (including Quebec Autobus and Provincial Transport). By 1968 the holding company which Desmarais had acquired three years earlier, Trans-Canada Corporation Fund (TCCF), owned the bus line Provincial Transport, an interest in Toronto-based Imperial Life Assurance and Gesca Ltée, (which had an interest in the Montreal paper La Presse). That year TCCF made a share-exchange offer with the Power Corporation of Canada, headquartered in Montreal, Quebec, whereby Paul Desmarais became Chairman and Chief Executive Officer.
Taking advantage of the substantial investment of the Power Corporation of Canada, Desmarais took control of a large stationery, Consolidated Bathurst (built since in Stone-Consolidated, then merged to form Abitibi-Consolidated, Abitibi-Bowater, and Resolute). Subsequently, CPC has diversified under the leadership of Desmarais. He bought the newspaper La Presse, which enabled him to gain experience in the field of print media in Canada. In addition, he owns about 15% of Groupe Bruxelles Lambert, a Belgian holding company, which in 2001 acquired a 25% interest in the German media company Bertelsmann, whose subsidiaries include BMG and Random House (the German company Bertelsmann bought the 25% back in July 2006). Groupe Bruxelles Lambert owns 3.7% of the French oil conglomerate Total. Then he looked for companies in Europe to extend the influence of PCC, he met the Belgian financier Albert Frère to the Board of Directors of Paribas. The two men have discovered an alter ego, applying the same financial techniques: a friendly takeover of healthy firms experiencing financial hardship, but temporary.
In 1974, Desmarais named employee Paul Martin, Jr. as president of a Power Corporation of Canada subsidiary, Canada Steamship Lines Inc. In 1981, he sold the company to Laurence Pathy and Paul Martin, Jr. The latter became Prime Minister of Canada in December 2003.  He was Canada's 4th richest man in 2007 and his severe drop in wealth in 2008 reflected a 44 percent plunge of the Power Corporation of Canada's shares, when the company's profits fell 41 percent – its lowest share price since 2002.  PCC is working with the Carlyle Group and the half-brother of Nicolas Sarkozy.  Desmarais died at his estate at Domaine Laforest at Sagard in the Charlevoix at age 86.  Desmarais' funeral was a private and a public memorial held on December 3, 2013.
Born
April, 27, 1927
Canada
Sudbury, Ontario
Died
October, 08, 2013
Canada
Sagard, Quebec
17790 profile views