Patti Page
(Clara Ann Fowler)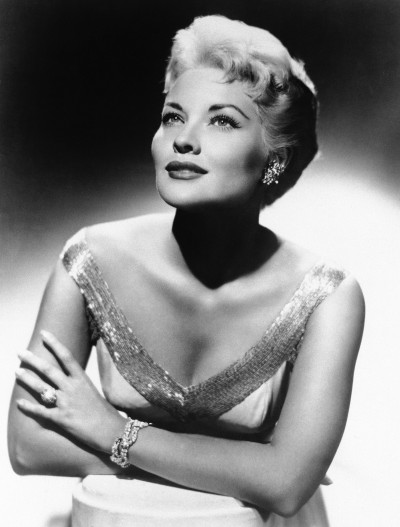 Clara Ann Fowler (November 8, 1927 – January 1, 2013), known by her professional name Patti Page, was an American singer of traditional pop music. She was the top-charting female vocalist and best-selling female artist of the 1950s, selling over 100 million records during a six decade long career. She was often introduced as "the Singin' Rage, Miss Patti Page". New York WNEW disc-jockey William B. Williams introduced her as "A Page in my life called Patti".  Page signed with Mercury Records in 1947, and became their first successful female artist, starting with 1948's "Confess". In 1950, she had her first million-selling single "With My Eyes Wide Open, I'm Dreaming", and would eventually have 14 additional million-selling singles between 1950 and 1965.  Page's signature song, "Tennessee Waltz", was one of the biggest-selling singles of the 20th century, and is recognized today as one of the official songs of the state of Tennessee. It spent 13 weeks atop the Billboard magazine's Best-Sellers List in 1950. Page had three additional No. 1 hit singles between 1950 and 1953, "All My Love (Bolero)", "I Went to Your Wedding", and "(How Much Is That) Doggie in the Window".
Unlike most pop music singers, Page blended country music styles into many of her most popular songs. As a result of this crossover appeal, many of Page's singles appeared on the Billboard Country Chart. Towards the 1970s, she shifted her career towards country music and began having greater success on its charts, ending up one of the few vocalists to have made them in five separate decades.  With the rise of Rock and Roll in the second half of the 1950s, traditional pop music began to wane. Page was among a small number of traditional pop music singers able to sustain success, continuing to have major hits into the mid-1960s with "Old Cape Cod", "Allegheny Moon", "A Poor Man's Roses (Or a Rich Man's Gold)", and "Hush, Hush, Sweet Charlotte".  In 1997, Patti Page was inducted into the Oklahoma Music Hall of Fame. She was posthumously honored with the Lifetime Achievement Grammy Award in 2013.
Page was married three times, first to University of Wisconsin student Jack Skiba in May 1948. They moved to New York, but she asked for and received a no-fault divorce in Wisconsin within a year. Next was to Charles O'Curran, a choreographer, in 1956. O'Curran had been previously married to actress Betty Hutton. Page and O'Curran adopted a son, Danny, and daughter, Kathleen. They divorced in 1972.  Last was Jerry Filiciotto in 1990.  The couple ran a maple syrup business in New Hampshire and resided in Solana Beach, California. Filiciotto died on April 18, 2009.  In his autobiography, Lucky Me, published in 2011, former major league baseball player and front-office executive Eddie Robinson claims he dated Page before her first marriage.  Page's longtime collaborator arranger Vic Schoen once recalled, "She was one of the nicest and most accommodating singers I've ever worked with." She and Schoen remained close friends and spoke regularly until his death in 2000.  Patti Page died on January 1, 2013, at the Seacrest Village Retirement Community in Encinitas, California, according to her manager. She was 85 years old. Page had been suffering from heart and lung disease. She was buried at El Camino Memorial Park in San Diego.
Born
November, 08, 1927
Claremore, Oklahoma
Died
January, 01, 2013
Encinitas, California
Cause of Death
been suffering from heart and lung disease
Cemetery
El Camino Memorial Park
San Diego, California
16468 profile views