Patricia Ramsey
(Patricia Ann Ramsey)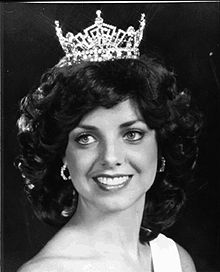 Patricia Ramsey was born in Gilbert, West Virginia, the daughter of Nedra Ellen Ann (née Rymer) (1932–2001) and Donald Ray Paugh (born 1931), an engineer and manager at Union Carbide. She graduated from Parkersburg High School in 1975, and attended West Virginia University, where she belonged to the Alpha Xi Delta sorority, and from which she graduated with a B.A. in journalism in 1978. She was high school sweethearts with celebrity WTAP sports anchor, James "Jim" Wharton. She won the Miss West Virginia beauty title in 1977, and her sister, Pamela Ellen Paugh, won the Miss South Charleston title three years later in 1980, when she was 21. She married John Ramsey at age 23 on November 5, 1980. Their son, Burke Ramsey, was born on January 27, 1987. She gave birth to their second child, JonBenét, on August 6, 1990 in Atlanta. The family moved to Boulder, Colorado in 1991. After the homicide of JonBenét in the family's home in December 1996, Boulder law enforcement officials declared that Patsy and her husband were "under an umbrella of suspicion" because of their possible involvement in the crime. The couple spent the next 10 years defending themselves against the allegations by insisting that an intruder killed their daughter. No charges have ever been filed against anyone for the homicide. A grand jury voted in 1999 to indict the parents of six-year-old JonBenét Ramsey on charges of child abuse resulting in death, but then-Boulder District Attorney Alex Hunter did not sign the indictment. Multiple sources, including members of the grand jury, have confirmed to the Daily Camera that Hunter refused to sign the indictment believing he could not prove the case beyond a reasonable doubt.
On July 9, 2008, nearly 12 years after their daughter's death and two years after Patsy's death, John Ramsey and his late wife were officially cleared in the death by the Boulder District Attorney's office based on new DNA evidence collected from JonBenét's clothing; this particular type of DNA analysis did not exist at the time of the killing. Boulder County District Attorney Mary Lacy said new DNA tests point to an "unexplained third party" as possibly responsible for the killing. Modern "touch DNA" suggests that a male of Hispanic origin (per updates on DNA and DNA found under JonBenét's fingernails two weeks after the murder which Hunter had access to) left traces on two separate clothing articles: the undergarment panties and leggings. This was done against normal practice and police still believe them to not be cleared of all charges. (Mark Beckner, retired Boulder Chief of Police, has claimed that Mary Lacy had always strongly believed that a mother could not possibly be responsible for the death of her daughter in that fashion [and so sought to exonerate Ramsey], and that the "trace DNA" found on JonBenét's underwear [believed by the Colorado Bureau of Investigation to be either "sweat or saliva"] was in such minute quantities [nanograms] that it could have come from the clothing's "manufacturing process".. In October 2016, new forensic analysis uncovered that the original DNA actually contains genetic markers from two individuals other than the victim, JonBenét.
Several defamation lawsuits have ensued since JonBenét's death. L. Lin Wood was the plaintiff's lead attorney for John and Patsy Ramsey and their son Burke, and has prosecuted defamation claims on their behalf against St. Martin's Press, Time, Inc., The Fox News Channel, American Media, Inc., Star, The Globe, Court TV and The New York Post. John and Patsy Ramsey were also sued in two separate defamation lawsuits arising from the publication of their book, The Death of Innocence, brought by two individuals named in the book as having been investigated by Boulder police as suspects in JonBenét's death. The Ramseys were defended in those lawsuits by L. Lin Wood and three other Atlanta attorneys, James C. Rawls, Eric P. Schroeder, and S. Derek Bauer, who obtained dismissal of both lawsuits including an in-depth decision by U.S. District Court Judge Julie Carnes that "abundant evidence" in the homicide case pointed to an intruder having committed the crime. Patricia Ramsey died aged 49 on June 24 2006, from ovarian cancer. She died at her father's house with her husband by her side. Patricia Ramsey is buried at St. James Episcopal Cemetery in Marietta, Georgia, next to JonBenét.
Born
December, 29, 1956
USA
Gilbert, West Virginia
Died
June, 24, 2006
USA
Atlanta, Georgia
Cause of Death
Cemetery
Saint James Episcopal Cemetery
Marietta, Georgia
USA
1164 profile views