Pappy Boyington
(Gregory Boyington)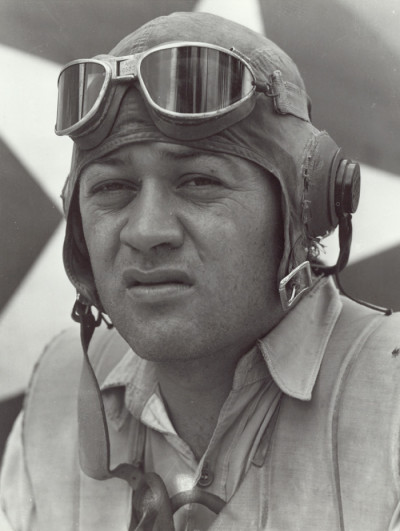 Gregory Boyington was born on December 4, 1912 in Coeur d'Alene, Idaho. Sometimes he is erroneously quoted as being born in 1906. He grew up in the logging town of St. Maries, Idaho and in Tacoma, Washington, where he was a wrestler at Lincoln High School. He took his first flight when he was six years old, with Clyde Pangborn, who later flew the Pacific non-stop.  In 1930, Boyington entered the University of Washington, where he was a member of the ROTC and joined the Lambda Chi Alpha fraternity. He was on the college wrestling and swimming teams, and for a time he held the Pacific Northwest Intercollegiate middleweight wrestling title. He spent his summers working in Washington in a mining camp and at a logging camp, and with the Coeur d'Alene Fire Protective Association in road construction. He graduated in 1934 with a B.S. in aeronautical engineering.  Boyington married shortly after graduation and worked as a draftsman and engineer for Boeing.  In 1935 he applied for flight training under the Aviation Cadet Act, he but discovered that it excluded married men. Boyington had grown up using the name Gregory Hallenbeck, after his stepfather. When he obtained a copy of his birth certificate, however, he learned his father was actually Charles Boyington and that his parents had divorced when he was an infant. Since there was no record that someone named Gregory Boyington had ever been married, he enrolled as United States Marine Corps aviation cadet using that name.
Boyington had begun his military training as a member of the Reserve Officers Training Corps (ROTC), at the University of Washington, where he became a cadet captain. He was commissioned a second lieutenant in the US Army Coast Artillery Reserve in June 1934, and then served two months of active duty with the 630th Coast Artillery at Fort Worden, Washington.  On June 13, 1935, he managed to transfer to the Marine Corps Reserve. He returned to inactive duty on July 16 that year. On February 18, 1936, Boyington accepted an appointment as an aviation cadet in the Marine Corps Reserve. He was assigned to the Naval Air Station, Pensacola, Florida, for flight training. He was designated a Naval Aviator on March 11, 1937, then transferred to Quantico, Virginia, for duty with Aircraft One, Fleet Marine Force. He was discharged from the Marine Corps Reserve on July 1, 1937 in order to accept a second lieutenant's commission in the regular Marine Corps the following day.  Boyington attended the Basic School in Philadelphia from July 1938 to January 1939. On completion of the course, he was assigned to the 2nd Marine Aircraft Group at the San Diego Naval Air Station. He took part in fleet problems off the aircraft carriers USS Lexington and USS Yorktown. Promoted to first lieutenant on November 4, 1940, Boyington returned to Pensacola as an instructor in December.
Boyington resigned his commission in the Marine Corps on August 26, 1941, to accept a position with the Central Aircraft Manufacturing Company (CAMCO). CAMCO was a civilian firm that contracted to staff a Special Air Unit to defend China and the Burma Road. This later became known as the American Volunteer Group (AVG), the famed Flying Tigers in Burma. During his time with the Tigers, Boyington became a flight leader. He was frequently in trouble with the commander of the outfit, Claire Chennault. Boyington was officially credited with 2 Japanese aircraft destroyed in the air and 1.5 on the ground, but AVG records suggest that one additional ground "kill" may have been due to him. (He afterward claimed six victories as a Tiger, but there is no substantiation for that figure, and aircraft destroyed on the ground normally do not count as victories.) In April 1942, he broke his contract with the American Volunteer Group and returned on his own to the United States.
On September 29, 1942, he rejoined the Marine Corps and managed to gain a major's commission. The Marine Corps needed experienced combat pilots and in early 1943, he was assigned to Marine Aircraft Group 11 of the 1st Marine Aircraft Wing and deployed to the South Pacific as Executive Officer of Marine Fighter Squadron 122 operating from Guadalcanal until April 1943. While assigned to VMF-122, Boyington did not gain any victories. He became commander of Marine Fighter Squadron 112 from July to August 1943. In September 1943, he became Commanding Officer (CO) of Marine Fighter Squadron 214, better known by its nickname, the "Black Sheep Squadron."  Boyington received the nickname "Gramps", because at age 31, he was a decade older than most of the Marines serving under him. The name "Gramps" was changed to "Pappy" in a variation on "The Whiffenpoof Song" whose new lyrics had been written by Paul "Moon" Mullen, one of his pilots, and this version was picked up by war correspondents.  Boyington is best known for his exploits in the Vought F4U Corsair in VMF-214. During periods of intense activity in the Russell Islands-New Georgia and Bougainville-New Britain-New Ireland areas, Boyington added to his total almost daily. During his squadron's first tour of combat duty, he shot down 14 enemy fighter planes in 32 days. By December 27, his record had climbed to 25.  A typical feat was his attack on Kahili airdrome at the southern tip of Bougainville on October 17, 1943. Boyington and 24 fighters circled the field, where 60 hostile aircraft were based, goading the enemy into sending up a large force. In the fierce battle that followed, 20 enemy aircraft were shot down, while the Black Sheep returned to their base without loss.
Boyington's squadron, flying from the island of Vella Lavella, offered to down a Japanese Zero for every baseball cap sent to them by major league players in the World Series. They received 20 caps and shot down more than that number of enemy aircraft.  On January 3, 1944, he tied World War I ace Eddie Rickenbacker's record of 26 enemy planes destroyed, before he was himself shot down. On that mission, forty-eight American fighters, including four planes from the Black Sheep Squadron, were sent on a sweep over Rabaul. Boyington was tactical commander of the flight and arrived over the target at eight o'clock AM. He was seen to shoot down his 26th plane, but he then became mixed in the general melee of dogfighting planes and was not seen or heard from during the battle, nor did he return with his squadron. Boyington's wingman, Captain George Ashmun, was killed in action. In later years, Masajiro "Mike" Kawato claimed to have been the pilot who shot down Boyington. He described the combat in two books and numerous public appearances (often with Boyington), but this claim was eventually "disproven," though Kawato repeated his story until his death. Kawato was present during the action in which Boyington, as one of 70 Japanese fighters which engaged about 30 American fighters.
Following a determined but futile search, Boyington was declared missing in action. He had been picked up by a Japanese submarine and became a prisoner of war. (The submarine was sunk 13 days after picking him up.) According to Boyington's autobiography, he was never accorded official P.O.W. status by the Japanese and his captivity was not reported to the Red Cross. He spent the rest of the war, some 20 months, in Japanese prison camps. After being held temporarily at Rabaul and then Truk, where he survived the massive U.S. Navy raid known as "Operation Hailstone", he was transported first to Ōfuna and finally to Ōmori Prison Camp near Tokyo. During that time he was selected for temporary promotion to the rank of lieutenant colonel. A fellow American prisoner of war was Medal of Honor recipient submarine captain Richard O'Kane. At Ōfuna Boyington was interned with the former Olympic distance runner and downed aviator Louis Zamperini.  During mid-August 1945, after the atomic bombs and the Japanese capitulation, Boyington was liberated from Japanese custody at Omori Prison Camp on August 29. Boyington returned to the United States at Naval Air Station Alameda on September 12, 1945, where he was met by 21 former squadron members from VMF-214. That night a party for him was held at the St. Francis Hotel in downtown San Francisco that was covered by Life Magazine. The coverage of the party marked the first time that the magazine had ever shown people consuming alcohol.[4] Prior to his arrival, on September 6, he accepted his temporary lieutenant colonel's commission in the Marine Corps.
Shortly after his return to the U.S., as a lieutenant colonel, Boyington was ordered to Washington to receive the nation's highest honor — the Medal of Honor — from the President. The medal had been awarded by the late president, Franklin D. Roosevelt in March 1944 and held in the capital until such time as he could receive it. On October 4, 1945, Boyington received the Navy Cross from the Commandant of the Marine Corps for the Rabaul raid; the following day, "Nimitz Day," he and other sailors and Marines were decorated at the White House by President Harry S. Truman.  Following the receipt of his Medal of Honor and Navy Cross, Boyington made a Victory Bond Tour. Originally ordered to the Marine Corps Schools, Quantico, he was later directed to report to the Commanding General, Marine Air West Coast, Marine Corps Air Depot, Miramar, San Diego, California. He retired from the Marine Corps on August 1, 1947, and because he was specially commended for the performance of duty in actual combat, he was promoted to colonel.
Boyington was a tough, hard-living character known for being unorthodox. He was also a heavy drinker, which plagued him in the years after the war, and possibly contributed to his multiple divorces. He freely admitted that during the two years he spent as a P.O.W. his health improved, due to the enforced sobriety. He worked various civilian jobs, including refereeing and participating in professional wrestling matches.  Many people know him from the mid-1970s television show Baa Baa Black Sheep, a drama about the Black Sheep squadron based very loosely on Boyington's memoir, with Boyington portrayed by Robert Conrad. Like Chuck Yeager in the movie The Right Stuff (1983), Pappy had a short walk-on role, as a visiting general for two episodes in the first season ("The Deadliest Enemy of All: Part 2" and "The Fastest Gun") and one episode in the second season ("Ten'll Get You Five") of the show. Many of Boyington's men were irate over the show, charging it was mostly fiction and presented a glamorized portrayal of Boyington. On the television show, Boyington was depicted as owning a bull terrier dog, named "Meatball". However, he was heard commenting at a 1970s Experimental Aircraft Association air show book signing that if he did have a dog at the time, it wouldn't have been such "an ugly" dog. Boyington frequently told interviewers and audiences that the television series was fiction and only slightly related to fact, calling it "hogwash and Hollywood hokum".
Boyington wrote his autobiography, Baa Baa Black Sheep, in 1958. He also wrote a novel about the AVG. Tonya is a spy story with characters who evoked actual individuals, sometimes by transposing the syllables of their names ("Ross Dicky" for Dick Rossi, for example).  He visited the Smithsonian Institution's National Air and Space Museum Paul E. Garber Preservation, Restoration, and Storage Facility, coincidentally just as the Museum's F4U Corsair left the restoration shop. According to docents who witnessed the occasion, Boyington climbed into the cockpit "for old time's sake" and attempted to start the engine. He autographed the Corsair with a magic marker in one of the landing gear wells, saying, in effect, that it was a Corsair in the best condition he'd ever seen. Years later that same Corsair hangs from the ceiling at the NASM Dulles Annex, and Boyington's autograph is visible from floor level to the sharp-eyed.
A heavy smoker for years, Boyington died in his sleep, possibly from cancer complications, on January 11, 1988 at the age of 75 in Fresno, California.  He was buried in Arlington National Cemetery on January 15, 1988, in plot 7A-150 with full honors accorded to a Medal of Honor recipient, including a missing man fly-by conducted by the F-4 Phantom IIs of the Marine detachment at Andrews Air Force Base. Before his flight from Fresno, VMA-214 (the current incarnation of the Black Sheep Squadron) did a flyby. They intended to perform a missing man formation, but one of the four aircraft suffered a mechanical problem.  After the burial service for Boyington, one of his friends, Fred Losch, looked down at the headstone next to which he was standing, that of boxing legend Joe Louis, and remarked that "Ol' Pappy wouldn't have to go far to find a good fight."
Born
December, 04, 1912
USA
Coeur d'Alene, Idaho
Died
January, 11, 1988
USA
Fresno, California
Cemetery
Arlington National Cemetery
Arlington, Virginia
USA
11328 profile views