Paola Mori
(Paola di Girifalco)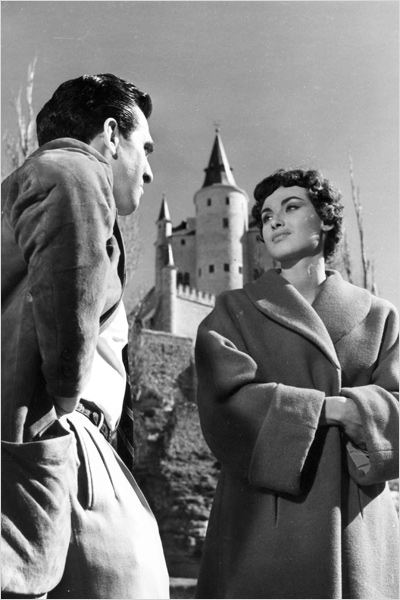 Paola Mori was born in 1928 to an Italian aristocratic family. By 1953, she had begun carving out a career for herself as a film actress, playing supporting roles in several Italian films. In 1953 Mori met Orson Welles, and soon began a romance. The following year he cast her in the female lead of his film Mr. Arkadin, which was released in 1955. The couple had a "shotgun wedding" after Welles impregnated Mori, and Mori's Catholic parents feared for their family's reputation if the two did not marry. The couple married in London on 8 May 1955, and their daughter Beatrice Welles was born in New York on 13 November 1955, six months later. After the release of Mr. Arkadin, she was stung by the wave of negative reviews of her performance (in which her voice had been dubbed by Billie Whitelaw, to conceal her Italian accent), and once she was married to Welles, she acted in only a handful of her husband's projects, and then withdrew from acting altogether. Gary Graver, Welles's cameraman for the last 15 years of his life, wrote in a book co-authored with film historian Andrew J. Rausch that "the couple was estranged from the mid-1960s through [to] Welles's death in 1985." His description is at odds with accounts given not only by Beatrice Welles, who says her mother provided a loving, stable home life for the filmmaker for much of their 30-year marriage,  and Welles' close friend, filmmaker Juan Cobos  and Chimes at Midnight co-star Keith Baxter.
Although British tabloids reported Welles's affair with Oja Kodar as early as 1969 (which was a factor in his moving permanently to the United States in 1970), both Paola Mori and her daughter remained oblivious to Kodar's existence until 1984. In the 1970s, Welles set up a home with his wife and daughter in the United States, first in Sedona, Arizona, then in Las Vegas, Nevada, ostensibly because the climate would be good for his asthma. In the early 1980s, Welles divided his time between his Las Vegas home with Mori and their daughter, and a Los Angeles home with Kodar, and the two women never met during his lifetime. When Mori found out about Kodar in 1984, she threw Welles out of their Nevada house, and neither Mori nor Beatrice Welles saw him for much of the last year of his life, although they still talked regularly on the telephone. Beatrice stated: "They sort of separated toward the end because he had a girlfriend. My mother found out about it, and he denied it. Paola Mori told him he could come back home as soon as he stopped lying to her. He didn't come home during that last year of his life, but he and my mother talked on the phone every day."
This situation had serious ramifications for the copyright status of Welles's work after his death. Welles left Kodar his Los Angeles home and the rights to his unfinished films, and turned the rest of the estate over to Paola Mori. His widow questioned several deals signed by Welles in his final weeks that greatly benefited Kodar and had never been reviewed by his lawyer.  A year after Welles's death, Mori and Kodar finally agreed on the settlement of his will. However, Mori was killed in a car accident in Las Vegas on August 12, 1986 before the agreement was completed. Mori's portion of the estate was inherited by Beatrice, who came to an arrangement with Kodar in December 1986.  Legal wranglings between the two have persisted for over 25 years, leading to complex ongoing legal battles over Welles's unfinished films – legal action by Beatrice has at least three times prevented Welles's last film, The Other Side of the Wind, from being completed, though she joined producers in October 2014 in an effort to finish the film.  Beatrice launched legal action to try to stop a re-release of Welles' Touch of Evil in 1998 because it had not been screened for her in advance. She cited her unhappiness with a restoration of the unfinished film of Don Quixote that had taken place a few years earlier as a source of concern.
Born
Died
August, 12, 1986
USA
Los Angeles, California
Cause of Death
2368 profile views