Owen Hart
(Owen James Hart)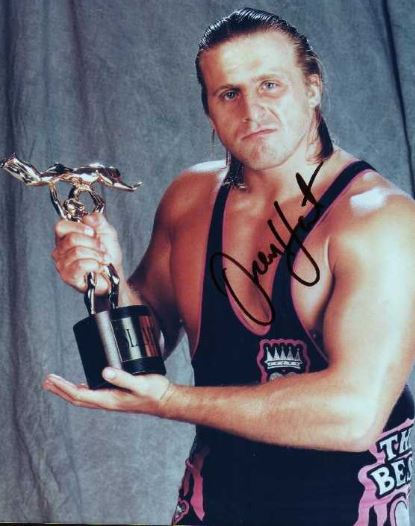 Owen Hart
Owen Hart died tragically during WWF's Over The Edge pay-per-view in 1999. Since Owen's passing, his widow Martha Hart settled out of court with WWE in a wrongful death lawsuit where she was reportedly awarded approximately $18 million.
After Owen's passing, Martha separated herself from a majority of the Hart family and Owen's name has been kept out of the WWE Hall Of Fame and off merchandising as well. Bret Hartrecently spoke to CBS' In This Corner podcast about his brother's memory and how much it would mean to have him in the WWE Hall Of Fame, but he doesn't quite see the appeal in the WWE HOF that it used to have.
"It's pretty important I'm not gonna lose any sleep over it," Hart said. "I think sometimes the Hall Of Fame has lost a little bit of its luster anyway. I mean anybody can be in it, it doesn't matter if you were a great wrestler or what your accomplishments or contributions were to wrestling."
Hart asked, "what kinda hall of fame doesn't have Dynamite Kid in it?" He listed other notable names who are not in the WWF Hall Of Fame including The British Bulldog Davey Boy Smith and Demolition. He also mentioned how the Rock n Roll Express received an induction along with other people like The Freebirds who never made much of an impression at all in WWE.
"Then you have the Rock n Roll Express who never even made it in WWF — they're in it. Terry Gordy and The Freebirds, they're in it when they were too drunk to make it to most of the towns. I was there when Andre The Giant fired all three of them, they were not role models or hard workers.
"You look at some of the people in the Hall Of Fame and some of these celebrities in there and Owen to me personally not being in the Hall Of Fame, there's a lot of people who belong in the Hall Of Fame who are not in it. If it turns out that the WWE is going to keep becoming Hall Of Fame that caters to suck-ups and people that are in the company that they owe a favor to who never contributed to the business as wrestlers I question the whole Hall Of Fame itself and I wonder if there will ever be a real Hall Of Fame that caters to just the wrestlers for their contributions. WWF and the rest of the world step up a little bit and start taking care from a historical standpoint the wrestlers that really made the company."
Hart discussed Owen's widow Martha and how she continues to stop WWE from using Owen's likeness. While calling her "obtuse," The Hitman said she has done more to wash away Owen's memory in WWE than to keep it alive as Bret continues to remember his brother for the kind person he was.
"I think Martha, Owen's widow she's a very obtuse, square-headed person. I think she's done more to erase my brother Owen's memory than she ever did to remember him. I think it really bothers me that the fans that loved Owen so much didn't get a chance to remember him. You do these kind of things for people are here, left to remember them.
"I mean Owen, it would never matter to him if he was in the Hall Of Fame but I think that you know it would mean a lot to different family members in my family. I know Mark Henry as an example gave a strong speech or talk this year about getting Owen into the Hall Of Fame and I totally agree.
"It's like Owen was one of the nicest, kindest, most adored wrestlers for his kindness. Like he's not remembered for his high-flying. He might be remembered for his practical jokes but more importantly, Owen was remembered for the kinda guy he was. Being a real friend to a lot of people when they were struggling and had problems or got depressed or got bummed out about being away from home all the time. Owen was one of those guys that you know almost like magic he could pick your spirits up and make you smile or something and get you through the day.
"When I think of what Owen gave to wrestling and how important I think it would be important to be in the Hall Of Fame. It would be important to my dad and to me for Owen to be in the Hall Of Fame because I don't think it's quite the same the same without him. You can leave Dynamite Kid out of it, you can leave so many great wrestlers out of it, but why are you leaving him out of it?"
Born
May, 07, 1965
algary, Alberta, Canada
Died
May, 23, 1999
Kansas City, Missouri
Cause of Death
Internal bleeding from blunt force trauma
Cemetery
Queens Park Cemetery and Mausoleum
Alberta, Canada
2128 profile views