Oscar Taveras
(Oscar Francisco Taveras)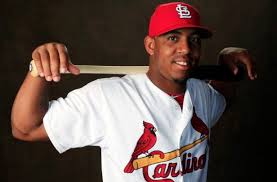 Oscar Taveras
Oscar Francisco Taveras (June 19, 1992 – October 26, 2014) was a Dominican-Canadian professional baseball outfielder who played one season for the St. Louis Cardinals of Major League Baseball (MLB). The Cardinals signed him at age 16 in 2008 as an undrafted free agent and he made his MLB debut in 2014. Over six minor league seasons, he batted .321 with a .519 slugging percentage. He played all three outfield positions while spending most of the time in center field.
With prodigious batting skills, Taveras became a consensus top-five minor league prospect in 2013 and 2014. He elicited comparisons to former MLB outfielder and fellow Dominican Vladimir Guerrero – with a powerful and smooth, balanced stroke, Taveras successfully hit pitches well outside of the strike zone. Also similar to Guerrero, he possessed a strong and accurate throwing arm. The outfielder was the recipient of a litany of awards and won batting titles in three minor leagues, including hitting .386 for the Midwest League title in 2011.
On May 31, 2014, Taveras homered in his major league debut against the San Francisco Giants and went on to hit .239 in 80 regular season games. He also hit a game-tying home run in Game 2 of the 2014 National League Championship Series against the Giants. However, on October 26, 2014, he died in a car accident in the Dominican Republic following the playoffs.
Born
June, 19, 1992
Dominican Republic
Puerto Plata
Died
October, 26, 2014
Dominican Republic
Puerto Plata
16674 profile views