Omar Mateen
(Omar Mateen)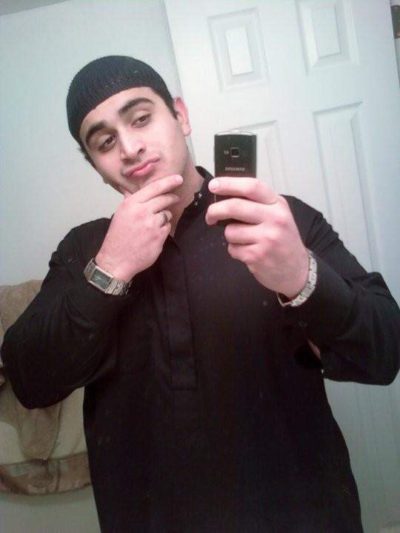 Omar Mateen was born as Omar Mir Seddique in New York City to Afghan parents, with his father being a supporter of the Mujahideen. He attended Martin County High School for one year and also St. Lucie West Centennial High School, where a schoolmate said he was bullied. He reportedly held two degrees in science from Indian River State College, received in 2006 and 2007. In 2006, he filed a petition for a name change, adding Mateen as his surname (Persian: متين‎‎ matīn, meaning "strong"/"tough"). In 2006 and 2007, Mateen worked for seven months as a prison guard for the Florida Department of Corrections, leaving the position for an "administrative matter unrelated to misconduct." He then worked for the security firm G4S Secure Solutions in Jupiter, Florida, from 2007 until his death. The company said screenings of Mateen, conducted upon hiring and in 2013, had raised no red flags. He held an active firearms license and a security guard license. A former coworker who worked with Mateen in a gated community in western Port St. Lucie described him as "unhinged and unstable". He also said that he frequently made homophobic, racist, and sexist comments, and talked about killing people. The coworker stated he complained to G4S about Omar Mateen "several times."
Omar Mateen married an Uzbekistan-born woman in April 2009. They separated after four months and divorced in July 2011. Following the nightclub attack, Mateen's ex-wife told media outlets that during their marriage, Mateen was mentally unstable, and would beat her and keep her completely separated from her family. His ex-wife also claimed that he was bipolar and had a history with steroids. He reportedly remarried and had a three-year-old son. In 2011 and 2012, Mateen made two trips to Saudi Arabia for Umrah. At the time of the shooting, he lived about 100 miles (160 kilometers) from Orlando, Florida. According to Florida Department of Law Enforcement records, he had no criminal record in Florida. Mateen lived in Fort Pierce, Florida, but received mail at his parents' home in nearby Port St. Lucie. Omar Mateen's father, Mir Seddique Mateen, who hosted a TV show called Durand Jirga Show on satellite television network Payam-e-Afghan in 2015 in which he represented himself as a candidate for the President of Afghanistan, said of his son's actions, "This had nothing to do with religion." He was quoted as saying that he had seen his son get angry after witnessing a gay couple kiss in front of his family at a festival marketplace in Miami months prior to the attack, which he suggested might have been a motivating factor. Imam Shafiq Rahman at the Fort Pierce Islamic Center told reporters that Mateen would come to the mosque "three or four times a week" with his father and his three-year-old son as recently as two days before the shooting, and said of him, "He was the most quiet guy. He would come and pray and leave. There was no indication at all of violence." Rahman added that he did not preach violence toward homosexuals. A former high school friend and coworker said that despite reports of Mateen's homophobia, a number of his coworkers at Treasure Coast Square were gay and Mateen had no obvious conflicts with them.
Omar Mateen first became a person of interest to the FBI in May 2013, when he came to the FBI's attention after making "inflammatory" statements at a contract security guard job; Mateen specifically told coworkers that he had family connections to al-Qaeda and that he was a member of Hezbollah. Hezbollah is an enemy of ISIL, to which Mateen later pledged allegiance, and FBI Director James Comey noted the "contradictory" nature of Mateen's statements. The FBI opened a preliminary investigation and interviewed Mateen twice; Mateen admitted making the statements but "explained that he said them in anger because his co-workers were teasing him." The FBI closed the investigation after ten months, deeming Mateen not to a threat. Mateen was on a terrorist watch list during the investigation but was removed once the investigation closed. In July 2014, Mateen's name came to the attention of the FBI after he was linked to Moner Mohammad Abu Salha, an American radical who traveled to Syria and committed a suicide bombing there; the two men knew each other casually and attended the same mosque. The investigation continued with a focus on Abu Salha. U.S. Representative Adam Schiff, the ranking Democratic member of the House Intelligence Committee, said that according to the Department of Homeland Security, Mateen had pledged allegiance to the Islamic State of Iraq and the Levant (ISIL), though analysts noted that "at this point, it's anyone's guess as to how involved Omar Mateen was with either Al Qaeda or ISIS."
At approximately 2:00 a.m. on June 12, 2016, Omar Mateen entered the Pulse nightclub in Orlando, Florida, and began shooting. At 2:22 a.m., he made a 9-1-1 call in which he pledged allegiance to ISIL and also referenced Tamerlan and Dzhokhar Tsarnaev, the Boston Marathon bombers. Mateen took hostages after police arrived and engaged in a shootout with him. At approximately 5:00 a.m. police shot and killed Mateen, ending the attack. In the end, Mateen had killed at least 49 people and injured 53 more. The attack was the deadliest mass shooting in United States history, the deadliest incident of violence against LGBT people in U.S. history, and the deadliest terrorist attack on U.S. soil since September 11, 2001.
Born
November, 16, 1986
USA
New York, New York
Died
June, 12, 2016
USA
Orlando, Florida
Cause of Death
ballistic trauma via gunshot wound
2952 profile views