Norodom Sihanouk
(Norodom Sihanouk)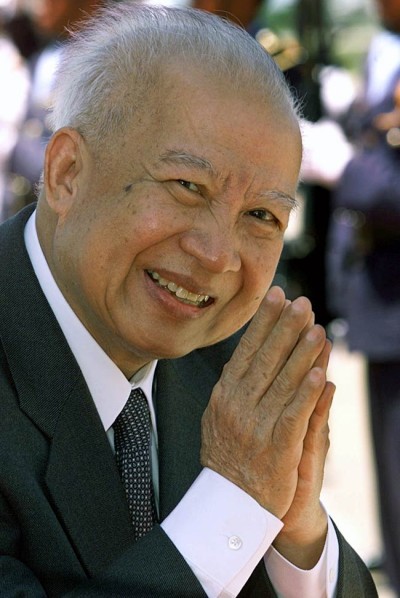 Norodom Sihanouk was the King of Cambodia from 1941 to 1955 and again from 1993 to 2005. He was the effective ruler of Cambodia from 1953 to 1970. After his second abdication in 2004, he was known as "The King-Father of Cambodia" (Khmer: Preahmâhaviraksat), a position in which he retained many of his former responsibilities as constitutional monarch.
The son of King Norodom Suramarit and Queen Sisowath Kossamak, Sihanouk held so many positions since 1941 that the Guinness Book of World Records identifies him as the politician who has served the world's greatest variety of political offices. These included two terms as king, two as sovereign prince, one as president, two as prime minister, as well as numerous positions as leader of various governments-in-exile. He served as puppet head of state for the Khmer Rouge government in 1975–1976.  Most of these positions were only honorific, including the last position as constitutional king of Cambodia. Sihanouk's actual period of effective rule over Cambodia was from 9 November 1953, when Cambodia gained its independence from France, until 18 March 1970, when General Lon Nol and the National Assembly deposed him.
Sihanouk had been receiving medical treatment in Beijing since January, 2012 for a number of health problems, including colon cancer, diabetes, and hypertension. He died of a heart attack in Beijing, on 15 October 2012, 16 days before what would have been his 90th birthday. State flags flew at half-mast, and King Norodom Sihamoni and Prime Minister Hun Sen went to Beijing to bring home Sihanouk's body for a funeral at the Royal Palace.
Born
October, 31, 1922
Phnom Penh, Cambodia
Died
October, 15, 2012
Beijing, China
17005 profile views