Nora Ephron
(Nora Ephron)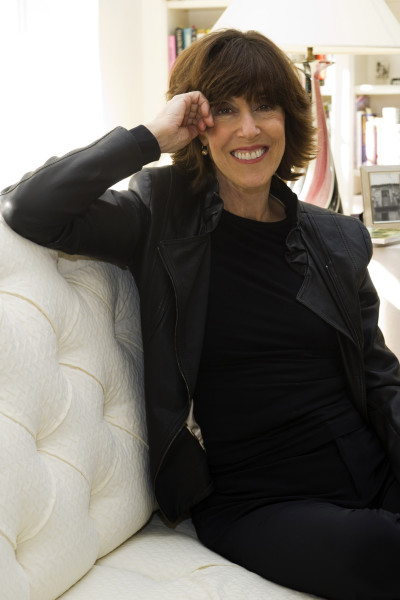 Ephron was born in New York City, eldest of four daughters, in a Jewish family, and grew up in Beverly Hills. Her parents, Henry and Phoebe Ephron (née Wolkind), were both East Coast-born and raised screenwriters. Her sisters Delia and Amy are also screenwriters. Her sister Hallie Ephron is a journalist, book reviewer, and novelist who writes crime fiction. Ephron's parents based the ingenue character in the play and film version of Take Her, She's Mine on the 22-year-old Nora and her letters from college. Both her parents became alcoholics during their declining years. Ephron graduated from Beverly Hills High School in 1958, and from Wellesley College in Wellesley, Massachusetts, in 1962.
She was married three times. Her first marriage, to writer Dan Greenburg, ended in divorce after nine years. In 1976, she married journalist Carl Bernstein of Watergate fame. In 1979, Ephron had a toddler son, Jacob, and was pregnant with her second son Max when she discovered Bernstein's affair with their common friend, married British politician Margaret Jay. Ephron was inspired by this to write the 1983 novel Heartburn, which was then made into a 1986 Mike Nichols film starring Jack Nicholson and Meryl Streep. In the book, Ephron wrote of a husband named Mark, who was "capable of having sex with a Venetian blind." She also wrote that the character Thelma (based on Margaret Jay) looked like a giraffe with "big feet." Bernstein threatened to sue over the book and film, but he never did.
Ephron was married for more than 20 years to screenwriter Nicholas Pileggi until her death. The couple lived in New York City.  Although Jewish by birth, Ephron was not religious. "You can never have too much butter – that is my belief. If I have a religion, that's it," she quipped in an NPR interview about her 2009 movie, Julie & Julia.  Her son Jacob Bernstein is to direct an HBO movie on her life called Everything Is Copy.  Ephron graduated from Wellesley College in 1962 and worked briefly as an intern in the White House of President John F. Kennedy.
After a satire she wrote lampooning the New York Post caught the editor's eye, Ephron landed a job at the Post, where she stayed as a reporter for five years. In 1966, she broke the news in the Post that Bob Dylan had married Sara Lownds in a private ceremony three-and-a-half months before. Upon becoming a successful writer, she wrote a column on women's issues for Esquire. In this position, Ephron made a name for herself by taking on subjects as wide-ranging as Dorothy Schiff, her former boss and owner of the Post; Betty Friedan, whom she chastised for pursuing a feud with Gloria Steinem; and her alma mater Wellesley, which she said had turned out "a generation of docile and unadventurous women." A 1968 send-up of Women's Wear Daily in Cosmopolitan resulted in threats of a lawsuit from WWD.
While married to Bernstein in the mid-1970s, at his and Bob Woodward's request, she helped Bernstein rewrite William Goldman's script for All the President's Men, because the two journalists were not happy with it. The Ephron–Bernstein script was not used in the end, but was seen by someone who offered Ephron her first screenwriting job for a television movie.  In 1994, she was awarded the Women in Film Crystal Award. Ephron's 2002 play Imaginary Friends explores the rivalry between writers Lillian Hellman and Mary McCarthy. She coauthored the play Love, Loss, and What I Wore (based on the book by Ilene Beckerman) with her sister Delia, and it has played to sold out audiences in Canada, New York City and Los Angeles.
On June 26, 2012, Ephron died from pneumonia, a complication resulting from acute myeloid leukemia, a condition with which she was diagnosed in 2006. In her final book, I Remember Nothing (2010), Ephron left clues that something was wrong with her or that she was ill, particularly in a list at the end of the book citing "things I won't miss/things I'll miss". There was widespread and somewhat shocked reaction to her death (as she had kept her illness secret from most people), with celebrities such as Meryl Streep, Matthew Broderick, Billy Crystal, Meg Ryan, Nicole Kidman, Tom Hanks, Albert Brooks, and Ron Howard commenting on her brilliance, warmth, generosity, and wit.  At the Karlovy Vary Film Festival of that year, actresses Helen Mirren and Susan Sarandon, who were honoured with the Lifetime Achievement Award, paid tribute to her during their speeches.
Born
May, 19, 1941
USA
New York, New York
Died
June, 26, 2012
USA
New York, New York
Other
17143 profile views