Miss Elizabeth
(Elizabeth Ann Hulette)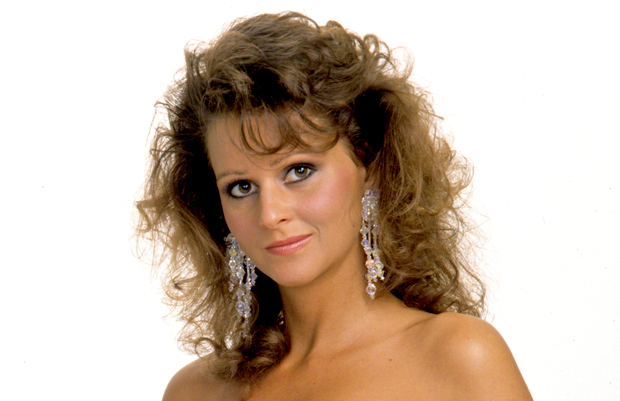 Miss Elizabeth
Professional wrestling has been littered with many female valets and managers in its history. From Baby Doll to Missy Hyatt to Dark Journey to Sunshine…there have been many women who redefined the role of women in the business. It wasn't just burly, unattractive women in front of the cameras anymore. In the WWF, there was one woman who came in and paved the way for future generations of women for the company. Her name was Elizabeth Ann Hulette Poffo aka Miss Elizabeth.
Miss Elizabeth didn't interfere much in matches…she didn't even speak much…so why was she so highly regarded? Her beauty…her smile…her radiance captured the imagination of young male fans everywhere. She was the WWF's true first lady of wrestling. While others might argue that Sunny should hold that moniker…there would be no Sunny without Miss Elizabeth. Elizabeth opened the door for more women to enter the WWF/E…while Sunny redefined the role into 'Diva.'
While she was the epitome of style and class during her WWF tenure…she was much different in her days with WCW. She became a heel…first by aligning with Ric Flair and then later by joining the ever expanded roster of the nWo. The quiet, shy demeanor she displayed within the WWF was replaced with a much more sinister character. A character willing to cheat and interfere on behalf of whoever she was seconding to the ring.
It was in WCW, where she met and fell in love with wrestler Lex Luger. That is where our story really begins…
Miss Elizabeth was paired with Lex Luger in WCW and the two hit it off both in and out of the ring. The two began an affair as Luger and Liz were both married to other people. Liz was married to an attorney and Lex was married with two children. Elizabeth ended up getting a quick divorce…but Lex had continued to live a double life. He bought a townhouse in Marietta, Georgia for Elizabeth to live in while they carried on their affair.
In interviews, by Lex's own admission…his wife found out about the affair with Liz but swore to her he had ended it. In reality, he just hunkered down and kept the affair as quiet as he possibly could. In 2003, that quiet affair made headlines several times over as Lex who was in a downward spiral was arrested on 3 different occasions. The first involved a domestic dispute where Lex had beat Elizabeth causing two black eyes and a cut lip. Lex was arrested and released after posting bond. The second came when he was pulled over after rear ending a car. He was clearly under the influence and driving with a suspended license. Elizabeth was a passenger in his vehicle at the time of his second arrest.
The third and final arrest came with a heavy price. On the evening of May 1st, 2003…Lex and Elizabeth were in the townhouse watching movies and partying with pain pills, muscle relaxers and vodka. The couple ingested large amounts of all three as the night went on. By 2am, Lex got up to make the two a late night snack. Liz seemed to be fading in and out, but according to Lex…just thought she was tired as it was really late. The two began eating their food, when Liz took two bites and fell back onto the couch passed out. Lex at first…again…attributed it to her being tired…but finally realized that she wasn't sleeping but became unconscious.
Lex called 9-1-1 and the paramedics arrived to find Elizabeth unresponsive. The EMT's began CPR on the spot and rushed Liz into the ambulance and to a local hospital. The police arrived and started questioning Lex on the happenings of the evening. The police discover all the pills and liquor ingested that night as well as illegal steroids and growth hormones. As Lex was looking to return inside the townhouse for his car keys to see the status of his girlfriend…a detective informed him that Elizabeth had died at the hospital.
The hospital attempted to revive Liz with CPR as well as using a defibrillator. Sadly, nothing could revive her and she was pronounced dead. After an autopsy was conducted by the chief medical examiner of Georgia…Dr. Brian Frist….it was ruled that Liz died of Acute Toxicity caused by ingesting multiple drugs including Somas and Loritabs. The findings of her death were ruled as accidental. Lex Luger would be arrested and eventually plead guilty on some charges. He was fined and received 5 years probation.
Elizabeth was just 42 years old at the time of her death.
Since her death, Lex ended up divorced and estranged from his wife and kids. He suffered a spinal stroke which left him partially paralyzed and he turned to God for comfort.
In the end, despite the horrible circumstances revolving around her late in life…I still choose to see the woman who's smile was enough to turn heads and make others happy. A true pioneer for all women or 'Divas' that appear on WWE television.
Born
November, 19, 1960
Frankfort, Kentucky
Died
May, 01, 2003
Atlanta, Georgia
Cause of Death
Acute toxicity-multiple drugs (accidental drug overdose
Cemetery
Frankfort Cemetery
Frankfort, Kentucky
2009 profile views