Mickey Rooney
(Joseph Yule, Jr.)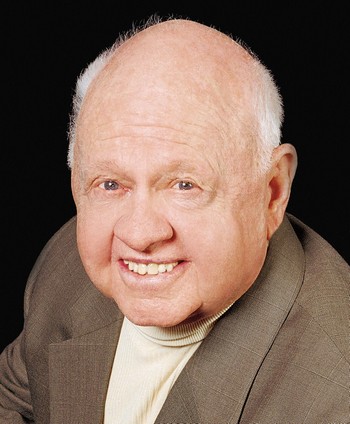 Mickey Rooney
Rooney was born Joseph Yule, Jr. in Brooklyn, New York on September 23, 1920, the only child of vaudevillians Joe Yule (born Ninian Joseph Ewell; a native of Glasgow, Scotland) and Nellie W. Carter, a native of Kansas City, Missouri. At the time of their son's birth, they were appearing in a Brooklyn production of A Gaiety Girl. Rooney later recounted in his memoirs that he began performing at the age of 17 months as part of his parents' routine, wearing a specially tailored tuxedo. According to another account, he first appeared before audiences at 15 months in his parents' vaudeville act, "singing 'Pal o' My Cradle Days' while sporting a tuxedo and holding a rubber cigar."  While Joe Sr. was traveling, Joe Jr. and his mother moved from Brooklyn to Kansas City to live with his aunt. While his mother was reading the entertainment newspaper, Nellie was interested in getting Hal Roach to approach her son to participate in the Our Gang series in Hollywood. Roach offered $5 a day to Joe, Jr., while the other young stars were paid five times more. As he was getting bit parts in films, he began working with established film stars such as Joel McCrea, Colleen Moore, Clark Gable, Douglas Fairbanks, Jr. and Jean Harlow. While selling newspapers around the corner, he enrolled in the Hollywood Professional School and later attended Hollywood High School, from which he graduated in 1938.
The Yules separated in 1924 during a slump in vaudeville, and in 1925, Nell Yule moved with her son to Hollywood, where she managed a tourist home. Joe Yule Jr.'s very first film appearance came in 1926, when he was in the short subject Not to be Trusted, but his breakthrough film role came a year later.  Fontaine Fox had placed a newspaper ad for a dark-haired child to play the role of "Mickey McGuire" in a series of short films. Lacking the money to have her son's hair dyed, Mrs. Yule took her son to the audition after applying burnt cork to his scalp. Joe got the role and became "Mickey" for 78 of the comedies, running from 1927 to 1936, starting with Mickey's Circus, his first starring role, released September 4, 1927. The film was long believed lost, but was recently found in the Netherlands. The Mickey McGuire films were adapted from the Toonerville Trolley comic strip, which contained a character named Mickey McGuire. Joe Yule briefly became Mickey McGuire legally in order to trump an attempted copyright lawsuit (if it was his legal name, the film producer Larry Darmour did not owe the comic strip writers royalties). His mother also changed her surname to McGuire in an attempt to bolster the argument, but the film producers lost. The litigation settlement awarded damages to the owners of the cartoon character, compelling the twelve-year-old actor to refrain from calling himself Mickey McGuire on- and offscreen.  Rooney later claimed that, during his Mickey McGuire days, he met cartoonist Walt Disney at the Warner Brothers studio, and that Disney was inspired to name Mickey Mouse after him, although Disney always said that he had changed the name from "Mortimer Mouse" to "Mickey Mouse" on the suggestion of his wife.  During an interruption in the series in 1932, Mrs. Yule made plans to take her son on a ten-week vaudeville tour as McGuire, and Fox sued successfully to stop him from using the name. Mrs. Yule suggested the stage name of Mickey Looney for her comedian son, which he altered slightly to Rooney, a less frivolous version, which also did not infringe upon the copyright of Warner Brothers´ animation series called Looney Tunes. Rooney made other films in his adolescence, including several more of the McGuire films, and signed with Metro-Goldwyn-Mayer in 1934. MGM cast Rooney as the teenage son of a judge in 1937's A Family Affair, setting Rooney on the way to another successful film series.
In 1937, Rooney was selected to portray Andy Hardy in A Family Affair, which MGM had planned as a B-movie. Rooney provided comic relief as the son of Judge James K. Hardy, portrayed by Lionel Barrymore (although Lewis Stone would play the role of Judge Hardy in subsequent films). The film was an unexpected success, and led to 13 more Andy Hardy films between 1937 and 1946, and a final film in 1958.  According to author Barry Monush, MGM wanted the Andy Hardy films to appeal to all family members. Rooney's character would portray a typical "anxious, hyperactive, girl-crazy teenager," and he soon became the unintended main star of the films. Although some critics describe the series of films as "sweet, overly idealized, and pretty much interchangeable," their ultimate success was because they gave viewers a "comforting portrait of small-town America that seemed suited for the times," with Rooney instilling "a lasting image of what every parent wished their teen could be like."
Behind the scenes, however, Rooney was in fact very much the "hyperactive girl-crazy teenager" he portrayed. MGM head, Louis B. Mayer, who became like a father to Rooney during this period, found it necessary to manage his public image, explains historian Jane Ellen Wayne:  Mayer naturally tried to keep all his child actors in line, like any father figure. After one such episode, Mickey Rooney replied, "I won't do it. You're asking the impossible." Mayer then grabbed young Rooney by his lapels and said, "Listen to me! I don't care what you do in private. Just don't do it in public. In public, behave. Your fans expect it. You're Andy Hardy! You're the United States! You're the Stars and Stripes. Behave yourself! You're a symbol!" Mickey nodded. "I'll be good, Mr. Mayer. I promise you that." Mayer let go of his lapels, "All right," he said.  In hindsight, 50 years later, Rooney saw these early confrontations with Mayer as necessary to his developing into a leading film star: "Everybody butted heads with him, but he listened and you listened. And then you'd come to an agreement you could both live with. . . . He visited the sets, he gave people talks . . . What he wanted was something that was American, presented in a cosmopolitan manner."  In 1937, Rooney made his first film alongside Judy Garland with Thoroughbreds Don't Cry. Garland and Rooney became close friends as they co-starred in future films and became a successful song-and-dance team. Audiences delighted in seeing the "playful interactions between the two stars showcase a wonderful chemistry."[19] Along with three of the Andy Hardy films, where she portrayed a girl with a crush on Andy, they appeared together in a string of successful musicals, including the Oscar-nominated Babes in Arms (1939). During an interview in the 1992 documentary film MGM: When the Lion Roars, Rooney describes their friendship:  Judy and I were so close we could've come from the same womb. We weren't like brothers or sisters but there was no love affair there; there was more than a love affair. It's very, very difficult to explain the depths of our love for each other. It was so special. It was a forever love. Judy, as we speak, has not passed away. She's always with me in every heartbeat of my body.  In 1937, Rooney also received top billing as Shockey Carter in Hoosier Schoolboy. Rooney's breakthrough-role as a dramatic actor came in 1938's Boys Town opposite Spencer Tracy as Father Flanagan, who runs a home for wayward and homeless boys in Omaha, Nebraska, and helps the boys get their lives back together. Rooney was awarded a special Juvenile Academy Award in 1939 and Tracy won the Oscar for Best Actor. Wayne describes one of the "most famous scenes" in the film, where tough young Rooney is playing poker with a cigarette in his mouth, his hat is cocked and his feet are up on the table. "Tracy grabs him by the lapels, throws the cigarette away and pushes him into a chair. 'That's better,' he tells Mickey."  The popularity of his films made Rooney the biggest box-office draw in 1939, 1940 and 1941. For their roles in Boys Town, Rooney and Tracy won first and second place in the Motion Picture Herald 1940 National Poll of Exhibitors, based on the box office appeal of 200 players. Boys' Life magazine wrote, "Congratulations to Messrs. Rooney and Tracy! Also to Metro-Goldwyn-Mayer we extend a hearty thanks for their very considerable part in this outstanding achievement." Actor Laurence Olivier once called Rooney "the greatest actor of them all."  A major star in the early 1940s, he appeared on the cover of Time magazine in 1940, timed to coincide with the release of Young Tom Edison; the cover story began:  Hollywood's No. 1 box office bait in 1939 was not Clark Gable, Errol Flynn or Tyrone Power, but a rope-haired, kazoo-voiced kid with a comic-strip face, who until this week had never appeared in a picture without mugging or overacting it. His name (assumed) was Mickey Rooney, and to a large part of the more articulate U.S. cinema audience, his name was becoming a frequently used synonym for brat.
During his long career, Rooney also worked with many of the silver screen's greatest leading ladies, including Elizabeth Taylor in National Velvet (1944) and Audrey Hepburn in Breakfast at Tiffany's (1961)." Rooney's "bumptiousness and boyish charm" as an actor would develop more "smoothness and polish" over the years, writes biographer Scott Eyman. The fact that Rooney fully enjoyed his life as an actor played a large role in those changes:  You weren't going to work, you were going to have fun. It was home, everybody was cohesive; it was family. One year I made nine pictures; I had to go from one set to another. It was like I was on a conveyor belt. You did not read a script and say, "I guess I'll do it." You did it. They had people that knew the kind of stories that were suited to you. It was a conveyor belt that made motion pictures.  Clarence Brown, who directed Rooney in his Oscar-nominated performance in The Human Comedy (1943) and again in National Velvet (1944), enjoyed working with Rooney in films:  Mickey Rooney is the closest thing to a genius that I ever worked with. There was Chaplin, then there was Rooney. The little bastard could do no wrong in my book . . . All you had to do with him was rehearse it once.  In 1991, Rooney was honored by the Young Artist Foundation with its Former Child Star "Lifetime Achievement" Award recognizing his achievements within the film industry as a child actor. After presenting the award to Rooney, the foundation subsequently renamed the accolade "The Mickey Rooney Award" in his honor.
In 1944, Rooney enlisted in the United States Army. He served more than 21 months, until shortly after the end of World War II. During and after the war he helped entertain the troops in America and Europe, and spent part of the time as a radio personality on the American Forces Network and was awarded the Bronze Star Medal for entertaining troops in combat zones. In addition to the Bronze Star Medal, Rooney also received the Army Good Conduct Medal, American Campaign Medal, European-African-Middle Eastern Campaign Medal, and World War II Victory Medal, for his military service.  After his return to civilian life, his career slumped. Now an adult with a height of only 5′ 2″, he could no longer play the role of a teenager yet lacked the stature of most leading men. He appeared in a number of films, including Words and Music in 1948, which paired him for the last time with Garland on film (he appeared with her on one episode as a guest on her CBS variety series in 1963). He briefly starred in a CBS radio series, Shorty Bell, in the summer of 1948, and reprised his role as "Andy Hardy", with most of the original cast, in a syndicated radio version of The Hardy Family in 1949 and 1950 (repeated on Mutual during 1952).  His first television series, The Mickey Rooney Show: Hey, Mulligan (created by Blake Edwards with Rooney as his own producer), appeared on NBC television for 32 episodes between August 28, 1954 and June 4, 1955. In 1951, he directed a feature film for Columbia Pictures, My True Story starring Helen Walker. Rooney also starred as a ragingly egomaniacal television comedian, loosely based on Red Buttons, in the live 90-minute television drama The Comedian, in the Playhouse 90 series on the evening of Valentine's Day in 1957, and as himself in a revue called The Musical Revue of 1959 based on the 1929 film The Hollywood Revue of 1929, which was edited into a film in 1960, by British International Pictures.  In 1958, Rooney joined Dean Martin and Frank Sinatra in hosting an episode of NBC's short-lived Club Oasis comedy and variety show. In 1960, Rooney directed and starred in The Private Lives of Adam and Eve, an ambitious comedy known for its multiple flashbacks and many cameos. In the 1960s, Rooney returned to theatrical entertainment. He still accepted film roles in undistinguished films, but occasionally would appear in better works, such as Requiem for a Heavyweight (1962), It's a Mad, Mad, Mad, Mad World (1963) and The Black Stallion (1979).  He portrayed a Japanese character, Mr. Yunioshi, in the 1961 film version of Truman Capote's novella Breakfast at Tiffany's. His performance was criticized in subsequent years later as being stereotyping and offensive. In 2008, after defending his performance for many years, Rooney said that if he had known he was going to offend people he wouldn't have done it.  On December 31, 1961, he appeared on television's What's My Line and mentioned that he had already started enrolling students in the MRSE (Mickey Rooney School of Entertainment). His school venture never came to fruition. This was a period of professional distress for Rooney; as a childhood friend, director Richard Quine put it: "Let's face it. It wasn't all that easy to find roles for a 5-foot-3 man who'd passed the age of Andy Hardy." In 1962, his debts had forced him into filing for bankruptcy.  In 1966, while Rooney was working on the film Ambush Bay in the Philippines, his wife Barbara Ann Thomason (akas: Tara Thomas, Carolyn Mitchell), a former pinup model and aspiring actress who had won 17 straight beauty contests in Southern California, was found dead in their bed. Beside her was her lover, Milos Milos, an actor friend of Rooney's. Detectives ruled it murder-suicide, which was committed with Rooney's own gun.  Rooney was awarded an Academy Juvenile Award in 1938, and in 1983 the Academy of Motion Picture Arts and Sciences voted him their Academy Honorary Award for his lifetime of achievement. He was mentioned in the 1972 song "Celluloid Heroes" by The Kinks: "If you stomped on Mickey Rooney/ He'd still turn 'round and smile…"
In addition to his movie roles, Rooney made numerous guest-starring roles as a television character actor for nearly six decades, beginning with an episode of Celanese Theatre. The part led to other roles on such television series as Schlitz Playhouse, Playhouse 90, Producers' Showcase, Alcoa Theatre, Wagon Train, General Electric Theater, Hennesey, The Dick Powell Theatre, Arrest and Trial, Burke's Law, Combat!, The Fugitive, Bob Hope Presents the Chrysler Theatre, The Jean Arthur Show, The Name of the Game, Dan August, Night Gallery, The Love Boat, Kung Fu: The Legend Continues, among many others.  In 1961, he guest-starred in the 13-week James Franciscus adventure–drama CBS television series The Investigators. In 1962, he was cast as himself in the episode "The Top Banana" of the CBS sitcom, Pete and Gladys, starring Harry Morgan and Cara Williams.  In 1963, he entered CBS's The Twilight Zone, giving a one-man performance in the episode "The Last Night of a Jockey". Also in 1963, in 'The Hunt' episode 9, season 1 for Suspense Theater, he played the sadistic sheriff hunting the young surfer played by James Caan. In 1964, he launched another half-hour sitcom, Mickey, on ABC. The story line had "Mickey" operating a resort hotel in southern California. His own son Tim Rooney appeared as his character's teenage son on this program, and Emmaline Henry starred as Rooney's wife. The program lasted for 17 episodes, ending primarily due to the suicide of co-star Sammee Tong in October 1964.  Rooney garnered a Golden Globe and an Emmy Award for his role in 1981's Bill. Playing opposite Dennis Quaid, Rooney's character was a mentally handicapped man attempting to live on his own after leaving an institution. His acting quality in the film has been favorably compared to other actors who took on roles, including Sean Penn, Dustin Hoffman and Tom Hanks. He reprised his role in 1983's Bill: On His Own, earning an Emmy nomination for the turn.  Rooney provided the voices for four Christmas TV animated/stop action specials: Santa Claus Is Comin' to Town (1970), The Year Without a Santa Claus (1974), Rudolph and Frosty's Christmas in July (1979), and A Miser Brothers' Christmas (2008)—always playing Santa Claus.  After starring in one unsuccessful TV series and turning down an offer for a huge TV series, Rooney finally hit the jackpot, at 70, when he was offered a starring role on the Family Channel's The Adventures of the Black Stallion, where he reprised his role as Henry Dailey in the film of the same name, eleven years earlier. The show was based on a novel by Walter Farley. For this role, he had to travel to Vancouver. The show became an immediate hit with teenagers, young adults and people all over the world, being seen in 70 countries.  Rooney appeared in television commercials for Garden State Life Insurance Company in 1999, alongside his wife Jan Rooney. In commercials shown in 2007, he can be seen in the background washing imaginary dishes.
In 2003, Rooney and his wife began their association with Rainbow Puppet Productions, providing their voices to the 100th Anniversary production of Toyland!, an adaptation of Victor Herbert's Babes in Toyland. He created the voice for the Master Toymaker while Jan provided the voice for Mother Goose. From that time on until his death, they both created voices for additional Rainbow Puppet Productions including Pirate Party, which also features vocal performances by Carol Channing.  In 2006 Rooney played the character "Gus" in Night at the Museum, a blockbuster hit movie comedy starring Ben Stiller and Robin Williams. He then returned to play the role again in the sequel Night at the Museum 2 in 2009.  On May 26, 2007, he was grand marshal at the Garden Grove Strawberry Festival. Rooney made his British pantomime debut, playing Baron Hardup in Cinderella, at the Sunderland Empire Theatre over the 2007 Christmas period, a role he reprised at Bristol Hippodrome in 2008 and at the Milton Keynes theatre in 2009.  In 2008, Rooney starred as Chief, a wise old ranch owner, in the independent family feature film Lost Stallions: The Journey Home, marking a return to starring in equestrian-themed productions for the first time since the 1990s TV show Adventures of the Black Stallion. Even though they acted together before, Lost Stallions: The Journey Home was the sole film in which Rooney and Jan portrayed a married couple on screen.  In December 2009, he appeared as a guest at a dinner-party hosted by David Gest on Come Dine With Me. During 2009 he was involved in a proposed reality TV show, which was shelved.  In 2011, Rooney made a brief cameo appearance in The Muppets, working with his son, choreographer Michael Rooney.[citation needed] In the same year he appeared in an episode of Celebrity Ghost Stories, recounting how, during a down period in his career, his deceased father appeared to him one night, telling him not to give up on his career. He claimed that the experience bolstered his resolve and soon afterwards his career experienced a resurgence. In 2014, Rooney returned to film scenes to reprise his role as "Gus" in Night at the Museum 3. It is currently unknown whether he completed his scenes and whether his death will affect the film's production.
Rooney was married eight times. In the 1950s and 1960s, he was often the subject of comedians' jokes for his alleged inability to stay married. At the time of his death, he was married to Jan Chamberlin, although they had separated in June 2012.[54] He had a total of nine children, as well as 19 grandchildren and several great-grandchildren.  In 1942, he married Hollywood starlet Ava Gardner, but the two were divorced in 1943, well before she became a star in her own right. While stationed in the military in Alabama in 1944, Rooney met and married local beauty-queen Betty Jane Phillips. He had two sons with Betty Jane. This marriage ended in divorce after he returned from Europe at the end of World War II.  His subsequent marriages to Martha Vickers (1949) and Elaine Mahnken (1952) were also short-lived and ended in divorce.  In 1958, Rooney married Barbara Ann Thomason (stage name Carolyn Mitchell), but tragedy struck when she was murdered in 1966. Falling into deep depression, he married Barbara's friend, Marge Lane, who helped him take care of his young children. The marriage lasted only 100 days.  He was married to Carolyn Hockett from 1969 to 1974, but financial instability ended the relationship. Finally, in 1978, Rooney married Jan Chamberlin, his eighth wife; the union would endure for over 35 years, longer than all of Mickey's previous marriages combined. They both were outspoken advocates for veterans and animal rights.  After the deaths of his wife Barbara Ann Thomason and his mother, problems with alcohol and drugs, and various financial problems that included a bankruptcy, Rooney had a religious experience with a busboy in a casino coffee shop. In 1975, Rooney was an active member of the Church of Religious Science, a New Thought group founded by Ernest Holmes.  Rooney's eldest child, Mickey Rooney, Jr., is a born-again Christian, and has an evangelical ministry in Hemet, California. He and several of Rooney's other eight children have worked at various times in show business. One of them, actor Tim Rooney, died in 2006, aged 59.  Rooney was arrested for beating his wife on February 9, 1997, although charges were later dropped.  On September 23, 2010, he celebrated his 90th birthday at Feinstein's at Loews Regency on the Upper East Side of New York City. Among those who attended the fete were Donald Trump, Regis Philbin, Nathan Lane and Tony Bennett.  On February 16, 2011, Rooney was granted a temporary restraining order against Christopher Aber, one of Jan Rooney's two sons from a previous marriage.  Rooney's attorneys alleged that Aber "threatens, intimidates, bullies and harasses Mickey" and refused to reveal the actor's finances to him, "other than to tell him that [he] is broke." On March 2, 2011 Rooney appeared before a special U.S. Senate committee that was considering legislation to curb elder abuse, testifying about the abuse he said to have suffered at the hands of family members. On March 27, 2011, all of Rooney's finances were permanently handed over to a conservator, who called Rooney "completely competent." In April 2011, the temporary restraining order that Rooney was previously granted was replaced by a confidential settlement between Rooney and his stepson. Christopher Aber and Jan Rooney have denied all the allegations, and after Rooney's death, Aber contended that Rooney was abusive to his wife and addicted to sleeping pills.
Rooney died in his sleep from natural causes at his stepson's home in Los Angeles, California on April 6, 2014 at the age of 93. He had gone for a nap after lunch, and family members called 911 when they sought to wake him and his breathing seemed labored. He was declared dead at 4 p.m. Rooney was survived by his wife of 37 years, Jan Chamberlain, from whom he was separated, as well as eight surviving children, two stepchildren, nineteen grandchildren and several great-grandchildren.  Rooney signed his will several weeks prior to his death and instructed his lawyer, rather than family, to manage his estate. Rooney's lawyer explained that the intention was to purchase a burial plot, but Rooney was unable to afford the price. Rooney's estate had dwindled to US$18,000, which was left to a stepson, and he was estranged from most of his nine children. His wife, Jan Rooney, will be eligible for Rooney's social security benefits and some of his pension earnings in accordance with a previous agreement. At the time of his death, Rooney owed back taxes to the U.S. Internal Revenue Service and California Franchise Tax Board. In a statement on Rooney's personal website shortly after his death, his talent agents, CMG Worldwide, said that Rooney also owed money for outstanding medical bills as well as tax bills, and that contributions from the public were being accepted, with proceeds "donated to help assist with the debts and expenses of Mickey's estate."  After his death, family members feuded over his burial, and a court hearing on the matter had been scheduled for April 11. On April 10, family members resolved their dispute, and decided he would be buried at Hollywood Forever Cemetery alongside other screen stars. Rooney's conservator and Jan Rooney agreed to collaborate on a small funeral for family members, which Christopher and Christina Aber, whom Rooney had accused of abuse, will not be permitted to attend. The settlement headed off a potentially expensive lawsuit. His lawyer said that "Mickey had enough lawsuits in life for 10 people; the last thing he needs is for one over where he'll be buried." One group of family members and friends of the family, including Mickey Rourke, held a memorial service on April 18. A private funeral, organized by another set of family members, was held at the cemetery on April 19. His eight surviving children said in a statement that they were barred from seeing Rooney during his final years. His estate's executor was in talks with film studio executives about a public memorial service. Jan Rooney has indicated that she will contest the will, which was signed a few weeks before his death.
Born
September, 23, 1920
Brooklyn, New York
Died
April, 06, 2014
Studio City, California
Cause of Death
died of natural causes in his sleep
Cemetery
Hollywood Forever Cemetery
Los Angeles County, California
16924 profile views